Joe Stapleton Talks About His New Gig with Poker Night in America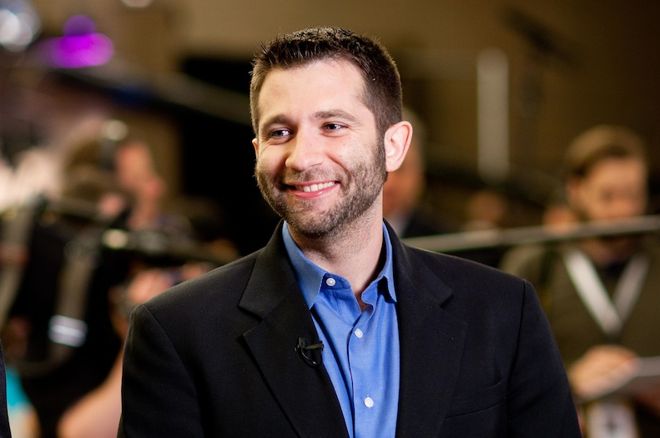 When it comes to poker commentary, Joe Stapleton is a legend. From the European Poker Tour to The Big Game, which aired on the Fox TV Network from 2009-2010, the man known as "Stapes" has established himself as one of poker's top voices. Now, Stapleton will expand his poker résumé by serving as commentator for Poker Night in America (PNIA).
"I'm thrilled to be back doing poker on TV in the States, and especially on a show like Poker Night in America," said Stapleton. "The team there really seems to understand how important it is to focus on the fun, social aspects of the game. Everyone always seemed to be having a blast the first three seasons, and I'm pretty excited to get in on that."
Rush Street Productions, parent company to PNIA, announced Stapleton will be the show's co-commentator alongside Chris Hansen when new episodes are released on CBS Sports Network starting the first week of April.
"We can't wait to get Joe up and running," said Rush Street Productions President Todd Anderson. "I've been a fan of his for many years and think he will be a very entertaining addition to the program."
"We are constantly looking at ways to evolve as a television show and ratchet up the production," continued Anderson. "Since day one, we've been trying to produce a unique poker TV experience and adding Joe is another step in that direction."
The addition of Stapleton comes just a few weeks after PNIA announced the addition of poker pro Matt Glantz to help with the show's production and booking players for upcoming episodes.
"I have been watching Joe Stapleton for years in all forms of poker media, added Glantz. "Joe is a poker media icon. I'm positive he will take Poker Night in America to that next level."
"I'm so excited to be back on television in the States that you could probably see my boner from space." — Joe Stapleton
PokerNews had the opportunity to talk with both Anderson and Stapleton regarding the new hire.
What inspired PNIA to bring on Stapes?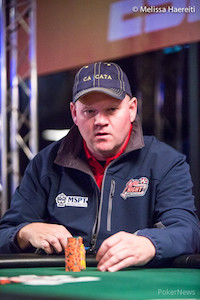 Anderson: Basically, we are looking to constantly keep improving the quality of the TV show. Chris Hanson has been doing a great job on his own, but we think adding Stapes is going to really improve the announcing on the show. It's really hard for a person on their own, and having a broadcast partner just gives Hanson an opportunity to bounce things off another person. We want our show to entertain, first and foremost. Stapes is the best in the business when it comes to being an entertaining and funny commentator. We had him on our live stream once last August and it was one of our best live streams ever. So it seems like a great fit.
Joe, what inspired you to jump on board?
Stapleton: There was no jumping about it. I was lucky enough to have Todd Anderson reach out to me and ask me to come on board. When I first moved back to New York this summer, I had heard they were going to be shooting at Turning Stone and so I asked Sam Abernathy to make an e-ntroduction for me.
I went nosing around up there hoping to let him know I was back in the States and desperate to get back on American television. I did one of their live streams with Dave Tuchman and they liked what they saw and heard. They must not have listened to the entire thing.
What sort of chemistry do you think there will be between Stapes and Chris Hansen?
Anderson: Hanson and Stapes were hilarious together when we were all just hanging out last summer in New York. Hanson is really funny as well and it didn't come through as much on the show when he's solo. He's fired up about having Stapes as his broadcast partner. Knowing both guys as well as I do, I think they will be a great team.
Stapleton: Dude. I can't even believe what I nice guy Chris Hanson is. He was warm and friendly to me immediately, even when I was sniffing around his turf. A lot of folks don't have that kind of confidence.
If you had told me, "Hey, yeah, we think we're going to add this other guy to your show," I would have had a meltdown and told them to get out of my office, even though I was clearly naked and in my own living room.
We just had our first day of recording today and it went very well. Chris is a popular local DJ in Fargo, so his humor is a bit more family friendly that mine is, but it doesn't mean he doesn't get me. He does and he's all about letting me do my thing. I think he's having fun.
Can we expect any sort of fun segments with Stapes?
Stapleton: No plans for skits just yet on Poker Night in America, but I know Todd's got big plans for poker television, so I wouldn't count me out of popping up on other projects he might be working on. Yes, that's a hint, but the good kind. Not like the kind when your girl says, "Do what you want."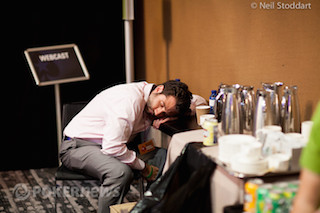 Anderson: Yes, I think we'll experiment with some stuff down the road. Stapes is in Fargo now as we are cutting 12 shows to start Season 4. After we get the first batch done, we'll take a look at using him for some other stuff in the show.
European fans know you well, but it's been awhile since we've seen your consistently in the states. Are you excited to be doing a show in the United States?
Stapleton: I'm so excited to be back on television in the States that you could probably see my boner from space. When you tell girls you host a TV show, and they ask you which one, and you say, "It's only on in the UK and Canada," they look at you like your friends did when you tell them you hooked up with a girl "at camp."
I also feel like a lot of people in America aren't really aware of the great stuff we're doing on the EPT, and hopefully this can direct more attention that way as well.
Will you be doing double duty for PNIA and EPT?
Stapleton: Absolutely. I have no plans to remove my mouth from the PokerStars red spade teat anytime soon.
You visited Fargo prior to landing the job. How was that?
Stapleton: My trip to Fargo was actually for this job, I just hadn't told anyone yet. Luckily, I am one of those losers who pays for Tinder, so I switched my location to Fargo a few days before I left LA. As far as any stories go, I'm actually late for a swipe-dezvous right now, so you'll have to ask me tomorrow. Just not too early, ok?
Lead photo courtesy the PokerStars blog.
Want to stay atop all the latest in the poker world? If so, make sure to get PokerNews updates on your social media outlets. Follow us on Twitter and find us on both Facebook and Google+!