PokerNews Streamer Spotlight: Ryan Stryker Ready for Run It Up Rumble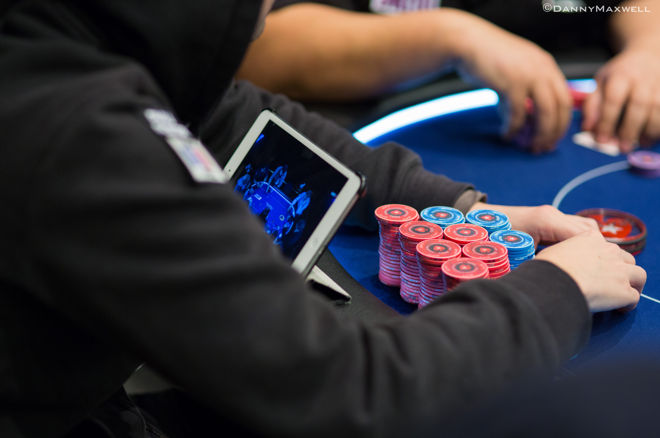 When PokerStars first announced Run It Up Resorts Rumble (RIURR), the first tangible fruits of the company's partnership with Resorts Casino Hotel in Atlantic City, it was naturally seen as a showcase for Jason Somerville and his flagship stream. After all, the "onlive" event was set up specifically to cater to Somerville's legion of Run It Up fans, since the main tournament would be held online but accessible only to those in attendance at Resorts.
However, other streamers also have seen an opportunity to showcase their brands, and it's one Ryan Stryker, whose stream DonkGasm will be featured right here on PokerNews, plans to take advantage of.
"I think the event is going be a terrific one because it will give players in that part of the country the ability to see the latest and greatest new features PokerStars will be incorporating into their site as well as an opportunity to interact with some of the top poker professionals in the world," Stryker said.
Indeed, RIURR will be an interesting test ground for PokerStars as it attempts to accomplish goals on multiple fronts: expanding its general brand awareness and presence in New Jersey, exploring how best to utilize its land-based partner Resorts, and integrating Somerville's popular Twitch stream as a vehicle to both grow the game and expand.
The experimental event will feature a $30 tournament accessible only to those on property at Resorts, with PokerStars qualifying a legion of players through promotions on PSNJ. Players not in attendance can still participate with a $10 side event open to PSNJ players statewide. Additionally, players will have the opportunity to meet and interact with PokerStars Team Pros like Barry Greenstein, Vanessa Selbst, Liv Boeree, Jen Shahade, Chris Moneymaker, and of course, Somerville himself at social events.
Stryker, for his part, certainly plans to interact with Moneymaker, as they have organized an upcoming prop bet. Matt Sanes, who shares the DonkGasm channel with Stryker, and Travis "Dramatic Degen" Darroch — another member of the PokerNews stream team — will face off with Moneymaker and Jonathan Little in a team-based heads-up match on May 18 at 3 p.m. It will be a turbo-structured best-of-five, with the losing team donating $250 to a charity of the winners' choice.
Stryker said he and Sanes developed a relationship with Moneymaker through Twitch, and they've been working on ideas for multi-media projects since hitting it off.
It's all part of a continued effort from Stryker, a 30-year-old Rhode Island resident, to grow the DonkGasm channel and poker in general.
Stryker said his poker journey began some 15 years ago with $10 home games against friends and progressed to semi-professional play on PokerStars during his time in college before Black Friday hit. Grinding mostly sit-and-go tournaments and cash games, Stryker said he made it as high as 200NL before deciding on a radical change of course; he enlisted in the Army Rangers, where he said he served several tours of duty and fulfilled a lifelong dream.
When he returned to the U.S., he turned back to the game he loved for a living, this time on the operations side of things as a dealer and floor manager while going back to school. He got back to the felt as well, beginning with live games and then returning to the online arena, where he was inspired to begin streaming after watching successful presenters like Jamie Staples.
Stryker, who has been streaming for a little over a year and a half, immediately saw the value streaming brought to the game.
"When a player watches a poker stream that isn't familiar with the game, it increases the chances of adding them as a new player to the game," he said. "We think streaming is plus-EV for the poker community as a whole."
That runs contrary to the concerns many players have, particularly in the wake of poker training that some say have been a detriment to the game. Disseminating advanced strategy, the thinking goes, eventually raises the overall level of play to the point where it's very difficult to make a profit in the game, and everyone is just paying rake.
"We couldn't disagree more," Stryker said, presumably speaking for he and Sanes. "The reason is simple — the more players that are exposed to the game, the more players that will start playing it."
He continued:
"The tactical information discussed on Twitch is almost never in depth enough for a losing player to become a winning one just by monkey see, monkey do. In order for that weaker player to strengthen their game, it requires significant practice of the concepts, multiple sources of content and off the table studying that 90 percent of Twitch players aren't going to follow through with as they are part-time, recreational players."
Thus, Stryker and Sanes have partnered up for GrindOrDie, which appears to be a coaching website in its formative stages, and DonkGasm. There, they stream cash game play from 50NL to 200NL, as well as multi-table tournaments. They try to cater to formats their audience wants to see, as well as incorporating fun videos that signify events occurring on screen in the games.
They've also branched out into HoldemX, Alex Dreyfus' pet project that seeks to blend traditional poker play with elements of e-sports-style gaming to appeal to a wider audience. That gives DonkGasm a different hook from other streams that are focused only on hold'em.
"The fun factor of it is tremendous," Stryker said. "It's like heads-up no-limit hold'em on steroids."
Hopping on the HoldemX hype train could also pay financial dividends down the road if the game takes off.
"Right now it is 100 percent play money but we hope that it will eventually go the real money route," Styker said. "If it does, it will be a long time before the game is mastered which means it will be very profitable."
In the meantime, Styker and Sanes hope the partnership with PokerNews and the exposure they hope to get over the weekend at RIURR will continue to be good both for them and the game of poker as a whole.
"PokerNews the top poker media name in the country right now and to have an affiliation with them alongside other top Twitch streamers is an exciting prospect," Stryker said. "In our opinion, the more players we get in front of, the better for not only us but the community as a whole."
Want to stay atop all the latest in the poker world? If so, make sure to get PokerNews updates on your social media outlets. Follow us on Twitter and find us on both Facebook and Google+!