PokerNews Streamer Spotlight: Courtney Gee Supported By the Swarm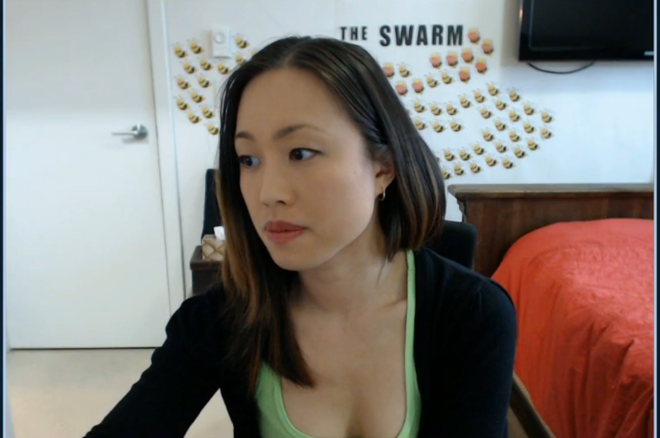 PokerNews will be hosting a number of players who will stream upcoming sessions on the PokerNews Twitch.tv channel. In this series, we'll introduce you to the players whose streams will be featured by PokerNews.
Poker is typically a pretty solo venture (Shhh, don't tell Alex Dreyfus!).
Players grind individually, playing for themselves. After a session, they'll discuss hands with trusted peers and sometimes pool knowledge by gathering on forums or group chats in an attempt to bounce ideas off others and learn. But at the end of the day, when the next session arrives, it's up to the individual to synthesize the concepts he or she takes from these group learning modules and put them into practice.
At least, that's the way it's always been in the past.
With the advent of streaming via Twitch, a new day has dawned on a once-stagnant industry, and folks are gathering for a sort of communal poker experience on various streaming channels. They watch, they chat, and they learn together, with a leading voice guiding the stream whichever way he or she chooses.
For Courtney Gee, a 30-year-old pro from Vancouver, that sense of community has manifested itself in the Swarm. The Swarm is made up of the subscribers to the Twitch channel of "courtiebee." It currently numbers 120.
"My stream wouldn't be what it is without my amazing viewers who make up the chat community and the Swarm," said Gee, who has been streaming since summer of 2015 and will be streaming on the PokerNews Twitch channel on Friday, March 18, beginning at 10:30 a.m. PT. "Members of the Swarm receive bees on the swarm wall with their names on them."
Gee has been playing since she was 19 and quit her job to do it professionally in 2010. She was primarily a hyper-turbo heads-up player, but said she began to grow bored of the day-to-day life of an online pro.
"Having played poker for so many years and been dependent on it to pay my bills, it was getting a little dull and was really was starting to feel like a grind," she said.
It wasn't always that way for Gee, though. Her first big poker break came when she won Round 3 of a PokerStars The Big Game satellite in October 2010. The next step was an audition video for the popular televised cash game show, which features a table with well-known pros and celebrity players with one "loose cannon" — an amateur qualifier.
"It's been my favorite hobby," she said in the video. "I've tried a wide variety of jobs. The only thing I've ever had a passion for is poker. I made it a goal to never work a nine-to-five job for anyone, ever again. I'm confident I can achieve this goal with the help of poker."
Gee was selected for the show, where she faced off with a lineup of Daniel Negreanu, Phil Laak, Bryn Kenney, Randy Lew, and Rick Salomon.
There, she got $58,600 in preflop to put Salomon at risk in a five-bet pot, holding the
against Salomon's
. Salomon managed to find a set on the
flop and take the lead. Despite Salomon allowing Gee to run the turn and river three times, Gee couldn't salvage any part of the pot. Unable to recover, she ended up getting the last of her money in with the
on a
board, but Salomon made a tough call with jacks and held up.
After the game, she was asked if she'd keep her poker aspirations alive.
"For sure," she said. "I'll just have to make it another way."
Little did Gee know how hard that was going to become, as life threw a massive roadblock at her. In early 2014, she announced via her blog that she had been diagnosed with lupus after bouts with pneumonia and scarlet fever. Lupus is a chronic autoimmune disease in which the body attacks its own healthy cells, causing inflammation. It affects roughly one in 1,000 people, according to Gee.
After a couple of months without poker, Gee got back to the virtual felt. She battled the disease, switching medications after initially being prescribed a powerful drug called prednisone, and last November posted on her blog that she was going strong and hadn't had complications from the lupus in a year.
That was a few months after she had kicked off her stream.
Gee had enjoyed watching the poker stream hosted by a friend, and thought she would give it a shot to make her sessions more interesting. She hopped on board the hype train, began streaming, and felt an immediate change in her attitude toward poker.
It's not unlike the story related by Daniel Mar, who credited streaming with energizing his approach to the game.
"Streaming has really rekindled my passion for the game," Gee said. "When I stream, I get the human interaction that's often missing when playing full-time online poker. I stream because I love my community and I love interacting with people."
Now, Gee streams five days per week for roughly 30 hours total. She's been focusing mostly on multi-table tournaments, with buy-ins ranging from $11 to $162. Viewers gather each week, with a listed schedule for the channel to go live Mondays and Tuesdays, and then Thursdays through Saturdays, with Wednesdays and Sundays off.
They aren't always simply chatty bystanders, though. That's where Bee Fights come in.
Bee Fights are regularly scheduled tournaments that Gee runs through the PokerStars Home Games, so they're play-money affairs — Americans can participate — that are mostly for fun and bragging rights among the close-knit community of Gee's followers on Twitch. There have been 20 Bee Fights to date, and they run about every week or two. Winners get shoutouts and props from Gee and a listing on a wall of winners on her Twitch page.
That's all a part of Gee's efforts to use her platform to appeal to established poker fans but also bring new faces into the game. She described it as "one of the best tools" for not only attracting new people to poker, but for keeping them engaged and cementing them as fans.
"My long-term goal for my stream is to grow it as big as possible and for it to remain a place people go to hang out and have fun," Gee said. "I would like for my stream to be this even for people that don't play poker themselves."
Gee will be streaming on the PokerNews Twitch channel on Friday, March 18, beginning at 10:30 a.m. PT. We hope you'll stop by and check it out!
Get all the latest PokerNews updates on your social media outlets. Follow us on Twitter and find us both Facebook and Google+!