Five Thoughts: The GPL's Marketing Fail, ESPN's Stale Jokes and the End of the UKIPT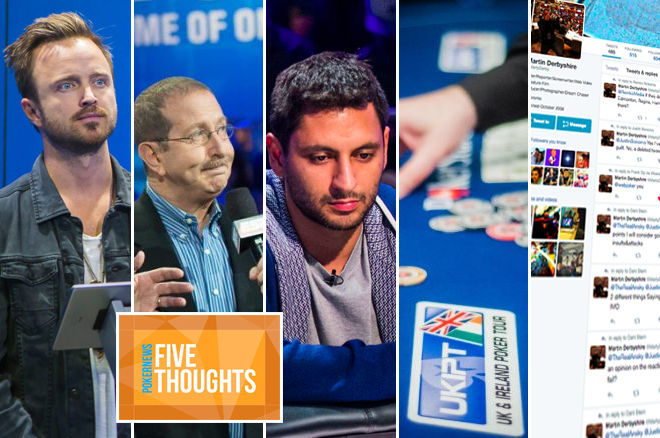 I am not dead and neither is my career. In fact, I'm back this week with Five Thoughts that includes a message for all the haters, another for the Global Poker League and a third for ESPN.
Plus, it looks like it will soon be the end of more than one era in European poker and one player is threatening to win it all on the World Poker Tour without winning a thing.
1. The Paul Publicity Punt

They say there is no such thing as bad publicity. If that's true, the number of column inches I have already devoted to criticizing the Global Poker League has done as much to promote the product as the weekly action recaps run by PokerNews. Should league founder Alexandre Dreyfus believe it, he will no doubt be pleased to see the GPL's name appear here once again this week, even if it is to point out yet another failure.
The league's biggest and possibly only star was scheduled to play an online match this week. While actor Aaron Paul may very well have beat Jonathan Jaffe 2-1 heads up, even the small handful of people who tuned into the GPL's coverage of the match weren't really able to watch him do it.
A GPL press release explained later that Paul played from the set of his new Hulu series, The Path, but even with all the camera equipment on the set of the show, the league couldn't manage to conjure up an image of Paul playing? Jaffe's webcam worked just fine and he provided a little witty-but-one-sided banter playing against a Paul avatar.
Paul is not a poker expert by any means, but he's the one player in the entire league that has the on-camera presence and personality to help sell this thing to the masses. The GPL's inability to get him on camera during the match, and the decision not to delay until they could, was a massive marketing fail and a missed opportunity by an organization that's quickly running out of chances, whether bad publicity is good or not.
2. Chad Chokes on Stale Jokes

ESPN's coverage of the 2016 World Series of Poker Main Event finally began to focus on more than just William Kassouf this week as they moved on to highlight some key hands with several players who actually will make the November Nine when the coverage eventually catches up.
With his constant chatter, it was beginning to seem like Kassouf was replacing long-time color man Norman Chad, although perhaps that wasn't such a bad thing. I mean, if I have to hear how one more player got "wamboozled," I may start watching with the sound muted. Most of Chad's material is so old and abused it's as if we're watching a rerun of Main Event coverage from a prior year - a time when we didn't know how many times he'd been divorced and jokes about it were still funny.
Chad's co-host Lon McEachern and ESPN's coverage of the WSOP Main Event have done as much to promote the game of poker as anyone, but the often stale, decade-old jokes featured in the coverage again this year are doing little to grow the game going forward. Unless they update their material soon, it may be time to get some new blood in the booth.
3. With or Without Winning

Lost behind headlines that included a newbie winner (another close call for Cate Hall in the effort to become the World Poker Tour's first female winner), and Darren Elias' near miss at turning himself into a three-time WPT champion, was Benjamin Zamani running away with the WPT Player of the Year race with yet another final table appearance last week.
Zamani finished fifth at WPT Maryland Live!, marking his third top-six finish so far this season. He has another WPT cash on his resume this year, $842,500 in earnings, and exactly double the POY points of anyone close to him in the race as a result.
The one big thing Zamani is missing is a WPT title, something the other five players currently in the top six in the POY race have managed to secure. However, with that big of a lead nearing the midway point of the WPT season, he's still a favorite to win POY honors, whether he gets one or not.
4. The End of an Era
A fair bit of noise was made this week about saying goodbye to an era as the final stop on The UK and Ireland Poker Tour wrapped up in Birmingham. After six seasons, the UKIPT will now fold in favor PokerStars' new plan for its many regional tours around the globe. If and when they decide to go back to any previous UKIPT stops, they will do so as PokerStars Festivals. This weekend's action saw Ted Jackson-Spivack become the last UKIPT champ, denying Ludovic Geilich the opportunity to become the tour's fifth and final double Main Event winner by beating him heads up.
In a little over a week, the European Poker Tour will present the second-to-last opportunity for any previous winners to join Victoria Coren Mitchell as that tour's only two-time Main Event winner. EPT Malta, running Oct. 18-29, will be the tour's penultimate stop, with PokerStars Championship events set to replace them.
Then, it will truly be the end of an era, as the final stop on the EPT goes off in Prague Dec. 8-19. After 13 seasons, the EPT has grown into the world's richest poker tour. It will not soon be forgotten and these last two stops should prove that, no matter what happens.
5. If You Can't Stand The Heat

I took a little heat on Twitter last week, and while more than a few poker pros and media colleagues have come to my defense already, I think it's about time I clarify what it is that I'm trying to do with this column. This is the space where I share my opinions and I try to do it in an entertaining and thought-provoking way. It's a column that I write to keep people accountable for their words and actions while also trying to have a bit of fun.
Right or wrong, I often label people here. I draw literary caricatures with the goal of shining a light and providing advice, however unsolicited, on how some can better get their own views across in this modern media age. I know I can't control how people react to it, but I'd like for the community to see it as an opportunity for discourse on one of poker's biggest platforms, and act accordingly.
I'm always looking to spur debate and I'm never trying to defame, dismiss or discount anyone's opinion. I definitely don't attack others. I don't appear on popular poker podcasts calling people names you wouldn't repeat in front of your mother and I don't cross the line of human decency. When the debate heats up on Twitter, I keep it respectful and avoid shutting people down with profanity and bullying at all costs.
I'm up for a healthy debate on just about any subject. I want to be held accountable for what I say and I'm certainly not always right. I'm going to keep sharing my opinions here and I will continue writing news and features elsewhere on the site that readers can enjoy (free of my personal thoughts).
Finding a trustworthy room to play online poker can be a monumental burden. That's all the more true if you're just looking for a place to play poker for free. We've listed five of the best play-money poker sites to enjoy and help hone your skills.