888poker's Dominik Nitsche Explains How to Best the Super XL Series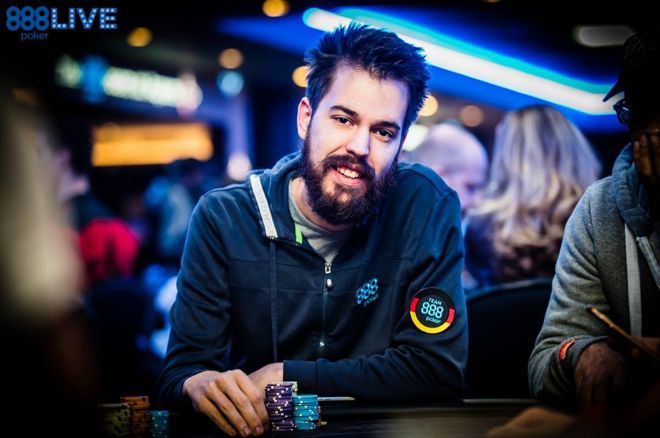 888poker Ambassador Dominik Nitsche had his largest online score to date at last year's Super XL Series for $206,000, placing third in the 888poker series. He streamed it on Twitch for his fans.
Now, he'll share his secrets about readying for this upcoming 888poker Super XL Series Jan. 19.
Your third-place finish in the last Super XL Series tournament was on Twitch. Did streaming change your strategy at all?
Not at all. I approach poker from a very technical standpoint. My strategy is very unlikely to change just because people are watching me.
I had to hold back for a couple of reasons on my plays as I didn't want to give up any information to my opponents. I played my best though and just tried to keep it entertaining.
If anything, maybe it made me play better? It's tough to play well when you have been grinding for more than 14 hours. My viewers helped me focus for sure.
This is your second largest score to date. What are some of your tips for play in the series? What helped contribute to your win?
It is actually my biggest online score ever and it wasn't even close. I'd suggest that every player realizes how incredibly big all the fields have become and how hard it is to win. People play much better than they did a few years ago so it has become very hard to win.
Tournament poker really doesn't get much better.
You have to keep playing well, and then if you get lucky, you will have a shot at the big money. That is a good mindset to have when playing tournaments.
Always focus on what you can control and let the results take care of themselves.
This was the biggest tournament in 888poker history. How was the feel of this tournament different than others in the past?
It felt different to me for a number of reasons. I have played for bigger amounts of money before but never live on Twitch with ALL my hole cards/decisions exposed. It's not easy to know that everyone is watching.
For me, though, I think I can control myself very well after all those years. I try to look at every tournament as another tournament and every poker hand as another hand. Always make the best decision I can.
It felt amazing to have so many people watch me closely at the end and support me during the final table.
Why should people play the 888poker Super XL Series?
Big money for very reasonable buy-ins. Tournament poker really doesn't get much better. The XL Series has a lot of satellites too so there really is no reason not to play if you like tournament poker.
There are also a few PLO tournaments. Those are very fun too!
What will you do to prepare for the upcoming XL Series?
I will be playing from Australia this time. Not an ideal situation as I prefer playing from my setup at home. Still though. Poker is just poker so I will try and play my best. Hopefully I can figure out a few new tricks before and show my viewers another deep run.
Should Twitch fans expect to see you again this year for the series?
That depends on how I do in the Aussie Millions. Most likely I will be streaming a few of the earlier events, but unfortunately I can't commit to any day yet. Follow me on Twitter (@DominikNitsche) to see when I am going live!
What are some of the advantages and disadvantages you have going into the Super XL? What is your specialty or strength in a tournament like this?
Well my advantage is the same as in any other poker tournament. I make better poker decisions than most people :) I also don't get tilted and I have been playing long sessions for years. This is really what tournament poker comes down to in the end.
Anything you'd like to add?
Make sure you don't miss the Main Event of the XL Series as it truly is one of the best tournaments of the year. Also make sure to check out my Twitch.
Don't miss the Super XL Series as it kicks off Jan. 19 and runs through Jan. 31.
Everybody needs an account at one of these online poker rooms! They're the biggest, the best, and we get you the best poker bonuses. Check out our online poker section for details on all the online poker rooms around.