Winner Shown: 'Poker Is Fun Tour' Dubbed Success by Players, Creators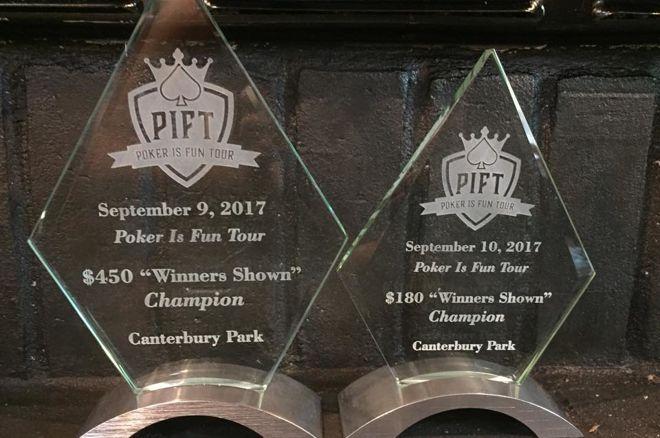 Mike Schneider set out on a mission to bring a unique poker offering to the industry while also raising money for charity with his innovative Poker Is Fun Tour. He believes he's on track to accomplishing both goals after an inaugural event at Canterbury Park in Minnesota that he called "a huge success."
The longtime pro and limit poker extraordinaire introduced PIFT with a pair of tournaments this past weekend in his home state. While he plans to introduce a variety of quirks to try to spice up what he views as a stale no-limit hold'em tournament landscape, this weekend's events — at price points of $450 and $185 — were of the "Winners Shown" format, which meant players had to show down all winning hands, even ones that didn't make it to showdown.
Schneider, Players Mostly Pleased
Minnesota regular Peixin Liu, a regular face at higher buy-in events in the area and a player who has racked up over $600K in cashes, won the $450 event for $8,501. Another local, Cody Torke, took the $185 down for $2,427.
However, the story coming out of the PIFT launch wasn't so much the who won and how much they pocketed, of course. In an industry often slow to innovate and resistant to change, how did players receive Schneider's ambitious offering?
"My impression of the 'Winners Shown' theme was it was a huge success," he said. "I had several players tell me how much they loved it and loved the fact this format really encouraged everyone to follow along in the hands and remain engaged, and off their technology. This tournament definitely felt more social than most, and as an observer I'd say it was rare to see people on their phones and iPads, because doing so meant missing out on seeing what people had or how they played those specific hands."
"I felt like everyone was really enjoying the entertainment aspect of it. It was fun!"
Schneider hoped to draw over 100 players for each tournament, but both fell a little short at 82 and 90 for the $450 and $185, respectively. However, he understood going in that competing with the opening weekend of the NFL and what could be one of the last weekends of nice weather in the famously frosty state would make things a little tough.
He was encouraged, though, that while Minnesota players primarily comprised the fields, players drove over from nearby states Wisconsin and South Dakota to attend. One such player was Scotti Kunkel, who trekked a few hours west from the Badger State.
The business owner said he loved the idea of Winners Shown. He echoed Schneider's thoughts about players putting their phones down and enjoying some banter at the tables.
"It really increased social interaction across the whole table," he said. "I felt like everyone was really enjoying the entertainment aspect of it. It was fun!"
Kunkel also enjoyed the added strategic nuances that resulted from being forced to show every hand. It rewarded players who paid attention and made quick adjustments. Kunkel seemed to adapt decently enough to the format as he didn't walk away from the weekend totally empty-handed, min-cashing in the $185 for $194.
Inaugural Event Raises Nearly $2,500 for Charity
While Schneider hopes to pump fresh air into the poker tournament industry with his outside-the-box events, perhaps the most important facet of PIFT to him is its charity mission. On that front, he knew that a difficult balancing act awaited him as he needed to accomplish his goal of raising money for good causes without siphoning away too much of the players' prize money.
The solution? Schneider settled on taking just one percent of the prize pool out while also recruiting community partners who would commit to donation matches.
For his inaugural event, Schneider partnered with Second Harvest Heartland, a food bank based in the Twin Cities that serves more than 500,000 per year. He recruited six charity pledge partners as well, who agreed to match varying amounts and percentages of PIFT's charity haul.
Schneider was pleased with the "tremendous" end result.
"I'm thrilled that the first weekend of PIFT raised $2,472.30 for Second Harvest Heartland," he said. "Roughly $7 worth of food and groceries can get distributed for every dollar Second Harvest Heartland receives, which when looked at that way, means we did over $17,000 worth of good this weekend!"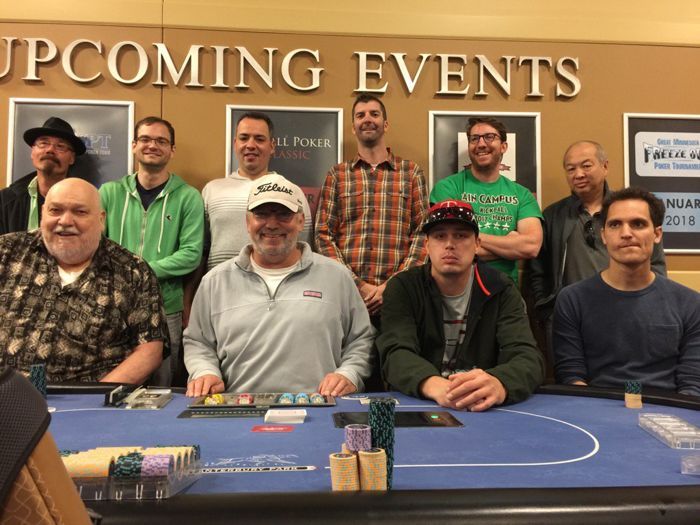 Challenges Crop Up
Of course, any startup like PIFT is sure to run into its share of obstacles, and the opening weekend proved to be no exception.
The No. 1 complaint Schneider heard from players was that the structure of the events was too fast.
Schneider said up front that he was looking to offer one-day events with somewhat fast structures. He tried throwing players a bone by including a feature in the structure that called for the level to be rolled back at the beginning of the final table. He said players loved that, but it appears the adjustment to less starting chips and shorter levels wasn't an easy one for some.
Both tournaments ended in about eight hours, and the quicker players busted, the more likely they were to tell Schneider the structure needed to be lengthened.
"I'd acknowledge in hindsight I will probably make some tweaks before the next go around," Schneider said.
Schneider did report that plenty of players said they enjoyed the faster structure. Kunkel counted himself among that number.
"Mike put a one-day structure together that offered me plenty of play, and yet a chance to win a trophy, a boatload of money and still go to an early movie," Kunkel said.
Schneider also found himself thrust into the challenging position of wearing multiple hats that included live reporter, photographer, player liaison and operational manager. On something of a shoestring budget, PIFT is a one-man show, so Schneider has to step up and do it all.
The art and science of live reporting in particular proved a tough task for a man used to being on the other side of the felt, seeing individuals do a job that he assumed to be rather simple.
"I learned that doing live poker hand updates is way, way tougher than I could've ever imagined it be," he said. "Any live reporter from here on out is welcome to ask me any question about any hand at a table I'm at, if they want clarification about what went down during a hand.
"It is hard to jot down notes that are accurate, get chip stacks and bet sizes right, positions of players and all that fun jazz," he said. "I tip my hat to poker reporters."
Looking Ahead
Schneider and PIFT stepped to the plate, and if they didn't blast a home run, it appears the seasoned pro at least feels he smacked one off the wall for a stand-up double. PIFT drew a solid crowd, feedback was mostly positive and events raised $2,472.30 that will go toward improving the community.
"Overall, I'm ecstatic about how the first events went, and I'm real excited to roll out more PIFT events down the road," Schneider said.
How far exactly down that road another PIFT event will take place remains an open question. Nothing is currently scheduled, as Schneider and his wife busily prepare for the November birth of their first child, a baby girl. Schneider expects that will occupy his time for the foreseeable future, but he promises more events will come when his schedule settles down again.
Kunkel, for one, will be back for more when the time comes.
"I'm all in on this Poker Is Fun thing," he said. "We need to keep the casual players excited about poker. Mission accomplished."
PIFT Opening Weekend Results
| Place | $450 Winners Shown | Prize | $185 Winners Shown | Prize |
| --- | --- | --- | --- | --- |
| 1 | Peixin Liu | $8,501 | Cody Torke | $2,427* |
| 2 | Tyler Caspers | $5,668 | Michelle Day | $2,400* |
| 3 | John Reading | $4,251 | Tom Marsland | $1,800* |
| 4 | Mike Wilmes | $2,831 | Eric Waldron | $1,800* |
| 5 | Frank Szewc | $2,204 | Andrew Kaplan | $842 |
| 6 | Rob Wazwaz | $1,574 | Steve R | $648 |
| 7 | Jay Melancon | $1,260 | John Somsky | $518 |
| 8 | Mark Anderson | $945 | Thomas Gjerde | $389 |
| 9 | Mark Dunbar | $787 | Michael Gray | $324 |
| 10 | Joe Barnard | $787 | James Ferguson | $324 |
| 11 | Reg Powell | $787 | Kevin Kelly | $259 |
| 12 | Mike Schmidt | $630 | Hamza Jabri | $259 |
| 13 | Williams Jordan | $630 | Umut Ozturk | $194 |
| 14 | Mark Hodge | $630 | Johnny McNally | $194 |
| 15 | | | Jeff Jergerian | $194 |
| 16 | | | Peyton Smith | $194 |
| 17 | | | Scotti Kunkel | $194 |
*reflects player-adjusted payout
Finding a trustworthy room to play online poker can be a monumental burden. That's all the more true if you're just looking for a place to play poker for free. We've listed five of the best play-money poker sites to enjoy and help hone your skills.