Heiti Riisberg Breaks a CGF Record at Cash Game Festival Tallinn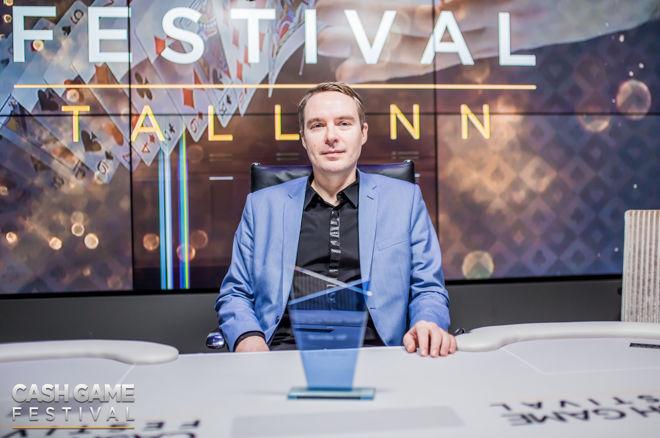 The 2017 Cash Game Festival Tallinn Fall Edition at Olympic Park has been a huge success with the poker room filled with action and players enjoying themselves on and away from the poker felt.
Many different games were played throughout the festival including no-limit hold'em, pot-limit Omaha, Sviten Special, open-face pineapple Chinese poker and super dealer's choice where some of the games required players to put cards on their heads.
As is always the case at the Cash Game Festival, ten televised feature tables — two per day — were showcased. Estonia's Heiti Riisberg won the third-ever Cash Game Festival feature table trophy, which is awarded to the player that wins the most big blinds on a feature table, after winning €3,364 or 1,682 big blinds at a crazy €2/€2 no-limit hold'em table on Day 1.
This easily established a new Cash Game Festival record for the most big blinds won at a feature table since the trophy was established.
Other Festival Highlights
Also doing well while the camera was rolling was Estonia's Rain Jögioja. He was the festival's biggest winner financially on the feature tables after booking a healthy profit of €4,860 or 975 big blinds at a €5/€5 pot-limit Omaha table.
Cash Game Festival London trophy winner and Nordicbet player Jon Kyte from Norway won the most on a €5/€10 no-limit hold'em feature table on Day 4 after booking a profit of €2,350. Meanwhile, Cash Game Festival Dublin trophy winner Kevin Malone from Ireland won the most on a €5/€5 pot-limit Omaha feature table on Day 5 after winning the exact same 235 big blinds that Kyte won the day before with a total profit of €1,165.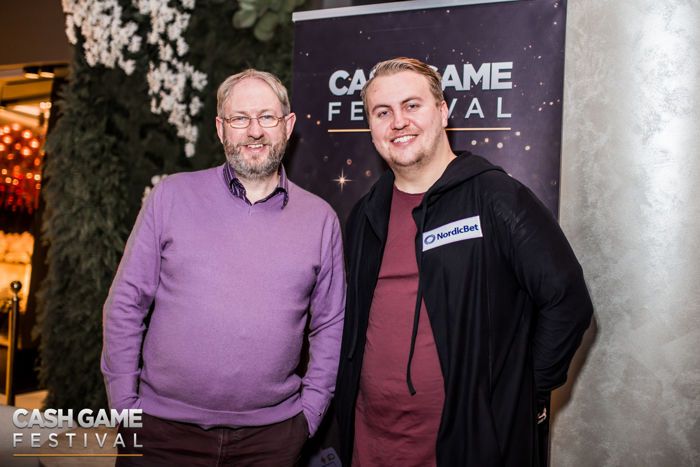 Both Kyte and Malone were hoping to outperform each other and also become the first-ever two-time trophy winner in what was booked as a battle between Norway and Ireland.
Here is a look at all of the big winners at the ten feature tables during the 2017 Cash Game Festival Tallinn at Olympic Park Casino:
| Day | Player | Game | Profit | Big Blinds Won |
| --- | --- | --- | --- | --- |
| Day 1 | Aleksei Gontsar | €2/€2 NLHE | €252 | 126.0 |
| Day 1 | Heiti Riisberg | €2/€2 NLHE | €3,364 | 1,682.0 |
| Day 2 | Joel Lindpere | €2/€2 NLHE | €424 | 212.0 |
| Day 2 | Lasse Kekoniemi | €5/€5 PLO | €1,518 | 303.6 |
| Day 3 | Maret Komarova | €2/€2 NLHE | €594 | 297.0 |
| Day 3 | Viacheslav Kovalev | €5/€10 NLHE | €1,716 | 171.6 |
| Day 4 | Dušan Hájek | €2/€2 NLHE | €336 | 168.0 |
| Day 4 | Jon Kyte | €5/€10 NLHE | €2,350 | 235.0 |
| Day 5 | Kevin Malone | €5/€5 NLHE | €1,165 | 235.0 |
| Day 5 | Rain Jögioja | €5/€5 PLO | €4,860 | 972.0 |
Many other players won big on side tables as games often ran bigger than the stakes would suggest. On Day 3, a €5/€5 pot-limit Omaha game where players can straddle from any position had more than €100,000 on the table between all of the players. Almost all of the pots in this game were at least four-figures with many reaching five-figures.
Of course, the Cash Game Festival is mostly about poker. However, every festival also features great activities away from the tables where players can bond. New friends were made while old friends from previous festivals got a chance to catch up. During the 2017 Cash Game Festival Tallinn, players with the hospitality package enjoyed welcome drinks, painting of nude models, a world-class dinner, a VIP party and a trip to an escape room.
Don't Miss London
If you were unable to make it out for the final stop of Cash Game Festival's 2017 season at the Olympic Park Casino in Tallinn, rest assured you will not have to wait long to enjoy the next festival as the new season begins very early in the year.
The Cash Game Festival will kick off its 2018 season with its fifth visit to Aspers Casino Westfield Stratford City in London on Jan. 3-7, 2018. Festival organizers are planning for epic activities and expect at least a couple of dozen cash game tables to be running simultaneously.
You can sign up for the event and the feature table here.
One player who will be attending the festival compliments of the house is Norway's Master Soi, who won a random drawing for a package valued at £1,500 to the event.
Finding a trustworthy room to play online poker can be a monumental burden. That's all the more true if you're just looking for a place to play poker for free. We've listed five of the best play-money poker sites to enjoy and help hone your skills.