Poker Pro Bernard Lee Fills 'Wish List' of 40 Boston Homeless Families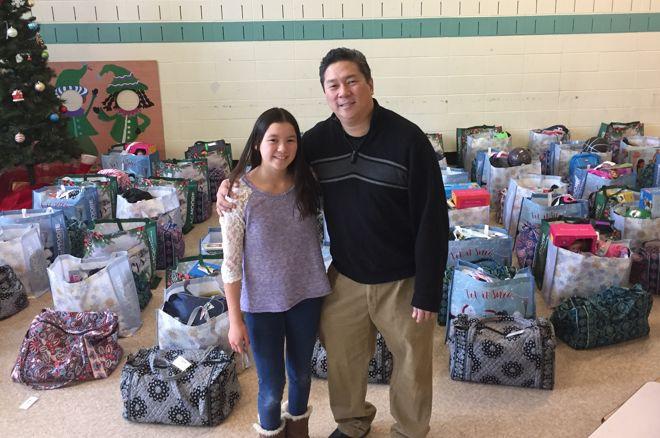 On Dec. 16, poker pro, author and poker media personality Bernard Lee continued his philanthropic mission to help out kids in his home area of New England by teaming up once again with FamilyAid Boston to host a Holiday "Wish List" event, where they provided customized gifts for 40 homeless families including both adults and 58 participating children.
The event — hosted by Lee's Full House Charity Program — was held at the Perkins Community Center in Boston for its seventh year in a row. Lee and his two young children, who have been actively involved in the event every year, visited with families from FamilyAid Boston's Community Based Shelter program. Pizza and games were provided, followed by some holiday gift giving.
According to Lee, one characteristic of the event that makes it very special is the fact that they honor specific requests from families' wish lists. This results in a range of gifts including winter clothing, hats and gloves, books, National Geographic Explorer magazines, toys, games, sports balls, art supplies and backpacks. Every kid also gets a stuffed animal and diapers are provided to families that need them. Lee also makes sure to get each mother a winter coat and a personalized duffle bag.
For Lee, "When kids are asking for a jacket or winter clothes for Christmas, there's something wrong in this world," and he is happy to pitch in during the holidays — a particularly tough time for many families.
"This is the most challenging time of the year for families experiencing homelessness," said Annie Gordon, FamilyAid Boston's director of development and external affairs. "Parents worry that they won't be able to fulfill their children's holiday wishes and pay the bills at the same time, which puts a strain on the whole family during an already stressful time. Bernard and his family are not only providing parents and children with items that they want and need — they are also giving them joy and peace of mind."
Full House Charity Program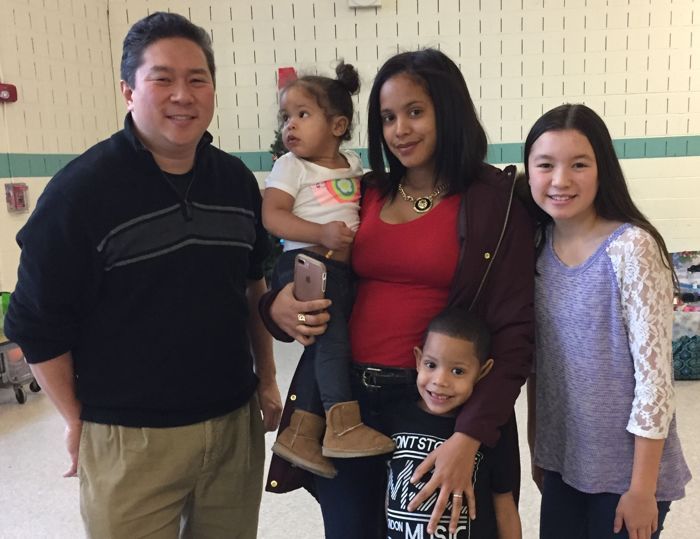 In 2011, Bernard Lee founded the Full House Charity Program in an effort to give back for all the success and good fortune he had experienced in his dual poker-playing and poker media career, as he put it, getting paid to do what he loves. Apart from poker, Lee has always had a passion for children — in fact, he is known in the poker world via ESPN for having pictures of his own kids at the table and kissing them when he was all in. So it made sense that he would start a charity that gives back to the kids.
Lee donates all proceeds from his program to New England organizations that help children in need and across its seven-year history, the charity has provided more than $75,000 in goods and fundraising, helping more than 225 families and over 400 children.
For Lee, partnering with FamilyAid Boston, who last year celebrated their 100-year anniversary, was a natural fit for the Holiday Wish List event.
"It's a privilege to link up with a century-old organization like FamilyAid, which has long stood for helping Boston residents and kids. My program has become a family tradition, especially for my own two children, who are a huge reason for the program's success. Our goal has always been to bring joy to New England families during the holiday season. More than anything, I love seeing the children smile when they receive the specific gifts they wished for. My family and I always look forward to this event."
"I love seeing the children smile when they receive the specific gifts they wished for."
In addition to the annual holiday event, the Full House Charity Program has provided meals to the homeless during the holidays in Cambridge, Mass., Las Vegas, and most recently in Houston, Texas. During recent efforts to expand the charity, Lee has teamed up with the One Step Closer Foundation.
In mid-November, Lee and his daughter flew down to Houston to provide specific items requested by four families devastated by the recent hurricanes. They also sent supplies and gift cards to families in Florida and Puerto Rico who lost so much during Hurricane Irma.
While Lee can still be found grinding the tournament circuit, writing for ESPN and other poker publications, and hosting his own radio show, The Bernard Lee Poker Show, that is celebrating its 10th year and can be found on Rounder's Radio and iTunes, we can expect he will continue to make time for charitable causes, especially when they involve improving the lives of children less fortunate than his own.
Everybody needs an account at one of these online poker rooms! They're the biggest, the best, and we get you the best poker bonuses. Check out our online poker section for details on all the online poker rooms around.