Inside Gaming: March Madness Increases Focus on U.S. Sports Betting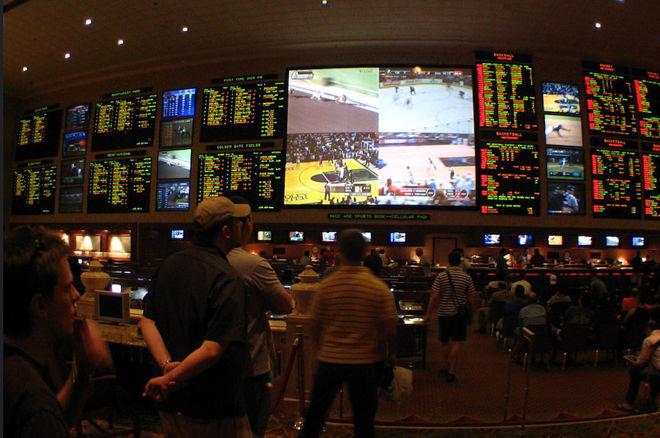 This week's "Inside Gaming" begins with the ongoing NCAA men's basketball tournament and the attention it draws to the legal status of sports betting in the United States, tells of a major player in the industry resigning from his position atop a gambling empire, and notes new legislation regarding riverboat casinos in Louisiana.
NCAA Basketball Tournament Plays Out as SCOTUS Sports Betting Ruling Nears
How's your bracket doing?
The 2018 NCAA Men's Basketball Tournament began last week, with 68 teams playing a three-week-long, single-elimination tournament culminating with the crowning of this year's champion. As always, "March Madness" has attracted a lot of gambling — both legal and illegal — as well extra attention to efforts to legalize sports betting in the United States.
This year, the context of those efforts has changed thanks to the United States Supreme Court's hearing last December of New Jersey's appeal against the nearly-nationwide prohibition against sports betting. A ruling from SCOTUS could come as soon as early April — in fact, the next date for issuing opinions coincides with the day of the NCAA final (April 2) — or as late as the end of June.
Before the tournament began, the American Gaming Association issued its annual estimate regarding betting on the NCAA tournament, this time calculating that Americans will wager more than $10 billion on the games, with only $300 million or 3 percent of that total being wagered legally in Nevada sportsbooks.
The AGA's report includes reference to the conclusion of a recent legal analysis that "roughly two-thirds of states' laws make it illegal to participate in sports pools, including filling out an NCAA tournament bracket, if there is money involved." David Purdum of ESPN reports that last year, 18.9 million brackets were filled out on the "ESPN Tournament Challenge" — free to play, although many who do use the site to help organize private pools.
Purdum notes how $429.4 million was wagered on basketball in Nevada sportsbooks during the month of March 2017, including both NCAA and NBA.
The tournament's early rounds have already produced some entertaining gambling stories, in particular, those surrounding the University of Maryland-Baltimore County's historic first-round upset of Virginia by a whopping 74-54 margin. It was the first time since the NCAA tournament expanded to 64 teams that a No. 16 seed defeated a No. 1 seed.
Darren Rovell reports how a UMBC alum placed the largest money line bet on his alma mater. Eric Barger and seven of his friends each contributed $100 to a $800 bet on the Retrievers to win the game, with the winning ticket turning out to be worth $16,800. UMBC was a 20.5-point underdog to Virginia.
SBNation shares how another bettor won an improbable two-team parlay by betting on UMBC and Marshall (another big underdog) to win their first-round games. That $40 bet returned $7,280. Meanwhile, another bettor risked and lost $20,000 on a three-team money line parlay of big first-round favorites Purdue, North Carolina, and Virginia, a big outlay for only a $870 payout. Of those three contests, only Purdue won its game.
James Packer Resigns as Crown Resorts Director
This week came reports that Australian billionaire and industry mogul James Packer has resigned from his position as director of Crown Resorts Ltd. of which Packer's investment company owns a majority share.
As The Guardian reports, a spokesperson for Consolidated Press Holdings, Packer's investment company, stated "Mr. Packer is suffering from mental health issues" and as a result "at this time he intends to step back from all commitments."
First established in 2007, Crown Resorts has grown to become one of Australia's largest gaming and entertainment companies. In late 2016, the company sold off part of its operations in Macau to Melco Crown Entertainment, a decision that came on the heels of a number of Crown employees being detained by Chinese authorities as part of a crackdown on the promotion of gambling in China. The employees served 10 months in detention before being released last year.
Crown also recently abandoned its Alon Las Vegas project, ultimately selling the site located across the street from the Wynn and Encore to Wynn Resorts late last year.
Louisiana Riverboats Could Operate on Shore With New Legislation
In Louisiana, a Senate committee passed a bill designed to introduce significant changes to how the state's riverboat casinos operate. Most notably, the bill passed by the Senate Judiciary Committee would enable the riverboat casinos to move to the shore and operate, something that hasn't been the case since the state passed legislation to authorize the floating casinos nearly a quarter-century ago.
NOLA.com explains how on Tuesday Senate Bill 316 moved through committee to the full Senate for its consideration. The bill "would allow Louisiana's 15 riverboat casinos to be moved ashore as long as the new location is within 1,200 feet of the current site."
Other parameters set by the bill include limiting the casinos to 2,635 gambling machines as opposed to a limit on square-footage of gambling space per the current law. The committee also pushed forward a separate bill "that would lessen the tax burden for casinos who offer gambling vouchers, poker chips, coupons and other giveaways that try to lure people to their facilities." That would alter the current law that forces casinos to pay taxes on such incentives.
State Senator Ronnie Johns spoke in support of the bills this week, though his comment that the state's gambling industry has "had no corruption" and has "been scandal-free" was met with puzzlement. As NOLA.com, points out, former Louisiana Governor Edwin Edwards served a prison sentence for corruption charges, including some related to the gambling industry.
The state' riverboat casinos "contributed $414.5 million to the state coffers in the 2015-2016 budget cycle," more than half the $705 million total from all of Louisiana's riverboats, video poker establishments, racetracks, and Harrah's New Orleans.
Learn more about the new legislation being considered right here: "Louisiana Casino Legislation May be Boon to State's Poker Scene."
Steve Wynn Sells Stake in Wynn Resorts
Former Wynn Resorts CEO Steve Wynn, who resigned from his position in February, no longer holds a stake in the company, CNBC reports. Wynn sold all of his remaining shares in a privately negotiated transactions.
CNN Money reports that Wynn sold his shares for $180 a share. According to CNN Money, that means the total sale was worth about $739 million.
In addition to Steve Wynn selling his shares, Wynn Resorts announced that they had sold 5.3 million shares at $175 a share to Galaxy Entertainment Group, a casino operator from Macau.
Photo: "The Sportsbook," Eric Skiff, CC BY-SA 2.0.
Be sure to complete your PokerNews experience by checking out an overview of our mobile and tablet apps here. Stay on top of the poker world from your phone with our mobile iOS and Android app, or fire up our iPad app on your tablet. You can also update your own chip counts from poker tournaments around the world with MyStack on both Android and iOS.