PokerStars 2017 Outlines Revenue Growth, Highlighted by Rewards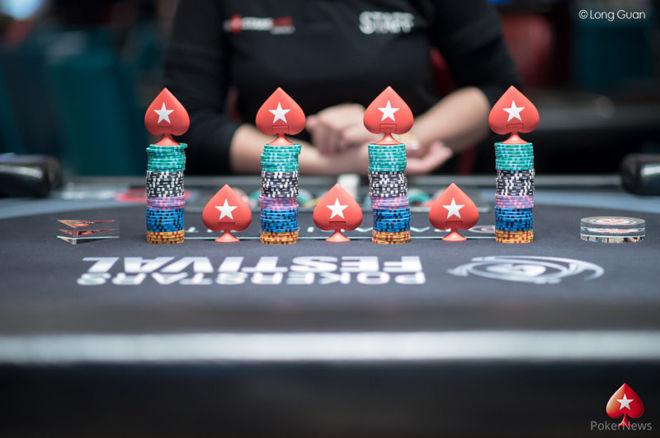 Partypoker isn't the only major poker operator to release positive financial news wrapping up 2017.
Days after reports emerged about the glowing state of financials at rival GVC Holdings, PokerStars outlined its own 2017 successes in a conference call with investors on Wednesday.
While its massive size and market share keeps it from growing leaps and bounds like some of its competitors, PokerStars managed to post revenue of $877.3 million for the year, representing a four percent gain over 2016, according to Poker Industry PRO ($). Even through a constant currency lens that reduces the rate of gain, the number still represents one percent growth over 2016.
Total revenue for The Stars Group came it at $1.3 billion, a gain of 14 percent over 2016. That means that while poker contributed to the company's growth, its maturing casino and sportsbook offerings easily outpace poker in terms of rate of gain. That revenue grew a whopping 42 percent year-over-year, welcome news to investors but perhaps less than thrilling for poker players who haven't enjoyed the company transitioning energy and resources away from poker and into its newer, more profitable verticals.
Still, the company's CEO stressed that poker remains the biggest priority.
"Poker remains The Stars Group's primary customer acquisition channel and in 2017 we began increasing our marketing investment in this segment," Rafi Ashkenazi said. "We intend to maintain our global leadership position in poker by continuing to invest in marketing, learning to grow the game globally and increasing the number of regulated online gaming markets."
Ashkenazi boldly told investors that the company was in "its strongest position" ever, Online Poker Report reported.
What's Driving Gains?
There was plenty for Ashkenazi and his fellow TSG brass to point to as far as moves boosting the company's bottom line.
For one thing, the opening of the shared liquidity market in Europe has been a boon. PokerStars has been the natural leader in the pooled market due to a strong presence in France and Spain, with its licensed Italian and Portuguese markets ready to go whenever those gaming authorities clear the way, although Winamax looks likely to present a challenge soon.
PokerStars' European shared network offering rivals any international operators in size outside of PokerStars' main network, currently sitting third on PokerScout's traffic rankings.
PokerStars brass also remains excited about its esports hybrid Power Up, which launched for real money last year and has since expanded its buy-in offerings.
The biggest source of growth, according to Ashkenazi, has been the rewards changes that inspired mixed feelings among poker players, with high volume grinders feeling left out in the cold by a system that eschews the old volume-based system in favor of a more flattened out structure.
Ashkenazi's tabbing of Stars Rewards contributing to year-on-year growth jives with what Eric Hollreiser, VP of corporate communications, told PokerNews in a recent interview. He called the changes "very successful."
"Two-thirds of our players are receiving more with Stars Rewards than the previous program," he said. "In the third quarter of last year, we saw net deposits increase on a yearly basis, indicating that with Stars Rewards we are doing a better job of getting players to stay at the tables with us, which is in line with our vision to grow the game of poker by making it more enjoyable, engaging and accessible to more players."
Hollreiser added that engagement figures have exceeded expectations, with net deposits increasing on a yearly basis in part thanks to the program.
A Few Drags
Of course, while TSG brass pitched to investors the positive highlights of the company's current situation, it's not all sunshine and roses for the global online poker leader.
For one thing, OPR outlined that there remains a sticky situation involving an ongoing court case against the state of Kentucky in the U.S., which has brought suit against TSG and claimed $870 million in damages for illegally operating in the jurisdiction after the passage of the 2016 Unlawful Internet Gambling Enforcement Act.
OPR estimated that the case is expected to see a resolution one way or another later this year.
And while major regulatory strides were made with the European shared liquidity network, there have also been snags along that same track. The loss — at least for now — of the Australian market — has resulted in a three percent dent in revenues, while issues in Colombia, Poland and Czech Republic have also hampered the bottom line, PRO reported.
Moves on the Docket
In an attempt to continue the company's growth, several moves appear to be on the horizon in the near future.
For one thing, while the company was widely seen as having pulled back in its efforts at U.S. expansion due to rumored cutting of lobbying efforts, that may not totally be the case. The company confirmed they've applied for a license in the newly regulated Pennsylvania market in the U.S., which will presumably hook up with its market-leading offering in New Jersey when Pennsylvania joins the shared liquidity pool.
The American Gaming Association, a prominent pro-industry advocacy group, also announced Thursday that TSG was one of six new companies joining up as Board-level members. Rival and partypoker parent company GVC Holdings was another of the six.
"These six industry leaders will help our ability to serve as an effective advocate for the industry as a whole, and we're excited to add their expertise to our Board," the AGA announced in a presser.
Resolving the Kentucky situation also remains a priority, with OPR indicating settling the case being a strong future possibility.
Reentry into Colombia and possibly Australia could also be on the docket. And if and when Portugal and Italy finally join the European market, a revenue boost can be expected as well.
And in news that will undoubtedly bring some groans from vocal members of the poker community, PokerStars will look to double down on the Stars Rewards move with "Stars Rewards 2.0." Exactly what that will entail remains to be seen, but the company outlined that "strategic focus on high-value customers" had paid dividends, so those who benefit from the new system will probably benefit more, and those who detested it will likely maintain their position against the changes.
The Stars Group owns a majority shareholding in iBus Media