$1.375 Million Bad Beat Jackpot Hits at Playground Poker Club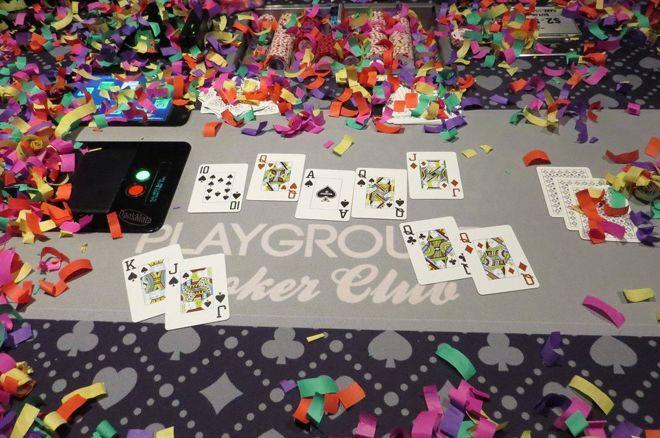 It had been eight months since the last bad beat jackpot was hit at Playground Poker Club. Back in August of 2017, the BBJ was hit at an incredible $1,210,989. That jackpot was triggered when one player rivered a straight flush against quad jacks.
Fast forward to the really late or really early hours of April 27, and you have yourself an even bigger jackpot hit. At 5:30 a.m., the total was sitting at over $1,375,000, making it the largest Primary BBJ ever awarded at Playground Poker Club. The ironic thing is: the jackpot last year was triggered at 5:20 p.m. and this one was triggered at 5:30 a.m. Just throwing that out there.
According to Playground Poker, nine players were seated at a $2/$5 NLHE cash game table with five other NLHE games running.
As the loser of the hand, Kwane R scooped the biggest share of the jackpot ($522,622). Daniel F collected $261,311 as the winner of the hand, while the other seven players at the table each received $37,328. And that wasn't all — everyone seated at a table in the poker room when the jackpot hit was paid $5,938 as part of the promotion.
As the story goes, Kwane R opened to $25 from UTG +1. The next player called, as did the cutoff, and so did Daniel F in the small blind and the big blind. These five players saw the
flop.
Both blinds checked, and Kwane R shoved for roughly $100 with a set of queens. It folded around and only Daniel F made the call.
The two saw the
hit the turn giving Kwane quad queens but the
gave Daniel a Royal Flush with his
.