Faces in the Crowd: Some Super Senior Style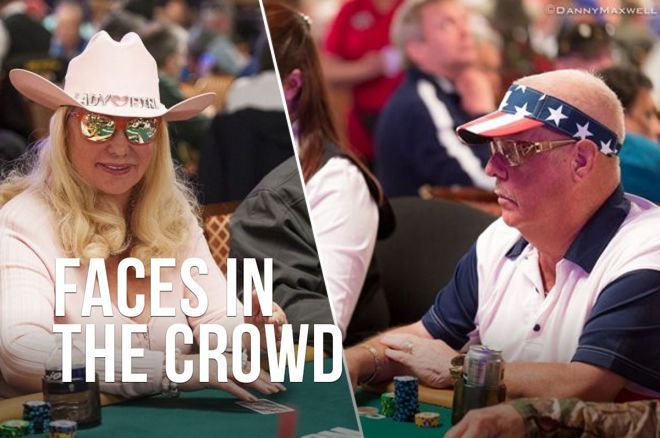 The tables are full in the Rio's Amazon room with players 60 and over battling it out in the $1,000 Super Seniors event in hopes of a nice payout and gold bracelet. PokerNews takes a look at some of the players who turn out to play each summer and tell their own unique stories.
---
PRETTY IN PINK
| | |
| --- | --- |
| Name: | Doralee Rae |
| Occupation: | Retired |
| Hometown: | Napa, Calif. (now Las Vegas) |
When the Super Seniors event kicked off, there was a bit more western wear among players in the field. Cowboy hats, boots, and pearl snap shirts are a frequent sight. The attire harkens back to the game's Old West roots.
"I just like pink."
Among these, Doralee Rae stands out a bit. Decked out in pink cowboy hat, pink shirt, and sun shades, The accouterments have earned her the nickname "Pink Lady," and she wears a similar look every time she's at the table. The attire certainly stands out. Why the colored outfit?
"I just like pink," she says.
While living in Hong Kong, she and her husband began playing poker as a way to relax and continued the game when they returned to the U.S.
Rae has been a regular player in WSOP events over the last few years with almost $21,000 in WSOP cashes. Her best finish came last year's $1,000 Ladies No-Limit Hold'em Championship, where she finished 15th for $9,596.
The Pink Lady even cashed in the Casino Employees Championship event in 2013 for $1,858 after working as a dealer for a bit. What does she like best about poker?
"I'm not a wife, I'm not a mother, I'm really just myself playing poker."
"That I can be my own person," she says. "I'm not a wife, I'm not a mother, I'm really just myself playing poker. It's up to me for my own decisions and I don't have to make my decisions on anything else."
After the second break, Rae was low on chips but chose to be positive about her place in the tournament.
"I'm on a short stack," she said. "That's not a bad thing because you don't have as many options."
She adds laughing: "And I also thought, 'I certainly don't want to get knocked out before I talked to PokerNews.'"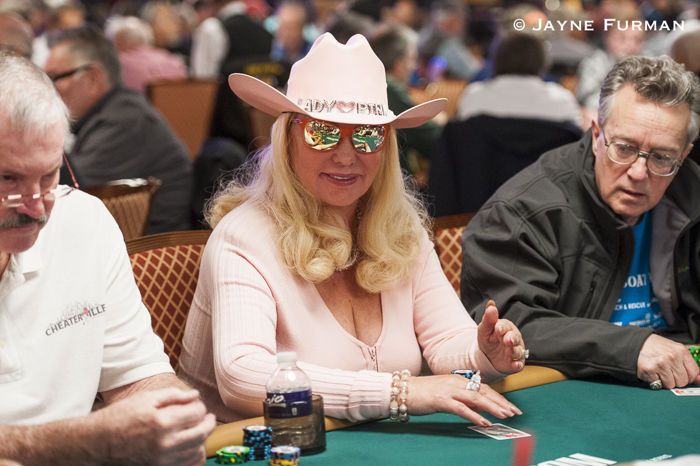 ---
FATHERS DAY DEAL
| | |
| --- | --- |
| Name: | Jerry Zimmerman |
| Occupation: | Retired accountant |
| Hometown: | Surprise, Ariz. |
Jerry Zimmerman says he has three occupations since his retirement: poker player, golfer, and pool boy.
"I'm too cheap," he says of hiring someone to help with that last job. "As long as I can do it."
He may be cheap, but Zimmerman was happy to jump in on the Super Seniors fun for $1,000.
"Everybody has their idea of what they'll spend money on and what they won't," he said. "I've got all kinds of time on my hands, why am I going to pay someone else to do it."
This 74-year-old poker player from Arizona is celebrating Fathers Day by playing at the WSOP. He has four children, six grandchildren, and for great-grandchildren.
"I've got all kinds of time on my hands, why am I going to pay someone else to do it."
Zimmerman's been playing poker for 35 years and had small cashes in the Seniors Championship in 2017 and 2011. He's hoping to bring home a little more money this time.
Zimmerman served in the U.S. Army for six years, and showed his patriotism while playing with his red, white, and blue clothing that he usually wears on the golf course.
When not cleaning the pool or on the golf course, Zimmerman is a frequent player in his retirement community poker club. The club runs games throughout the week – every day except Sunday.
Those poker offerings range from cash games to tournaments, plenty of lower buy-in action to keep him busy and working on his game – but only after making sure that pool is clean.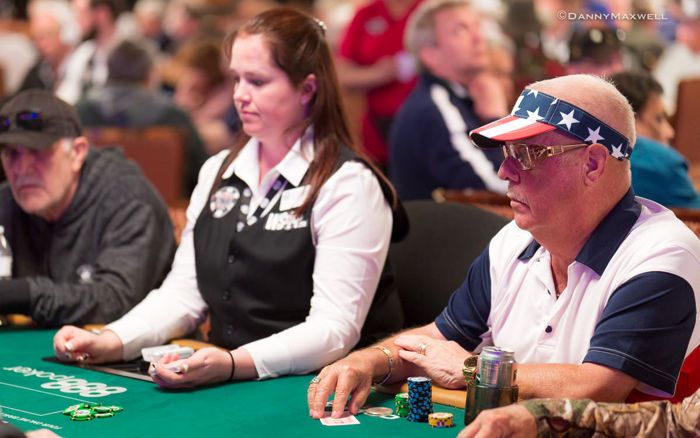 Photos courtesy of Danny Maxwell, and Jayne Furman
Sean Chaffin is a freelance writer in Crandall, Texas. His work appears in numerous websites and publications. Follow him on Twitter @PokerTraditions. He is also the host of the True Gambling Stories podcast, available on iTunes, Google Play, TuneIn Radio, Spotify, Stitcher, PokerNews.com, HoldemRadio.com, and TrueGamblingStories.com.