WSOP Insights: America's Sports Betting Line Has Moved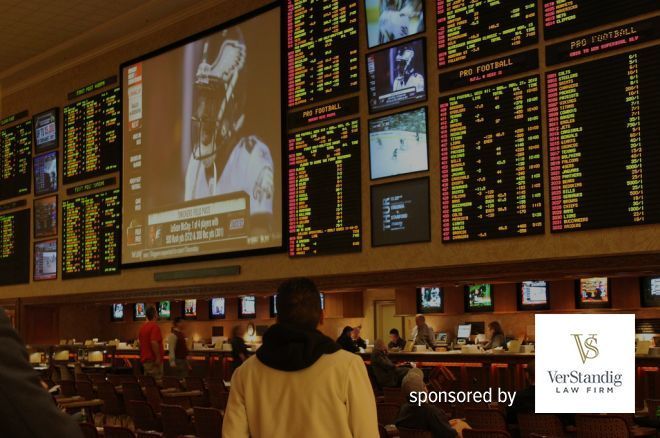 Maurice "Mac" VerStandig is the managing partner of the VerStandig Law Firm, LLC, and focuses his practice on representing poker players, advantage gamblers, and other industry professionals in all manner of legal situations. He can be reached at 301-444-4600, or [email protected].
Not too long ago, Jimmy "The Greek" Snyder acted as a famously edgy fixture on football pregame shows, daring to predict the outcomes of contests and even surmise contemplated final scores, with only the most subtle wink and nod suggestion that such anticipatory tallies were loosely-disguised – and often grossly exaggerated – betting lines. There was an art to the burlesque tease: some skin could be shown, but a thong and pasties would remain in place at all times, to protect an innocent viewing public from the perceptive pornography of actual gambling parlance.
More recently, Brent Musburger would periodically punctuate his call of autumn football games by noting a late score, of otherwise no appreciable import to determining a winner, might "matter to some people in the desert" if it covered a line or moved a tally past the over/under. The thongs were getting smaller and smaller; the pasties had come off.
When the Supreme Court invalidated the Professional and Amateur Sports Protection Act ("PASPA") last month, the United States officially went full frontal. And while the decision is in no way pegged to the evolving social acceptance of gambling, the high court has a long history of declining to tackle socially meaty controversies until such a time as the public seems prepared to embrace the ramifications of its legal conclusion.
Scott Blumstein is a cool 500:1 to repeat, while relative unknown Phil Ivey – on the apparent strength of a 533rd-place showing in the Colossus – leads the field at 100:1.
Even the WSOP has been directly touched by the proliferation of sports betting, with professionals, amateurs, and fans taking odds on the final table of the Main Event. Offshore sportsbooks rush to handicap the final nine players each year, with at least one book going so far as to offer lines on a winner before the field is even set. (Jen Tilly currently sits at a cool 1000:1, with James Woods loitering behind at 1500:1 – no doubt to the appreciable chagrin of the Casino star, who is somehow trailed at nosebleed odds of 2000:1 by former Main Event champions Jamie Gold and Jerry Yang. Scott Blumstein is a cool 500:1 to repeat, while relative unknown Phil Ivey – on the apparent strength of a 533rd-place showing in the Colossus – leads the field at 100:1.)
Sports betting, however, is still not universally legal. In reality, it remains forbade in more than 90% of states, with a couple of entirely valid federal statutes continuing to wreak havoc on bookies and bettors. But this is all likely to change at an astonishingly rapid pace, as local governments scramble to tap an easy tax base, people openly share their preferences for mobile betting apps over bagmen, and the tout industry goes mainstream.
As these changes occur, look for the following legal indicators that Festivus poles and champagne rooms are on the rise:
States Issue Licenses

In striking down PASPA, the Supreme Court did not find hiding in the opaque crevices of the Ninth Amendment a fundamental right to invest a week's pay in your delusional hunch that this will finally be the Browns' season. The majority of justices simply found that Congress had not done what is needed to pull sports betting away from the control of the various states. And, thus, myriad local laws prohibiting such activity are still very much alive and well. But look for state governments eager to raise funds without touching the third rail of payroll taxes to embrace the public's newfound indifference to lap dances. When they do so, however, please bear in mind that action from a bookie is still very much illegal, and the odds of any state government allowing private wagering are too long to even fit on the board.




The Wire Act Vanishes

Courtesy of a crusade of Bobby Kennedy more than 50 years ago, it is still a federal offense to relay sports betting information across state lines on the phone, over the internet, or through the mail. This is why Las Vegas sportsbooks will not let you chat on your cell while placing bets, and this is why so many of us raise an eyebrow and wonder aloud if a certain local casino is not flying too close to the sun when it permits the use of shill proxies in a certain annual handicapping contest. It is difficult to fathom a Republican congress prioritizing the repeal of this anachronism (though having a president with casino industry experience could help), but until the Wire Act goes by the wayside, online betting will be claustrophobically geofenced, and people too close to state lines – like those braving the altitude of Lake Tahoe – will be shut out of the cyber wagering marketplace.




Congress Acts

In what surely seems the sort of mischievous technicality that renders the law so annoyingly idiosyncratic, the Supreme Court's ruling striking down PASPA does not actually bar federal legislation governing sports betting – it merely stands for the triple negative that Congress cannot not allow states to legislate in the absence of a controlling national scheme. Given that this is a form of wagering which more-than-amply implicates interstate commerce in a multitude of ways, Uncle Sam would be within his constitutional ambit to pass a national law legalizing and regulating sports betting. It is a regime that is, in many ways, difficult to envision – with the exception of the Indian Gaming Regulatory Act, federal betting laws have always been prohibitive, not enabling, and casino regulation has long been reserved to local authorities. But state sovereignty is an ever-shrinking cause in the United States, even if straddle rules and permissive stud variants do vary from one locale to another. And, counterintuitively, Congressional action could actually provide cover to tax-starved states which would enjoy the monetary benefits of -110 lines but which have a voting base that is not yet morally prepared for Stormy Daniels to make America horny again.
Finally, be careful to not conflate a burlesque and a brothel: just because sports betting is on the precipice of an apparent renaissance does not mean online poker is destined to anytime soon venture beyond its three-state posture. Yes, smut is smut, and any legislative debate on the proliferation of legalized gaming is a prime opportunity to try to revive the pre-Black Friday late night $5/$10 razz games made only possible by a massive online cardroom. However, there is simply no compelling indication that predominately prudish legislators who came of age with Jimmy "The Greek" Snyder's veiled lingo are ready to accept a vig and a rake at the same time.