Jackie Glazier Voted Off Survivor Australia Midway Through Game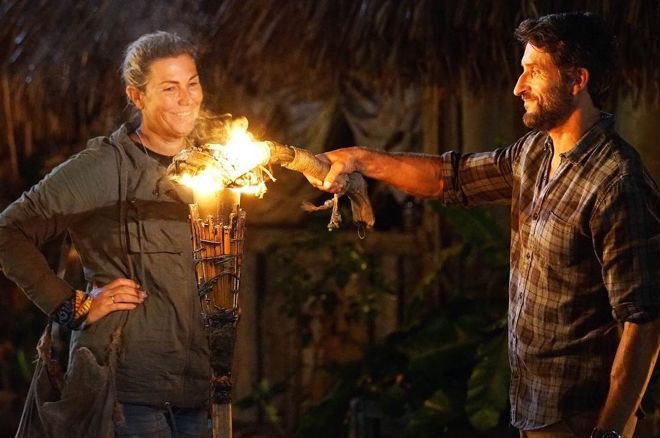 Last month, Australian poker pro and World Series of Poker bracelet winner Jackie Glazier revealed that she would appear on the new season of Survivor Australia, which had already filmed. Earlier this week, Glazier's time as a castaway came to an end when she was voted off halfway through the game.
"How freakin blessed am I to have the opportunity to play this amazing game," Glazier said on social media after her elimination. "I absolutely hate losing but I hate being a bad sport even more. So much respect to my tribe and you definitely made the right move voting me out. With only one winner I was always going to go at it hard."
She continued: "Love me or hate me, I have so so so much respect for this game. I've been a fan forever and I walk away disappointed but proud I played hard. Thanks for all the love and support from so many."
Glazier: "I feel the negative connotations of the game would have put a target on my back."
Unlike the American version of the show, which traditionally has 18-20 castaways battling for $1 million over 39 days, the Australian version featured 24 contestants competing for $500,000 over 50 days. The latest season, Australian Survivor: Champions V Contenders, featured a dozen average Joes (the Contenders tribe) square off against 12 extraordinary players (the Champions). Glazier, who kept her poker past a secret while on the show, was a part of the latter tribe under the guise of being a Rubik's Cube champion.
With nearly $1.4 million in lifetime earnings, Glazier currently sits 26th on Australia's all-time money list. In 2012, she finished runner-up in the World Series of Poker Event #41: $3,000 NLHE for a career-best $458,996, and the following year she took 31st in the Main Event for $229,281. She also captured a gold bracelet when she won the 2013 WSOP Europe Ladies Championship.
How Did She Do?
Glazier made headlines on the show early when she went toe to toe with Russell Hantz, the most notorious villains in Survivor history. In just the second episode, Glazier led the charge on getting Hantz out, though by doing so she put her neck on the line. Glazier received votes at that tribal council, but she was saved as Hantz, who did not use a Hidden Immunity Idol, became the game's second casualty.
Over the next several weeks Glazier found her groove, thanks in no small part to a string of immunity wins by the Champions Tribe. She often struggled with the physical aspect of challenges but was the tribe's go-to puzzle solver. Earlier this week, a tribe swap took place, but despite staying on the Champions Tribe with majority numbers, it ultimately led to Glazier's elimination as she found herself outside an alliance led by rugby league footballer Mat Rogers, who claimed he just couldn't trust Jackie.
Ultimately, the 44-year-old poker pro exited the game on Day 26 as the 11th contestant voted out.
After host Jonathan LaPaglia snuffed her torch, Glazier was gracious in defeat. As if they were opponents at the poker table, she turned back one last time and wished her former tribemates good luck before exiting the game.
"There's the perception of a poker player, I feel the negative connotations of the game would have put a target on my back," Glazier told Ten Daily in a post-elimination interview. "The way it was edited made it out to be that's what I did, but a grown woman traveling around the Rubik's cube circuit... I don't know how you'd make a living."
Glazier wasn't the first poker pro to tackle Survivor. Earlier this year, online legend Ilari Sahamies competed in the Finnish version of the show, and back in 2015, Anna Khait was a part of the USA's 32nd season. Others to play in the past include recent bracelet winner Jean-Robert Bellande and cash game specialist Garrett Adelstein.
Images: Network Ten