PokerStars VR Creates Live Poker Feel in Virtual Reality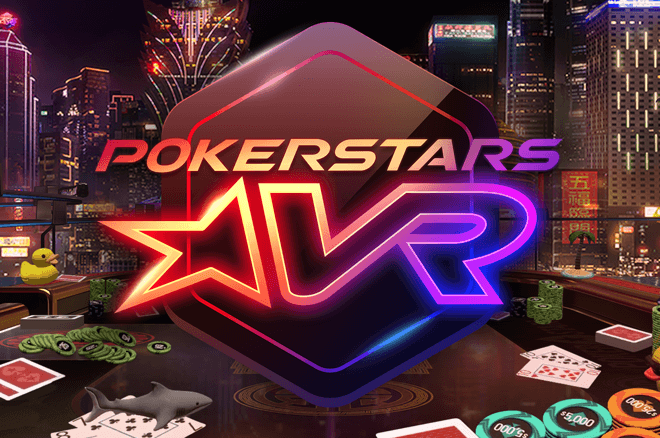 As market leader, PokerStars has been at the forefront of poker innovation to make the game more compelling, accessible and interesting for new and existing audiences alike. Whether it's running out multiple boards with Split Hold'em, revealing all folded cards with Showtime, or unfolding hands that could have been, the PokerStars innovation team has been testing the waters for quite a while now. However, none of these are as ambitious as PokerStars' latest offering: PokerStars VR.
In expectation of a commercial release in the future, PokerStars VR aims to combine the best of live and online poker to create a fun, engaging and new way of playing poker. PokerStars VR is intended as a free-to-play, authentic and immersive social poker game. In VR, players can handle chips and cards just as in the real world, study opponents and pick up tells, chat in real time, and have fun with a host of interactive props.
Before joining PokerNews, I worked at the start-up The VR Room, the first virtual reality entertainment center in Holland. With my background as a marketer in the VR entertainment industry, I know a thing or two about VR. I know what the Oculus Rift VR headset is capable of, and what a challenging, fun and immersive VR game should bring to the table. After an hour-long hands-on experience with PokerStars VR, the game lives up to its promise of delivering a great social experience and shows that the virtual poker playground can be a lot of fun.
Bringing live and online poker together with VR
Becoming fully immersed in another world is one of the key aspects that distinguishes VR from other forms of entertainment. While wearing the Oculus Rift headset, you quickly forget the room you're in, stepping into a new world entirely. Often, this leads to hilarious and sometimes painful situations. PokerStars has teamed up with Lucky VR to create PokerStars VR and mimic the live experience in the virtual world, creating an innovative experience for both new and existing players.
"VR is the perfect medium to bring live poker and online poker together, that's the main reason we chose it," said Manuel Bevand, a former Magic: The Gathering and poker professional who is now part of the PokerStars Innovation team.
Manuel Bevand: "VR is the perfect medium to bring live poker and online poker together."
"With live poker, people love it because you're at the table, you can look at people, try to get a read and socialize as well. You feel the chips, the cards. Then with online poker, you get all the strategy, the numbers, the mathematical aspect and the speed. All the games, 24/7. But bringing the two together is what players really want. That's why we're working with Lucky VR to build this, bringing the best of live poker and the best of online poker in one experience,"
"It was really amazing," PokerStars Team Online Pro and avid Twitch streamer Jaime Staples said, shortly after having his first hands-on experience with PokerStars VR. "I've never tried VR, so, the first thing that I thought was it was super immersive. I was in this world. The other world didn't exist anymore. That was really cool."
Cigar-smoking duckies; bottles flying everywhere
After the first round of questions, we got a chance to put on the Oculus headset and experience the product that's still in its testing stages. Immersion came quickly: it took me about 20 seconds to forget I was on the second floor of Hotel Arts and another 20 to grasp the game's easy mechanics. Movement is done by teleporting around — a way of transportation game makers use in VR to combat motion sickness. Accessing the menu is easy: just peek at your watch for everything you need. That's your in-game watch, which means people in the real world watching you will see you stare and point at your own arm all the time.
It was easy for me to join a table: within a minute, I had a seat, chips and cards in front of me. I also had something to drink — I simply brought up a beer bottle from the menu, took a sip from it, then put it next to my chips. Carnage quickly ensued as the first bad beats were dealt and players discovered the possibilities this game had to offer. I found myself fully immersed in no time and started flinging some beer bottles at Team PokerStars Online Pro Randy "nanonoko" Lew, who was seated next to me.
Due to the immersion, Lew instantly lifted his (real life) hands up in defense and yelled through the headset. The bottle bounced off his avatar, hit his stack and all his virtual chips were spread across the table. Neat. Next, I conjured up a cigar and, jokingly, tried to put it in the mouth of my card protector, a rubber ducky. It actually worked; I never expected a cigar-smoking rubber ducky was something I needed in my life but there we were.
There are myriad items programmed into the game, with seemingly endless ways to use or to poke fun at your opponents. Items do what you'd expect them to do: a gun shoots bullets (you can even shoot stuff off the counter), bumping against a bottle will make it fall over and stuff you throw keeps lying around for others to engage with. The options were so entertaining that playing actual poker seemed to become an afterthought; it was simply too fun to discover all the little different interactions and effects that everyone quickly forgot about their hands.
"What we've seen is that in the beginning, players focus on the objects," Bevand concurred. "It's so much fun to mess around with the rubber ducks and the smokes, throwing things at people. After a while, though, people come back to the poker, focus and play seriously. We have two types of games: one where anything goes and the serious, competitive games as well."
"It was just more fun than playing online poker," Staples said. "Even with live poker, it doesn't have all the fantasy aspects you could use. So yeah, I loved it, it was great."
The challenges PokerStars VR faces
An ambitious project like PokerStars VR comes with its challenges, and the team has taken several steps in order to address them. Most notably is that PokerStars VR will launch as a play-money experience, with real money offerings not being on the roadmap at this time. Instead, the focus will be on developing the game as well as listening to player's feedback before any strides towards potential real money offerings will be made.
Virtual reality is fully in development and while a lot of progress has been made over the years, mainstream adoption still has a long way to go. Current headsets will set customers back several hundred dollars alone, and a compatible (and costly) PC with high-end graphics is needed as well to be able to deliver the full immersion.
Bevand said the following when asked about these hurdles for the average consumer:
"We're thinking forward, we're thinking several years ahead. Right now, the prices of both the Oculus Rift headset and the compatible PC are dropping very fast. When this is going to mature is when the price point is accessible for everybody. This happens so fast, the technology and hardware evolve so fast and the price drops so fast that we're not concerned by this. We have to start now, build this from the ground up and get as many people as we can."
Jaime Staples: "There's a bunch of jokes in there; you can shoot guns, you can shoot fireworks, you can throw cards at people."
With PokerStars VR, players will be playing against real players across the world instead of AI-generated opponents. But will the game be able to transition the banter and fun more commonly associated with live poker into the living rooms and recreate the social experience from a live environment? Staples thinks the key is ingrained in how the game has been built up.
"It's still poker at the end of the day but it doesn't take itself too seriously," he said. "There's a bunch of jokes in there. You can shoot guns, you can shoot fireworks, you can throw cards at people. There are aspects that make it more human in a competitive environment."
The potential of PokerStars VR
In a Q&A, PokerStars dove into the social experience that's at the heart of PokerStars VR.
"Poker at its heart is a very social experience and if we can bring more of that to the game then we believe it's very beneficial," a company rep said. "VR and poker go together incredibly well because VR is incredibly immersive and the possibilities are endless. The more people you put in, the more immersive it becomes."
As a streamer, Staples sees a lot of potential in this social experience as well and is interested to see how the product will evolve.
"It's not going to appeal to the grinders that typically are playing six to eight tables, but it's going to appeal to pretty much everyone else," he noted. "It's a broader way of playing poker, it's a richer experience. I think everyone from who've never played before to who enjoy playing for play money with their friends, will love it."
Jaime Staples: "I think this is perfect for Twitch."
PokerStars VR contains a in-game camera to facilitate live streaming. In terms of viewing streams whilst in game, Oculus Rift provides the functionality to view anything that is open on a desktop. The Canadian was all smiles when thinking about the entertainment possibilities for his own audience.
"I think this is perfect for Twitch. So this is my first trying — I have to develop my thoughts on how it's going to work best. But I know the audience is gonna love it. It's funny, interesting, it's engaging. I think the first approach will be playing with other streamers or audience members and see how it develops from there."
With leaderboards and private tables, players can earn free chips to use at the tables by spinning a virtual wheel every day. In addition, there are five exotic virtual reality settings for players to experience: Macau 2050, The Macau Suite, The Showdown Saloon, Monte-Carlo Yacht, and The Void, with more to be added in the future. What the future holds for PokerStars VR will be seen as the game and technology develops over time. One thing is for sure: together with Lucky VR, PokerStars has delivered a social gaming experience with PokerStars VR that is fun, fully immersive and a blast to play.
The Stars Group owns a majority shareholding in iBus Media. Views expressed by the author are strictly personal and based on personal experience.
A former professional poker player with a background in sports marketing and journalism. Yori has been a part of PokerNews since 2016 and manages the content team.