Top 10 Stories of 2018, #8: Ferguson Posts "Apology" Video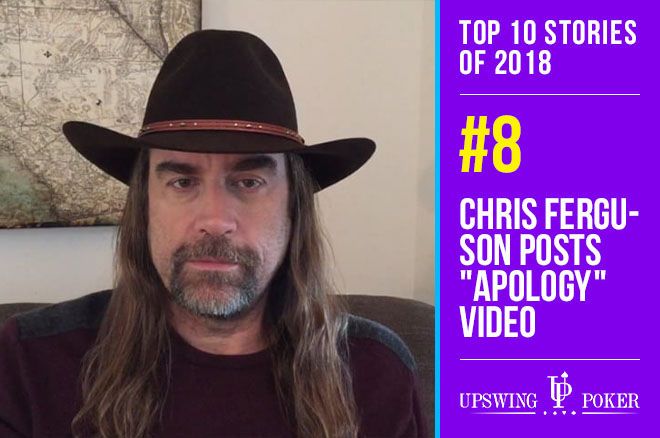 This year's Top Stories are brought to you by Upswing Poker. If you want to improve your skills and confidence at the table, look no further than the free resources and premium training courses on upswingpoker.com.
---
The Video, All 42 Seconds of It
Having refused to speak several times since the events of Black Friday, Chris Ferguson finally found the time to apologize for his role in the Full Tilt Poker scandal as this year's 2018 World Series of Poker approached. The exact time he found for everyone was... 42 seconds.
Having endured several summers of 'feedback' from players who were unhappy with not having been paid back by Full Tilt Poker upon the brand's 2011 implosion, Ferguson sought to make amends by posting the video on the eve of this summer's WSOP festival. Nice timing, some noted, with the 2017 Player of the Year likely to meet with more anger from players who hadn't forgotten his perceived role in the brand's collapse.
In case you've been living under a very heavy rock for seven years; in 2011, Black Friday rocked the poker community as Full Tilt Poker, PokerStars, and Ultimate Bet were indicted, with online poker suspended indefinitely by the U.S. government. Full Tilt Poker's role was integral and having failed to segregate funds between players and their poker operations, Full Tilt bore the brunt of post-Black-Friday recriminations.
Of course, the perception of Chris Ferguson plummeted, and it would be fair to say that his apology did little to convince the poker world that he was another victim of the events of April 2011. Howard Lederer went to great lengths to try to explain away his role in the scandal, but, perhaps having seen the reaction to Lederer's apology in 2012, Ferguson had never previously spoken out about what happened.
In the 42-second video, Ferguson still said as little as you might have expected. Instead of any admittance of guilt, there was a vague claim of his hard work in attempting to get poker players repaid after the furor. He reminded us of his name, as if we could mistake him for another long-haired poker player in a brown cowboy hat, and said he also looked forward to the full story about Full Tilt coming out one day.
Reaction on Poker Twitter
His attempt at contrition sounded as remorseful as a hot dog advert and left the same salty, bitter taste in many poker players' mouths. Those mouths took to Twitter in force:
The Apology Transcribed
Here's Ferguson's apology in full:
Hi, it's Chris Ferguson.

I'd like to take this brief opportunity to address the poker community which I love and have been part of for a long time. I deeply regret not being able to prevent Black Friday from happening. After Black Friday, I worked relentlessly to ensure that all players got paid back, and I sincerely apologize that it took as long as it did.

I also realize it has taken me a long time to make any sort of public statement and I appreciate my fans and the poker community as a whole for the patience and support. One day, the Full Tilt Poker story will be told, and like many of you, I look forward to that day.

I hope to see you all at the World Series of Poker this summer. Thank you and good luck.
If you're still angry, you're not the only one. Daniel Negreanu went full Hellmuth on his former adversary.
Chris Ferguson didn't win Player of the Year at the 2018 World Series of Poker, but he did cash 23 times across the year; 17 times in Las Vegas at the WSOP and six times in Rozvadov at the World Series of Poker Europe. Cashing into the six figures, Ferguson must like flags, both on his Hendon Mob page and blowing in the air conditioning at the Rio.
While his apology video did little to appease the thousands of poker players who still blame him for at least part of the Full Tilt Poker scandal, Ferguson remains popular with enough players to keep coming back, so expect him to crop up again in 2019.
---
Upswing Poker gives you access to the tactics and strategies that world-class pros wish they could teach their younger selves. Check out the free resources and articles on upswingpoker.com to level-up your skills without spending a dime.
---
Top 10 Stories Since 2011
Top 10 Stories of 2011
Top 10 Stories of 2012
Top 10 Stories of 2013
Top 10 Stories of 2014
Top 10 Stories of 2015
Top 10 Stories of 2016
Top 10 Stories of 2017