Top 10 of 2018: What Didn't Make the Cut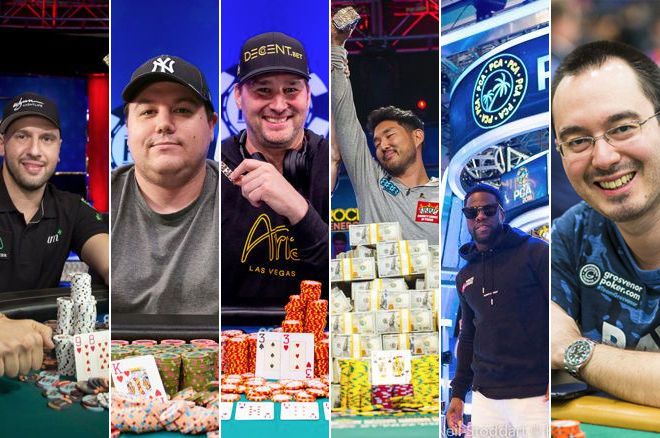 As is the tradition at PokerNews, we round up the Top 10 biggest stories in poker for the year. Starting tomorrow, every day till January 1st we'll bring you an article looking back on the stories that impacted the industry and captured the attention of the poker world during the year.
With so many compelling stories, it wasn't easy trimming it down to ten, but we had to do it. The 10 finalists were determined based on criteria like article views, our audience's reaction via social media, and opinions from the editorial team. For purposes of space, a lot of good ones didn't make the cut, but we didn't want to completely deprive our readers of them.
Here, in no particular order, a list of stories that didn't make it into our Top 10.
---
Phil Hellmuth's Eventful World Series of Poker
Phil Hellmuth is never one to get it quietly and the Poker Brat lived up to his reputation at the 2018 World Series of Poker. First, the Las Vegas legend put his action up for sale at 1.8 mark-up for Event #2 of the series, which rubbed some people the wrong way.
Hellmuth then angered the poker world and ruined James Campbell's Main Event by revealing the strength of his hand in a foul-mouthed rant during a vital hand in the Main Event. Hellmuth later redeemed himself by offering to buy the father-of-two into the 2019 WSOP Main Event.
It was an offer that was gratefully accepted by the firefighter. Hellmuth's expensive good karma worked out for him in the best possible way, as he followed up busting out of the Main with winning his 15th WSOP bracelet.
---
Shared Liquidity Kicks off in Europe & US States Nevada, NJ, Delaware
Many players were celebrating as shared liquidity returned to some U.S. states, when Nevada, New Jersey, and Delaware became the first states to offer a combined platform for players, via the WSOP.com site. It represented a major step forward for a sustainable regulated online poker network to return to the United States of America and may foreshadow the biggest story of 2019. Poker players will certainly hope so.
PokerStars first launched shared liquidity sites in Europe with French and Spanish players able to battle each other. Some time later, Portugal joined the pool. partypoker created a similar shared liquidity in June of this year.
---
Staples Wins Weight Loss Bet
Jaime and Matt Staples won their weight loss bet with Bill Perkins, winning $150,000 in the process. Perkins, famed for his outlandish bets and a high roller lifestyle that is the envy of aspirational poker players around the world, bet that the two brothers couldn't reach the same weight within a year. With Jaime weighing 304 pounds and his brother Matt tipping the scales at just 134 lbs, it was a tall order. But back in March of this year, they both weighed in at 188.3 lbs to claim the win and bank a massive $150,000 between them.
$50,000 of their winnings went into a new bet with Perkins they're calling Ultimate Sweat Challenge 2.0, betting that they could get to 9.9% or less body fat by March 25, 2019. The Staples brothers don't look like the favorite to win that one, however.
---
John Cynn Wins the 2018 WSOP
John Cynn was the eventual winner of a thrilling WSOP Main Event final table, which featured the longest heads-up battle in the history of the game. Cynn banked $8.8M for triumphing over a final table that featured 2009 WSOP Main Event winner Joe Cada, who bowed out in fifth place for $2.15M.
---
Short Deck Poker Emergence
Any new variant in poker causes a stir, and none more so that the emergence of Short Deck Poker this year. From Tom Dwan to Phil Ivey, from Robert Sutherland in Sydney to Ike Haxton in Las Vegas, everyone has been playing the super-swingy format of the game. Some big Short Deck wins were booked in 2018, with many more expected in the next 12 months.
---
Maria Konnikova Wins at PCA, Gets Platinum Pass, Extends Sabbatical to Play Poker
After a rollercoaster year of training to play poker, the journalist bagged a win by triumphing at the PCA back in January. Maria Konnikova took down the $1,650 PCA National, edging out Alexander Ziskin to bag the $84,600 top prize and later announced she would extend her sabbatical to play even more live poker.
---
Will Kassouf Loses Sponsorship Palming Chips
Will Kassouf was left high and dry after losing his Grosvenor sponsorship following a drunken incident at a casino. Having pocketed £100 chips from a friend, the former lawyer was left with no leg to stand on, and after a Twitter outing, came clean to apologize for his actions. It did not save his sponsorship, however, as Grosvenor ended their representation of the man who made an untimely life bluff that left him as his own boss.
---
Mizrachi Wins Third WSOP $50k Players Championship
Michael Mizrachi created history when he took down a third $50k Players Championship, setting an astonishing record. It was no easy feat, either, as 'The Grinder' had to get through a star-studded final table featuring John Hennigan, Dan Smith and Mike Leah.
---
Mike Leah Controversy as Canadian Accused of Buying Titles
Canadian Mike Leah was chastised by many in the poker industry after his controversial deal with fellow Canadian Ryan You saw him 'buy' the WPT Fallsview title.
Grant Hinkle went as far as to declare: "It disparages the resume of Mike Leah, the prestige of major titles like the WPT and whatever integrity is left in the game of poker."
Leah, for his part, was unrepentant, admitting the situation is less than ideal but stating that he gets to the deal stage of tournaments more than his vocal peers.
---
Kirk Loses $4.7 million to Leon Tsoukernik in Streamed Cash Game
Everyone loves some high-stakes cash game action, and this year poker fans got a peak into the nosebleed action. According to sources, Aussie Matt Kirk lost a whopping $4.7 million in partypoker's The Big Game, much of it to fellow high-stakes cash game player Leon Tsoukernik. The King's Casino owner was the biggest winner over the course of a crazy week.
---
Bad Beat Jackpots All Around
Six lucky players at the Motor City Casino took home a share of the record $1.068 million bad beat jackpot payout in Detroit. Every player at the table was lucky enough to win a six-figure sum, with 'Scott' losing with Quad Threes to prompt big paydays all around.
There was more news coming out about Bad Beat Jackpots in 2018. In January, there was an update in the Red Rock Bad Beat Jackpot dispute, with a judge siding with the players in February. Then in April, the $1,375,000 Bad Beat Jackpot hit at Playground.
And then there was the case with R.J. Bergman who saw his quads nine cracked. The bad bead jackpot was $18,000, a lot smaller than the others we reported on this year, but this one was special as Bergman only got $665 of it. Why? Well, he was not beat by just quads, he was in third place with a straight flush also out there.
---
Poker Player Shot Outside Texas Card Room
Back in May, Tom Steinbach, aka '3betpanda', was shot in the back in Austin, Texas after he and another poker player were accosted by a person attempting an armed robbery. Steinbach recovered and arrests were made, but the poker community was shaken up.
---
Shaun Deeb Wins WSOP Player of the Year
Shaun Deeb was the runaway winner of the WSOP 2018 Player of the Year title as he obliterated the competition on his way to the accolade. 2018 saw Deeb mop up everything in sight, with two bracelets in the $25,000 PLO High Roller ($814,179) and $10,000 No Limit Six Max Championship ($1,402,683) events being the highlights of his 20 cashes.
2017 champion Chris Ferguson set a record for most cashes on the WSOP in a single year, with 23 results posted. But it was Deeb who topped the lot with his 5,073 WSOP POY points haul. Ben Yu (3,746 points), Joe Cada (3,531 points) and John Hennigan (3,499 points) were Deeb's only challengers, but none could get close.
---
Kevin Hart Plays a Ridiculous Hand of Poker
Hollywood Superstar Kevin Hart proved his poker chops (sort of) when he made the most outrageous play with just king-high to win a $40,000 pot from a qualifier in the PokerStars Championship Monte Carlo event.
Hart was playing on a table featuring Daniel Negreanu, Faraz Jaka, Liv Boeree, Charlie Carrel, and said qualifier, Mila Monroe when she made a huge bluff with six-high. Mis-reading his hand, he made the call and turned over king-high to claim the pot. Having felt bad about the whole situation, Hart had the... well, heart, to buy Monroe back in.
---
WPT Moves to Delayed Final Tables
With the WSOP November Nine now a thing of the past, noone saw the World Poker Tour move coming - a delayed final table strategy. With between 3-6 weeks between qualifying and playing in the six-handed final table, WPT couldn't have been prouder of the move to delayed action at their new partnership home of the eSports Arena at the Luxor in Las Vegas.
---
Angle Shoot All-in or Joke? Ingram Posts Video
Joey Ingram highlighted what was either the worst joke ever told or an outrageous attempt to angle shoot with a hand from Live at the Bike. Ever turned on the waterworks as a child to get what you want? This one was for you.
---
'Chinese Black Friday' Hits Asian Poker Apps
In April, the Chinese government announced a tough crackdown on social poker games. All apps offering poker in any form were banned from June 1st and it was even prohibited for poker to be promoted via social media networks such as Google Play, WeChat, or the App Store in the country. Some commentators labeled it 'Chinese Black Friday' for the Asian superpower.
---
Farhintaj Bonyadi Wins WSOP Super Seniors, First Mother-Son Duo to Win Bracelets
Mother-and-Son WSOP teams aren't common, in fact, Farhintaj Bonyadi and her son Farzad 'Freddy' Bonyadi became the first duo of their sort to win WSOP bracelets when the former completed a remarkable Super Seniors Event victory. Farhintaj Bonyadi defeated Robert Beach heads-up to bank $311,451 and claim the record-making win, adding to her son's impressive trio of WSOP bracelets already on the family mantelpiece.
---
Top 10 Stories Since 2011
Top 10 Stories of 2011
Top 10 Stories of 2012
Top 10 Stories of 2013
Top 10 Stories of 2014
Top 10 Stories of 2015
Top 10 Stories of 2016
Top 10 Stories of 2017