Top 10 Stories of 2018, #6: Ivey Returns to Tournament Poker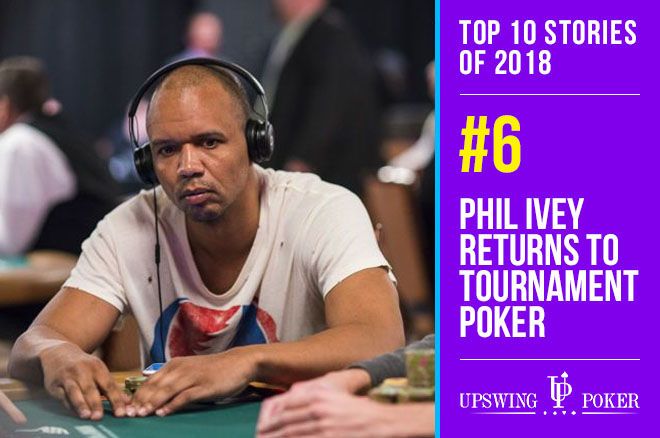 This year's Top Stories are brought to you by Upswing Poker. If you want to improve your skills and confidence at the table, look no further than the free resources and premium training courses on upswingpoker.com.
---
Year after year, things change in poker as they change in any other industry, but one thing that remains constant is the superstar status of Phil Ivey. Ever since he first appeared as a precocious 26 year old on the World Series of Poker episodes that launched Chris Moneymaker to stardom and helped power the poker boom, Ivey has remained a subject of fascination, envy, and speculation.
In recent years, it's been mainly the latter that has dominated the discussion.
Ivey logged exactly one tournament cash between February 2015 and the beginning of 2018.
Ivey spent over a decade as a consistent presence at the WSOP, building a nearly incomparable ledger that included amassing 10 bracelets in a fraction of the time it took the likes of Doyle Brunson and Johnny Chan to reach the same mark. He had success on the World Poker Tour and even the European Poker Tour.
At one point, despite giving up a number of years to the players surrounding him on the all-time money list, Ivey even ranked as poker's top earner.
And he did all this while driving legendary action with crushing performances against the best players in the world in nosebleed cash games, often in front of audiences of thousands on Full Tilt Poker. Simply put, nobody was on Ivey's level of all-around poker dominance, and he earned a fan following and rep to match his incredible skills.
Then, he all but disappeared.
The Disappearance of Ivey
In 2014, Ivey won his final — for the moment — bracelet, taking down the $1,500 8-Game. He showed up for the Aussie Millions the following January and collected his seeming yearly seven-figure check for winning the A$250,000 Challenge.
Then...nothing.
Ivey popped into the occasional tournament, such as when he showed up at the 2016 WSOP Main Event, but for the most part he turned into a ghost. Precisely because he so clearly avoided the poker spotlight, it set the poker community buzzing when he did deign to appear.
Instead, Ivey made headlines for a different reason: his ongoing court battles with Borgata in the U.S. and Crockfords in the U.K.
Naturally, brazenly taking a couple of casinos for tens of millions in house games only added to his rakish legend as poker's international man of mystery.
In the meantime, scuttlebutt abounded about the fabled Asian cash game scene in which Ivey supposedly found himself immersed. Rumor had it he was risking untold sums at unthinkably high stakes and even playing wild games featuring some 40 percent of the deck removed.
At final tally, Ivey logged exactly one tournament cash between February 2015 and the beginning of 2018. With Ivey's continuing legal troubles dogging him into the new year, there seemed to be no real reason to expect the legend to resume his rightful place as poker's pre-eminent star.
The Return
If there's one thing Ivey's always relished, it's the thrill of gambling for the highest stakes. This was a man who famously bet seven figures on the Super Bowl at least once. So, if there was ever an event that would lure him out of tournament semi-retirement, it was Triton Super High Roller Series.
So, when Ivey showed up for Triton's Montenegro event in May, heads turned and eyebrows were raised but it was hardly earth-shattering. More "LeBron signs with the Lakers" than "Jordan un-retires and plays for the Wizards," as GOAT career moves go.
Certainly, Ivey's return proved a bit more successful than Jordan's, as he got back to his winning ways in the tiny coastal European country. Ivey's vast experience in the short deck cash games proved invaluable, as he finished first and third in the two short deck events in Montenegro for a combined HK$17.8 million (~$2.27 million).
While most of the poker world followed Ivey's return with interest, at least one man wasn't caught by surprise.
"I have a little bit of a different situation with Phil because we're good friends, so we talk quite often," said Patrik Antonius when interviewed by PokerNews about Ivey's return. "So, I kind of know more than others what he's going to do. He's been playing a lot of cash games in Asia. So, the Triton series with the Asian guys, it was a natural choice."
However, Ivey's next move caught even his old Finnish friend and rival by surprise.
A Full Summer's Grind
Nosebleed tournaments with millions of dollars on the line are one thing. It's easy to imagine Ivey being lured out of tournament retirement for such events. More difficult is picturing the legend seated with the plebeians grinding out WSOP shifts in earnest.
Yet, that's exactly what happened when the 49th WSOP rolled around.
He was spotted playing — and cashing — in the $565 Colossus and the $1,500 Millionaire Maker.
When Ivey told PokerNews he'd play the WSOP, most naturally assumed his return would be limited to events like the $100,000 High Roller and the $1,000,000 Big One for One Drop. Instead, Ivey returned to the days of yore — likely motivated by a side bet or two — as he showed an appetite for anything and everything that had a bracelet on the line.
Indeed, Ivey could be found grinding some of the smallest events on the schedule. He was spotted playing — and cashing — in the $565 Colossus and the $1,500 Millionaire Maker.
Grinding might be a bit loosely applied in this spot, considering Ivey often waited until the last moments to register. Still, compared to recent years, Ivey was a regular Pete Chen out there.
Ivey stayed on the tournament grind immediately following the WSOP as he headed to Triton Jeju. While he bricked out there, it was more evidence that Phil Ivey, tournament poker player, might be a thing once again if the situation is right.
Ivey in 2019 and Beyond
Poker fans everywhere would love for 2018 to portend more Ivey appearances in tournaments around the world going forward.
Will that be the case?
If Ivey's past few years have proven anything about the man, it's that he's as unreadable away from the table as he is seated at the felt. He remains entangled in an ongoing saga with Borgata, with the latest developments sounding less than fortuitous for the living legend. The East Coast gambling giant seeks to possibly punish Ivey for treble damages, which could see him forking over as much as $30 million according to some sources.
What can't be debated is that the game is better off when Ivey's a part of it.
"It was nice to play with him in some events and see him," Antonius said. "I think the game needs players like Phil Ivey. He's such a tough competitor. When you manage to stick a bluff on him or call him, it always feels extra good."
Antonius can relate to Ivey's movements, reflecting on his own on-and-off relationship with tournaments. Back in the day, Antonius said, he grinded tournaments with a purpose. Eventually, though, the cash game action far exceeded the money available in tournaments, and Antonius and his nosebleed ilk slowly moved away from the scene.
Antonius: "I miss him in the events. He used to play so much in tournaments and cash games. He'll be back strong for sure."
That's changed with the massive advent of the high roller and super high roller scene. Hardly a month can go by without a tournament of at least $50,000 popping off somewhere on the globe.
For Antonius, that means he's slowly shifting more of his action back to tournaments. Will Ivey do the same? There's no telling for sure, but Antonius admitted he hopes so.
"I miss him in the events," he said. "He used to play so much in tournaments and cash games. He'll be back strong for sure."
Poker fans the world over will be hoping so. Whether it proves to be the start of a new track of Ivey or a blip on the radar, the buzz created by Ivey's return to the tournament felt in 2018 makes it one of the stories of the year.
---
Upswing Poker gives you access to the tactics and strategies that world-class pros wish they could teach their younger selves. Check out the free resources and articles on upswingpoker.com to level-up your skills without spending a dime.
---
Top 10 Stories Since 2011
Top 10 Stories of 2011
Top 10 Stories of 2012
Top 10 Stories of 2013
Top 10 Stories of 2014
Top 10 Stories of 2015
Top 10 Stories of 2016
Top 10 Stories of 2017