Father and Son Brett and Josh Reichard Claim Circuit Rings at Potawatomi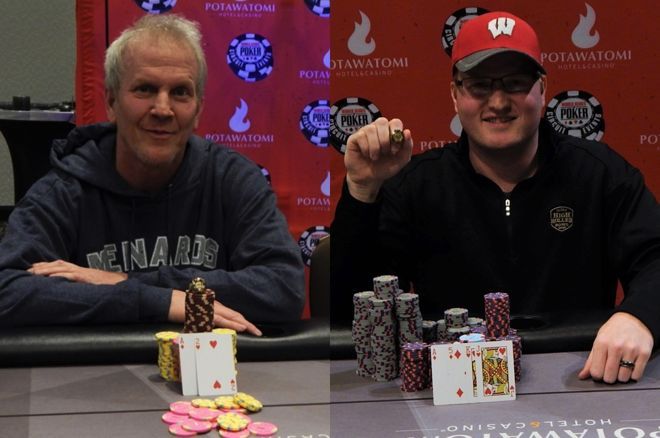 Table Of Contents
Affinity for cards often runs in families and poker-playing ability seems to be passed down in the genes – or more likely the environment – rather often. Another case in point has emerged this week at the WSOP Circuit Potawatomi stop in Milwaukee, Wisconsin, where father and son duo Brett and Josh Reichard have both shipped rings, within just three days of each other.
The younger of the duo, Josh, is the true grinder of the family, traveling to most of the mid-stakes stops in the Midwest and having put together more than $1.2 million in cashes in under seven years on the circuit. His dad Brett Reichard owns home décor company True Dimension Designs and doesn't get to travel to play as much as he used to, but makes it out to grind around six times a year.
"Josh is the luckiest bastard in Wisconsin."
With Potawatomi being within a two-hour drive from their hometown of Janesville, both are getting to play the stop and it's been going well so far. Early on Sunday morning after a long-fought heads-up battle, Brett, known affectionately as "Pops," claimed his second Circuit ring in Event #3: $400 No-Limit Hold'em Turbo one-day. The 52-year-old defeated a field of 267 to get his hands on the $21,590 top prize and add to his first ring, which he won at Harrah's Cherokee in August 2016, according to the WSOP Circuit live updates.
Josh followed that up just a few days later, taking down Event #6: $400 Pot-Limit Omaha for his eleventh ring and $15,410.
"Josh is the luckiest bastard in Wisconsin," Brett said of his son.
About his father's win, Josh joked: "It's about time this old dumbass finally won again so I can follow it up."
Weaned on Cards
As with many poker players who hit the tournament circuit as soon as they were of age, card-playing was in Josh's blood.
"He was weaned on a deck of cards," Brett said. "I'd pick him as my partner in euchre when he was nine years old."
When it came to getting hip to the Texas hold'em craze back in the day, Brett and Josh developed their poker chops together. As a youngin, Josh would watch his dad click the buttons online and eventually the kid began participating more.
"[Josh] was weaned on a deck of cards. I'd pick him as my partner in euchre when he was nine years old."
"Every night we'd get a 12-pack of beer and a 12-pack of Mountain Dew and order a pizza," Brett said. "I'd sit and play PokerStars with Josh watching."
It didn't take long before Josh was telling Pops what to do while they played, and their respective poker styles developed from there.
"Pops taught me my aggressive style," Josh said. "Pops definitely plays more like an old man — bigger bet sizing and more sticky. We both play more aggressively than most."
Asked if he still takes tips from his accomplished son, Brett said that doesn't really work for him.
"I don't listen much to what Josh says about poker because it really f**** my game up."
Title Hunting
With his most recent victory, Josh is now tied with Maurice Hawkins for second-most rings on the all-time leaderboard, both sitting just one victory behind the leader Valentin Vornicu. PokerNews asked what that title would mean for the 27-year-old poker pro.
"I'm a Wisconsin boy; I love repping Wisconsin," he said. "The coolest thing to me is because [Phil] Hellmuth is up there on WSOP with most bracelets, my picture would be there next to him for most rings. Other than that, I don't care that much about it."
With the Main Event now underway at Potawatomi, the Reichards still have a shot to go for another ring in their home state, adding No. 14 to the family collection.
Photos courtesy of WSOP Circuit.
Reporting by Mo Nuwwarah contributed to this article.