Inside Gaming: NV's Largest Casinos Lose $1.17B for Fiscal Year, Stratosphere Name Change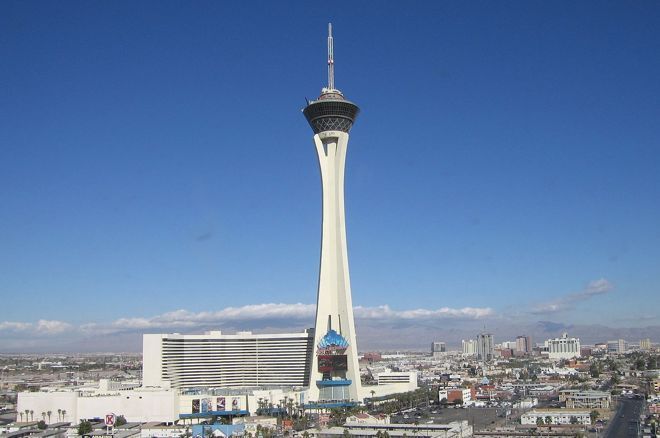 Nevada Regulators Report Net Loss by State's Largest Casinos for FY 2018
This week the Nevada Gaming Control Board released its annual "Gaming Abstract" reporting financial information regarding casinos in the state that grossed $1 million or more in gaming revenue during the fiscal year ending June 30, 2018.
According to the report, the 289 Nevada casinos falling into that category "generated a net loss of $1,168,224,369 from total revenues of $27,107,879,852." In other words, after patrons of the casinos spent $27.1B on "gaming, rooms, food, beverage, and other attractions," the casinos' expenses resulted in a nearly $1.17B loss "prior to deducting federal income taxes and prior to accounting for extraordinary expenses."
Comparing those numbers to the previous year, in FY 2017 the state's largest casinos experienced total revenues of almost $26.2B and realized a net income of $1.58B following expenses.
As KSNV notes, the "net loss was driven by expenses associated with the reorganization of Caesars Entertainment after exiting bankruptcy."
Initial Super Bowl Betting Figures Released
Super Bowl LIII landed with a thud last weekend as the New England Patriots defeated the Los Angeles Rams 13-3 in the lowest-scoring Super Bowl in the game's history.
According to NV regulators, just over $145.9 million was wagered on the Super Bowl in the state's sportsbooks. That marked the second-highest handle ever for Super Bowl wagering, though was down from the almost $158.6 million bet on last year's big game, prompting headlines such as Forbes' "Like The Super Bowl Game Itself, Betting Handle Comes Up Short Of Expectations."
The NV sportsbooks won more this year, however, collectively realizing an almost $10.8 million win after only winning $1.17 million a year ago. As reported by Forbes, one bettor alone lost $3.8 million on the game after losing multiple bets on the Rams.
Betting on the Super Bowl in other states — a first this year thanks to last May's U.S. Supreme Court ruling lifting the federal prohibition on sports betting — helped carry the overall total of legal Super Bowl wagers higher.
In New Jersey, about $34.9 million was bet on the game, with sportsbooks coming away a $4.5 million loser overall. Meanwhile in Mississippi the Super Bowl handle was $4.67 million and in Delaware it was $2.2 million (per Forbes). Regulators from other states with sports betting (New Mexico, Pennsylvania, Rhode Island, and West Virginia) have yet to release their states' figures.
State Attorneys General Object to Adelson Influence Upon New DOJ Online Gambling Opinion
This week came some follow-up to last month's news of a new opinion emanating from the U.S. Department of Justice that signaled a change of position regarding the DOJ's stance on online gambling. Two attorneys general from states currently offering legal online gambling have made known their objection to the new opinion in a letter to acting U.S. Attorney General Matthew G. Whitaker.
As you might recall, in mid-January the DOJ made public a new opinion on the Interstate Wire Act of 1961 that stated the law's prohibitions extended beyond sports betting to cover other forms of online gambling. That position is different than one advanced in a December 2011 opinion that held the Wire Act applied to sports betting only.
Following the 2011 opinion, Delaware, New Jersey, Nevada, and Pennsylvania passed legislation to allow various types of online gambling, with other states currently considering online gambling bills of their own.
Following the opinion's publication, some speculated it might halt the expansion of online gambling in the U.S. by discouraging states from progressing with legislation and also potentially being used as an obstacle to prevent interstate compacts such as the one Nevada, New Jersey, and Delaware have to allow players on WSOP.com to play against one another as part of a shared player pool.
Meanwhile others characterized such fears as needless overreaction to the new opinion, with some predicting court challenges to come.
At the time the new opinion was made public, The Washington Post was reporting right away how the position it presented reflected the influence of "GOP megadonor" and Las Vegas Sands CEO and chairman Sheldon Adelson. Indeed, the DOJ opinion closely matched the argument outlined in a memo from the D.C. law firm of Charles Cooper on behalf of a lobbying group backed by Adelson.
Yesterday The Washington Post reported that Josh Shapiro, attorney general of Pennsylvania, and Gurbir S. Grewal, attorney general of New Jersey, have jointly written a letter to U.S. AG Whitaker expressing concern that the new opinion "followed substantial lobbying by outside groups."
In their letter, the attorneys general object not only to the process by which the new opinion was authored, but the position it represents which they say "tramples over the law and states' rights."
See The Washington Post article for further details about Adelson's anti-online gambling campaign and other reaction from legislators and others to the new DOJ opinion. For further reading on the matter, see also yesterday's op-ed for USA Today written by former U.S. deputy attorney general Peter J. Ferrara, "Department of Justice shouldn't end online gambling to appease Trump donor Sheldon Adelson."
Stratosphere to be Renamed the STRAT Hotel, Casino and Skypod
Finally, one of Las Vegas's best known hotel-casinos will be getting a new name. This week Golden Entertainment, Inc., owner of Stratosphere Casino, Hotel & Tower, announced the resort will be rebranded to The STRAT Hotel, Casino and Skypod.
The change comes as part of a larger campaign that includes large-scale remodeling and renovation of the hotel and casino. Heralding the announcement were two commercials aired during Super Bowl LIII.
Also announced was the rebranding of the top three floors of the Stratosphere's iconic 1,149-foot tower as SkyPod, including the Top of the World restaurant, the SkyLounge, and more including the Sky Jump, Big Shot, Insanity and X-Scream rides.
"The Stratosphere is a Las Vegas icon, so in acquiring the property we chose to preserve that quality while also reimagining the resort through a comprehensive remodel that spans from the tower to the main casino floor," said Golden Entertainment Executive VP and CEO Steve Arcana. "We have developed a new brand that speaks to the fun and excitement of this grand transformation and we are thrilled to announce The STRAT."
Photo: "Stratosphere Hotel" (adapted), Sahmeditor, CC BY-SA 3.0.