Inside Gaming: New DOJ Opinion Changes Stance on Online Gambling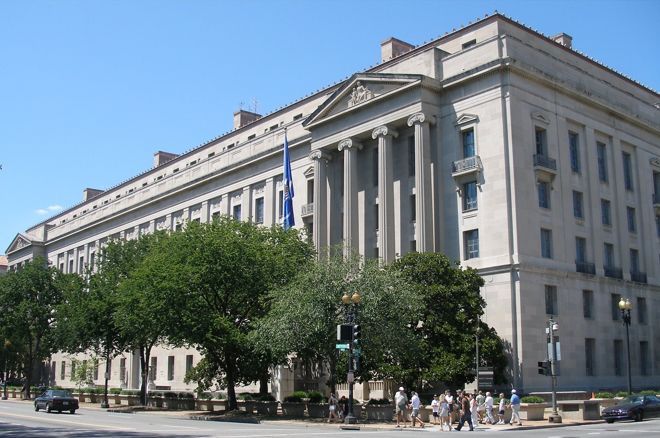 This week's Inside Gaming shares news of a new Department of Justice opinion with the potential to impact current and future prospects for online gambling and poker in the U.S. as well as an announcement regarding the first new casino to be built in downtown Las Vegas in nearly forty years.
DOJ Issues New Opinion on Wire Act, Online Gambling
Late Monday night, the U.S. Department of Justice made public a new legal opinion regarding the Interstate Wire Act of 1961, stating that the law's prohibitions extend beyond sports betting to cover other forms of online gambling. The 23-page memo emanating from the Department of Justice's Office of Legal Counsel thus represents a different stance than the one described in an earlier DOJ opinion regarding the Wire Act's applicability to online gambling.
As The Washington Post reported on Monday, the new opinion "will probably be tested in the courts," although "many in the gambling industry... fear the [new] interpretation will limit the growth of the online betting industry across states."
The Washington Post report highlights the influence of "GOP megadonor" Sheldon Adelson upon the DOJ's change of course regarding the Wire Act and online gambling.
"Curtailing such online gambling ventures has been a major goal of Adelson, who with his allies has argued that Web-based gambling would hurt children, invite criminal activity and produce little actual revenue for states," the Post explains. The Chairman and CEO of Las Vegas Sands gave $113 million to support Republican campaigns in 2016, including $20 million to President Donald J. Trump.
On April 15, 2011, soon dubbed "Black Friday" by the poker world, the DOJ unsealed indictments and a civil complaint targeting the world's largest online poker sites, forcing them out of the United States while also seemingly removing the possibility of operators providing legal, regulated online gambling (including poker) in the U.S. going forward.
Later that year in December 2011, a memo written by then Assistant Attorney General Virginia Seitz dated three months earlier in response to a question regarding the Wire Act and its applicability to state lotteries was made public. While addressing whether states were allowed to sell lottery tickets online to residents not physically located within the state, the memo presented the opinion that the Wire Act only applied to sports betting and not other forms of gambling, representing a different stance on the Wire Act than the DOJ had previously held.
In the wake of that memo, individual states' lawmakers began to entertain and discuss online gambling legislation. In 2013, Nevada launched the first regulated online poker site in America, and later that year both Delaware and New Jersey also passed bills to introduce online gambling.
In 2017, Pennsylvania became the fourth state to pass similar legislation, Late last year Michigan lawmakers did the same, however outgoing Governor Rick Snyder vetoed the bill, meaning the state's lawmakers will have to pass new legislation if the state is to introduce online gambling.
However, this week's DOJ opinion might well diminish the chances of states like Michigan and others to move forward with bills similar to those already passed in Nevada, Delaware, New Jersey, and Pennsylvania. It could also affect interstate compacts such as the one that presently exists between New Jersey, Delaware, and Nevada that allows WSOP.com and 888poker to combine online poker player pools.
The new opinion will also potentially affect the way many states offer lottery ticket sales online. Meanwhile opinions are divided about whether or not it will have any affect on states who have already passed online gambling laws and/or are offering online gambling within their borders.
On Tuesday, Deputy Attorney General Rod J. Rosenstein issued a memo to prosecutors instructing them not to implement the new opinion for 90 days in order to "give business that relied on the 2011 OLC [Office of Legal Counsel] opinion time to bring their operations into compliance with federal law." Some have opined the matter may find its way into the courts even before that 90-day period has expired.
This is a developing story, and PokerNews will continue to cover the aftermath of the new opinion as well as to provide analysis of its possible effects upon current and future online gambling and poker in the U.S.
Stevens Brothers Announce Circa Resort & Casino to Open Downtown Late 2020
After first announcing plans to build a new casino in downtown Las Vegas nearly three years ago, developers Derek and Greg Stevens have at last revealed their new project, the Circa Resort & Casino. The current target date for opening is the end of 2020.
Derek Stevens currently owns two other downtown Vegas casinos, The D Las Vegas and the Golden Gate
Circa will include a 44-story high hotel (nearly 500 feet) with 777 rooms, a split-level casino, a parking garage, five restaurants, the longest outdoor bar on the Fremont Street Experience, a six-tiered pool amphitheater with a 125-foot high screen for the viewing of sporting events and other programs, and more. Also planned is a stadium-style sportsbook with an in-house broadcasting studio, with the sportsbook intended to be the largest in Vegas history.
Circa will be built on the site of the old Las Vegas Club (among the first casinos in Las Vegas built in 1930), Mermaids Casino and Glitter Gulch gentlemen's club. Those structures were demolished in 2017.
According to KVVU-TV, the Circa will be "the first hotel-casino built from the ground up in downtown Las Vegas since 1980."
Photo: "U.S. Department of Justice headquarters," CC BY-SA 3.0.