Mantas Stikelis Wins 2019 Ante Up Poker Tour Spring Poker Classic; Earl Barron Takes Third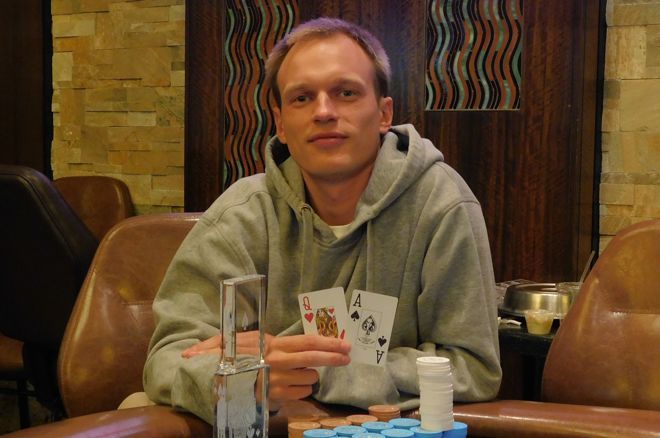 Table Of Contents
Lithuania's Mantas Stikelis just won the 2019 Ante Up Poker Tour Spring Poker Classic Main $360 Event at Vee Quiva in Arizona after outlasting a field of 319 entries, which created a prize pool of $95,700 and smashed the $75,000 guarantee. For the feat, he earned $18,189 and will also appear on the cover of March 2019 issue of Ante Up Magazine. Additionally, he secured a spot in the 2019 Ante Up World Championship.
When asked how he felt about his victory, Stikelis answered: "Great. I ran so pure at the final table. I was winning every showdown."
Stikelis is a poker professional and when he is not home, he is traveling the world to follow the game.
"I live in Lithuania but I'm only there in the summer. We don't have much poker there, so in the winter, I'm usually traveling around the world to go to some stops and play online. I don't play high stakes though. The online days are way harder now."
His decision to play the tournament was a last-minute one. In fact, he was only in Arizona to visit family.
"I didn't plan on playing anything. I was just visiting my family and I saw they had this tournament online so I decided to jump in and it worked.''
After taking the first shot at this event and not finding a bag, he fired another bullet and managed to bag the second biggest stack of his field.
"I was raising and everyone kept folding,'' he said. ''It was an easy field."
The final day started with 49 competitors returning to the tournament. With 45 of them guaranteed a min-cash of $526, the money bubble burst within the first level of Day 2. Eric Oconnell was responsible for bursting the bubble after eliminating Marcela Hinojos and right after, the players started hitting the rail fast and furious.
The unofficial table was reached at Level 19 with the elimination of Mikai Smith ($1,483) and played slowed significantly from that point forward.
Final Table Payouts
| Place | Player | Country | Prize |
| --- | --- | --- | --- |
| 1 | Mantas Stikelis | Lithuania | $18,189 |
| 2 | Jesus Sicaeros | United States | $13,159 |
| 3 | Earl Barron | United States | $8,852 |
| 4 | Alex Flores | United States | $7,178 |
| 5 | Gregory Brewer | United Stated | $5,752 |
| 6 | Michael Kahn | United States | $4,785 |
| 7 | Andrew Conway | United States | $3,828 |
| 8 | Gregory O'Donahue | United States | $2,871 |
| 9 | Johnny Large | United States | $2,105 |
Some other players who cashed included Gabriel Felipe (27th place - $718), Jonah Coe (23rd place - $813), Brian Perzinski (14th place - $1,196), and Joseph Villhauer (12th place - $1,483).
Final Table Action
Stikelis started the unofficial table as the chip leader and quickly started applying pressure on the rest of the table. Indeed, he was responsible for the first elimination of the table when he called with queen-jack Daniel Breeze's shove. Breeze held ace-eight but Stikelis flopped a jack to win the pot.
Johnny Large (9th place - $2,105) and Gregory O'Donahue (8th place- $2,871) were his next victims. O'Donahue shoved with pocket jacks and Large called for less with pocket fours. Stikelis found a pair of queens in the cutoff and called to send both of his opponents to the exit.
This wasn't the only double knockout of the final table. In fact, basketball star Earl Barron was credited for the elimination of Andrew Conway in seventh place ($3,828) and Michael Kahn in sixth place ($4,784) in a three-way all in. Conway and Kahn only had a few big blinds behind. Conway shoved with jack-seven and got called by Kahn with ace-nine. Barron found ace-king in the small blind to also call, and held, ending both of his opponents' tournament lives.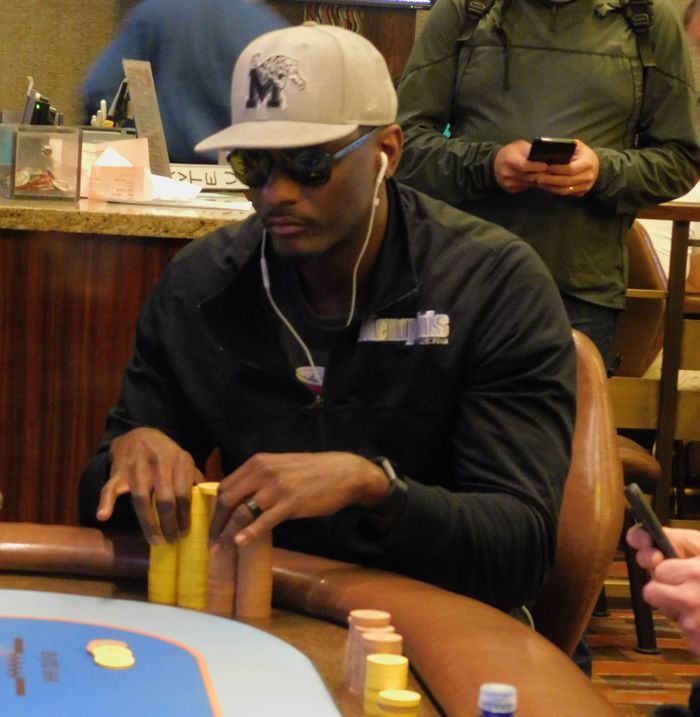 Greg Brewer was knocked out next. He ran his queen-jack into Stikelis's ace-nine. Stikelis flopped an ace and Brewer was sent packing in fifth place ($4,785).
Alex Flores, last year winner's of the event, was close to going back-to back. However, he wound up busting in fourth place when he shoved the last of his chips with ace-deuce and got called by Stikelis with ten-four. Stikelis turned two pair to rake in the pot and Flores had to settle for $7,178 in prize money.
Barron (3rd place - $8,852) followed him to the rail soon after when he ran his ace-jack into the ace-queen of Jesus Sicaeros and couldn't find any help.
The heads-up match lasted only two levels. Stikelis held a lead against Sicaeros, who managed to get some chips his way and gain some hope early on. However, that didn't last long and in the final hand Sicaeros turned a pair of aces and moved all in, in the dark, with ace-ten in a pot of over two million. Stikelis, who had turned top two pair with ace-queen, snap-called to win the tournament. Sicaeros earned $13,159 for his runner-up finish.
The next Ante Up Poker Tour stop will be the Ante Up World Championship and Ante Up Norcal Classic at California's Thunder Valley Casino from July 7-29, 2019. Click here for more details.