2019 Orleans Summer Poker Series Schedule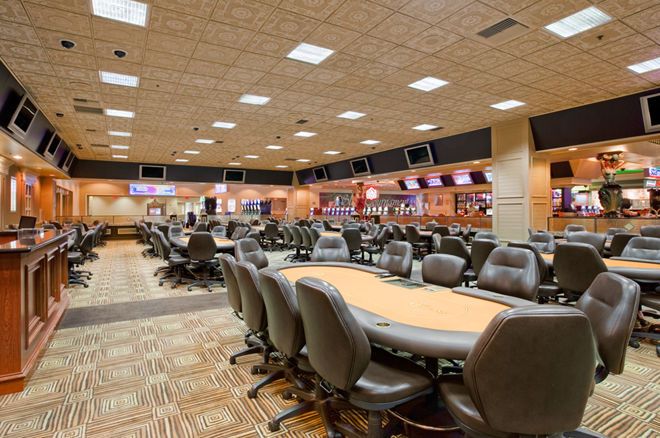 It may not be the first place most players have come to mind when thinking about poker in Las Vegas, but The Orleans fills a unique niche in the market and has garnered a loyal following from mixed-game players. The guarantees might not match those at Wynn or Venetian, but The Orleans has a different sort of draw.
The Orleans 2019 Summer Poker Series schedule reflects that, replete with non-hold'em events on a daily basis to satisfy the needs of players looking to peek at more than two cards at a time. Tournaments will run starting May 28 and finish July 7.
In addition to its unique schedule, The Orleans offers summer grinders one of the best promotions in the city, with a leaderboard on which they can accrue points for cash prizes.
Highlights of the Orleans 2019 Summer Poker Series
Most days throughout the summer, The Orleans features a pair of one-day tournaments, starting at 11 a.m. and 6 p.m. Typically, the earlier event will sport a larger guarantee and in many cases is a no-limit tournament, while a rotating mixed-game or non-hold'em event will occupy the 6 p.m. slot.
The biggest guarantees on tap come in the championship events, with the No-Limit Championship the heftiest of those at $200,000. The non-hold'em championships boast $50,000 guarantees. All sport a $400 buy-in, making The Orleans a very attractive spot for low-limit grinders.
Ladies and seniors are also catered to with special tournaments co-promoted by Ladies International Poker Series and Senior Poker Tour, respectively. Along with the No-Limit Hold'em Championship, these are the only multi-day events on the schedule.
Orleans Summer Points Promotion
Every month for the past several years, The Orleans has run a promotion that serves as a sort of loyalty program for the players who grind their monthly tournament schedule.
Players essentially accrue points based on how much money they cash for, and the top points earners win extra dough when everything gets tallied up at the end. According to an employee in the room with whom PokerNews spoke, there's usually seven to 10 players earning money, depending on how well-attended the tournaments were.
Luckily for those who are attracted to Orleans' summer schedule, a form of that promotion will carry over into the Summer Poker Series. According to a banner on the official schedule, a $10,000 pool will be available with a $5,000 top prize for the most points earned over the course of the series.
PokerNews has reached out to The Orleans for a detailed breakdown of points earning and payouts, and this article will be updated when such information is obtained.
Full Orleans 2019 Summer Poker Series Schedule
| Date | Time | Tournament | Guarantee |
| --- | --- | --- | --- |
| May 28 | 11 a.m. | $150 Super Stack No-Limit Hold'em | $10,000 |
| | 6 p.m. | $150 Pot-Limit Omaha | $10,000 |
| May 29 | 11 a.m. | $150 Omaha/Stud Hi-Lo Mix | $10,000 |
| | 6 p.m. | $150 Eight-Game | $10,000 |
| May 30 | 11 a.m. | $250 Triple Draw Mix (2-7, A-5, Badugi) | $20,000 |
| | 6 p.m. | $150 Omaha Hi-Lo | $10,000 |
| May 31 | 11 a.m. | $150 Super Stack No-Limit Hold'em | $10,000 |
| | 6 p.m. | $130 No-Limit Hold'em | $10,000 |
| June 1 | 11 a.m. | $400 Omaha Hi-Lo Championship | $50,000 |
| | 6 p.m. | $200 Short Deck | $20,000 |
| June 2 | 11 a.m. | $400 H.O.R.S.E. Championship | $50,000 |
| | 6 p.m. | $200 R.O.S.E. | $20,000 |
| June 3 | 11 a.m. | $150 No-Limit Hold'em | $25,000 |
| | 6 p.m. | Omaha/Stud Hi-Lo Mix | $15,000 |
| June 4 | 11 a.m. | $150 No-Limit Hold'em | $25,000 |
| | 6 p.m. | $150 Pot-Limit Omaha | $15,000 |
| June 5 | 11 a.m. | $150 No-Limit Hold'em | $25,000 |
| | 6 p.m. | $150 Dealer's Choice | $10,000 |
| June 6 | 11 a.m. | $150 No-Limit Hold'em | $25,000 |
| | 6 p.m. | $150 Omaha Hi-Lo | $15,000 |
| June 7 | 11 a.m. | $300 Big Bet Mix (NLHE, PLO, PLO8, Big O, 2-7 NL) | $25,000 |
| | 6 p.m. | $130 No-Limit Hold'em | $20,000 |
| June 8 | 11 a.m. | $400 Eight-Game Championship | $50,000 |
| | 6 p.m. | $250 Big Bounty No-Limit Hold'em | $15,000 |
| June 9 | 11 a.m. | $400 Triple Stud Championship | $50,000 |
| | 6 p.m. | $150 H.O.R.S.E. | $15,000 |
| June 10 | 11 a.m. | $150 No-Limit Hold'em | $25,000 |
| | 6 p.m. | $150 Omaha/Stud Hi-Lo | $15,000 |
| June 11 | 11 a.m. | $150 No-Limit Hold'em | $25,000 |
| | 6 p.m. | $150 Pot-Limit Omaha Hi-Lo | $15,000 |
| June 12 | 11 a.m. | $150 No-Limit Hold'em | $25,000 |
| | 6 p.m. | $150 Eight-Game | $10,000 |
| June 13 | 11 a.m. | $150 No-Limit Hold'em | $25,000 |
| | 6 p.m. | $150 Omaha/Stud Hi-Lo | $15,000 |
| June 14 | 11 a.m. | $300 Triple Draw Mix | $25,000 |
| | 6 p.m. | $130 No-Limit Hold'em | $20,000 |
| June 15 | 11 a.m. | $400 Senior Poker Tour Championship | |
| | 6 p.m. | $200 Triple Stud | $20,000 |
| June 16 | 1 p.m. | $400 Pot-Limit Omaha Championship | $50,000 |
| | 6 p.m. | $150 H.O.R.S.E. | $15,000 |
| June 17 | 11 a.m. | $150 No-Limit Hold'em | $25,000 |
| | 6 p.m. | $150 Omaha/Stud Hi-Lo | $15,000 |
| June 18 | 11 a.m. | $150 No-Limit Hold'em | $25,000 |
| | 6 p.m. | $200 Ladies International Poker Series Shootout | |
| June 19 | 11 a.m. | $275 LIPS Triple Threat Satellite | |
| | 6 p.m. | $160 LIPS Mega Satellite | |
| June 20 | 11 a.m. | $150 No-Limit Hold'em | $25,000 |
| | 6 p.m. | $150 Omaha Hi-Lo | $15,000 |
| June 21 | 11 a.m. | $300 LIPS Championship Day 1a | |
| | 6 p.m. | $130 No-Limit Hold'em | $20,000 |
| June 22 | 11 a.m. | $300 LIPS Championship Day 1b | |
| | 6 p.m. | $250 Big Bounty Pot-Limit Omaha | $15,000 |
| June 23 | 1 p.m. | $400 Pot-Limit Omaha Hi-Lo Championship | $50,000 |
| | 6 p.m. | $150 H.O.R.S.E. | $15,000 |
| June 24 | 11 a.m. | $150 No-Limit Hold'em | $25,000 |
| | 6 p.m. | $150 Omaha/Stud Hi-Lo Mix | $15,000 |
| June 25 | 11 a.m. | $150 No-Limit Hold'em | $25,000 |
| | 6 p.m. | $150 Pot-Limit Omaha | $15,000 |
| June 26 | 11 a.m. | $150 No-Limit Hold'em | $25,000 |
| | 6 p.m. | $150 Triple Draw Mix | $10,000 |
| June 27 | 11 a.m. | $150 No-Limit Hold'em | $25,000 |
| | 6 p.m. | $150 Omaha Hi-Lo | $15,000 |
| June 28 | 11 a.m. | $300 Omaha Hi-Lo Mix (Big O, Limit, PLO8) | $25,000 |
| | 6 p.m. | $130 No-Limit Hold'em | $20,000 |
| June 29 | 11 a.m. | $400 No-Limit Hold'em Championship Day 1a | $200,000 |
| | 6 p.m. | $400 No-Limit Hold'em Championship Day 1b | $200,000 |
| June 30 | 11 a.m. | $400 No-Limit Hold'em Championship Day 1c | $200,000 |
| | 6 p.m. | $150 H.O.R.S.E. | $15,000 |
| July 1 | 6 p.m. | $150 Omaha/Stud Hi-Lo Mix | $15,000 |
| July 2 | 11 a.m. | $150 No-Limit Hold'em | $25,000 |
| | 6 p.m. | $150 Pot-Limit Omaha | $15,000 |
| July 3 | 11 a.m. | $150 No-Limit Hold'em | $25,000 |
| | 6 p.m. | $150 Eight-Game | $10,000 |
| July 4 | 11 a.m. | $150 No-Limit Hold'em | $25,000 |
| | 6 p.m. | $150 Omaha Hi-Lo | $15,000 |
| July 5 | 11 a.m. | $200 Pot-Limit Omaha | $20,000 |
| | 6 p.m. | $130 No-Limit Hold'em | $20,000 |
| July 6 | 11 a.m. | $150 Super Stack No-Limit Hold'em | $15,000 |
| | 6 p.m. | $250 Big Bounty No-Limit Hold'em | $15,000 |
| July 7 | 11 a.m. | $150 Super Stack No-Limit Hold'em | $15,000 |
| | 6 p.m. | $150 H.O.R.S.E. | $15,000 |