2019 Golden Nugget Grand Poker Series Schedule Released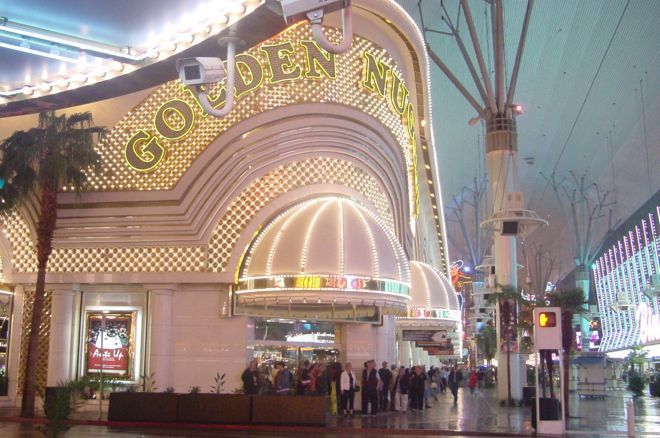 Table Of Contents
Summer poker schedules continue to drop, and the latest came courtesy of one of the off-strip properties that has proved popular with poker players for the past several years.
Golden Nugget, arguably the jewel of downtown Las Vegas, will once again host its Grand Poker Series in 2019.
The 2019 Grand Poker Series
The festival will run from May 18 through July 8. In following with the past several years, $150 dailies and a few $250K guaranteed multi-flight tournaments power much of the schedule, but there has been a slight change in the flagship event that takes place at the end of June.
Tabbed as the GPS Main Event in years past, the second-biggest buy-in on the series schedule is simply listed as No Limit Hold'em $600K Guarantee this year. That represents a bump up from $500K, and the buy-in has also received a slight corresponding bump from $570 to $600.
Last year, Guilherme Ksyvickisbordao topped 1,577 entries to ship $132,069, according to The Hendon Mob.
Seniors events are also a major focus of the schedule, with numerous events for players aged 50-plus including a $1,000 high roller.
The Golden Nugget's low buy-ins, soft fields and off-strip location make it a favorite among players during the summer. Here's a look at how the full schedule shakes out this year:
Full Schedule
| Date | Time | Event | Guarantee |
| --- | --- | --- | --- |
| May 28 | 11 a.m. | $250 Omaha Hi-Lo | $10,000 |
| | 1 p.m. | $150 No-Limit Hold'em | $10,000 |
| | 7 p.m. | $120 No-Limit Hold'em | |
| May 29 | 11 a.m. | $250 H.O.R.S.E. | $10,000 |
| | 1 p.m. | $150 No-Limit Hold'em | $10,000 |
| | 7 p.m. | $120 No-Limit Hold'em | |
| May 30 | 10 a.m. | $250 Mixed Triple Draw Lowball | $10,000 |
| | 11 a.m. | $200 No-Limit Hold'em 1a | $300,000 |
| | 3 p.m. | $200 No-Limit Hold'em 1b | $300,000 |
| | 7 p.m. | $200 No-Limit Hold'em 1c | $300,000 |
| May 31 | 11 a.m. | $200 No-Limit Hold'em 1d | $300,000 |
| | 3 p.m. | $200 No-Limit Hold'em 1e | $300,000 |
| | 7 p.m. | $200 No-Limit Hold'em 1f | $300,000 |
| June 1 | 11 a.m. | $200 No-Limit Hold'em 1g | $300,000 |
| | 3 p.m. | $200 No-Limit Hold'em 1h | $300,000 |
| | 7 p.m. | $200 No-Limit Hold'em 1i | $300,000 |
| June 2 | 11 a.m. | $250 Omaha/Stud Hi-Lo Mix | $20,000 |
| | 12 p.m. | $300K Guaranteed Day 2 | $300,000 |
| | 1 p.m. | $150 No-Limit Hold'em | $25,000 |
| | 7 p.m. | $120 No-Limit Hold'em | $5,000 |
| June 3 | 11 a.m. | $250 PLO/O8/Big O Mix | $20,000 |
| | 1 p.m. | $150 No-Limit Hold'em | $25,000 |
| | 7 p.m. | $120 No-Limit Hold'em | $5,000 |
| June 4 | 11 a.m. | $250 Big O | $20,000 |
| | 1 p.m. | $150 No-Limit Hold'em | $25,000 |
| | 7 p.m. | $120 No-Limit Hold'em | $5,000 |
| June 5 | 11 a.m. | $250 Omaha Hi-Lo | $10,000 |
| | 1 p.m. | $150 No-Limit Hold'em | $25,000 |
| | 7 p.m. | $120 No-Limit Hold'em | $5,000 |
| June 6 | 10 a.m. | $250 8-Game | $10,000 |
| | 11 a.m. | $200 No-Limit Hold'em Ultimate Reentry 1a | $250,000 |
| | 3 p.m. | $200 No-Limit Hold'em Ultimate Reentry 1b | $250,000 |
| | 7 p.m. | $200 No-Limit Hold'em Ultimate Reentry 1c | $250,000 |
| June 7 | 11 a.m. | $200 No-Limit Hold'em Ultimate Reentry 1d | $250,000 |
| | 3 p.m. | $200 No-Limit Hold'em Ultimate Reentry 1e | $250,000 |
| | 7 p.m. | $200 No-Limit Hold'em Ultimate Reentry 1f | $250,000 |
| June 8 | 11 a.m. | $200 No-Limit Hold'em Ultimate Reentry 1g | $250,000 |
| | 3 p.m. | $200 No-Limit Hold'em Ultimate Reentry 1h | $250,000 |
| | 7 p.m. | $200 No-Limit Hold'em Ultimate Reentry 1i | $250,000 |
| June 9 | 11 a.m. | $250 Stud Hi-Lo | $10,000 |
| | 12 p.m. | $250K Guaranteed Day 2 | $250,000 |
| | 1 p.m. | $150 No-Limit Hold'em | $25,000 |
| | 7 p.m. | $120 Cheap and Deep No-Limit Hold'em | |
| June 10 | 11 a.m. | Bar Poker Open Championship Day 1a | |
| | 1 p.m. | $150 No-Limit Hold'em | $25,000 |
| | 7 p.m. | $200 Tag Team | |
| June 11 | 11 a.m. | Bar Poker Open Championship Day 1b | |
| | 1 p.m. | $150 No-Limit Hold'em | $25,000 |
| | 7 p.m. | $120 Green Chip Bounty No-Limit Hold'em | |
| June 12 | 11 a.m. | Bar Poker Open Championship Day 1c | |
| | 1 p.m. | $150 No-Limit Hold'em | $25,000 |
| | 7 p.m. | $120 No-Limit Hold'em | $5,000 |
| June 13 | 11 a.m. | $100 Pot-Limit Omaha | |
| | 11 a.m. | Bar Poker Open Championship Day 2 | |
| | 1 p.m. | $150 No-Limit Hold'em | $25,000 |
| | 7 p.m. | $120 No-Limit Hold'em | $5,000 |
| June 14 | 11 a.m. | $250 Short Deck | $5,000 |
| | 1 p.m. | $200 No-Limit Hold'em | $50,000 |
| | 7 p.m. | $120 No-Limit Hold'em | $5,000 |
| June 15 | 10 a.m. | $250 Seniors No-Limit Hold'em | $100,000 |
| | 1 p.m. | $150 No-Limit Hold'em | $25,000 |
| | 3 p.m. | $1,000 Seniors High Roller | |
| | 7 p.m. | $120 No-Limit Hold'em | $5,000 |
| June 16 | 10 a.m. | $400 Seniors No-Limit Hold'em Championship | $100,000 |
| | 12 p.m. | $1,000 Seniors High Roller Day 2 | |
| | 1 p.m. | $150 No-Limit Hold'em | $25,000 |
| | 7 p.m. | $120 No-Limit Hold'em | $5,000 |
| June 17 | 11 a.m. | $250 Seniors Omaha Hi-Lo | $10,000 |
| | 1 p.m. | $150 No-Limit Hold'em | $25,000 |
| | 7 p.m. | $120 No-Limit Hold'em | $5,000 |
| June 18 | 10 a.m. | $250 Super Seniors | $100,000 |
| | 1 p.m. | $150 No-Limit Hold'em | $25,000 |
| | 7 p.m. | $120 No-Limit Hold'em | $5,000 |
| June 19 | 11 a.m. | $150 Ladies No-Limit Hold'em | $10,000 |
| | 1 p.m. | $150 No-Limit Hold'em | $25,000 |
| | 7 p.m. | $120 No-Limit Hold'em | $5,000 |
| June 20 | 10 a.m. | $360 Short Deck | $5,000 |
| | 11 a.m. | $200 No-Limit Hold'em Ultimate Reentry 1a | $250,000 |
| | 3 p.m. | $200 No-Limit Hold'em Ultimate Reentry 1b | $250,000 |
| | 7 p.m. | $200 No-Limit Hold'em Ultimate Reentry 1c | $250,000 |
| June 21 | 11 a.m. | $200 No-Limit Hold'em Ultimate Reentry 1d | $250,000 |
| | 3 p.m. | $200 No-Limit Hold'em Ultimate Reentry 1e | $250,000 |
| | 7 p.m. | $200 No-Limit Hold'em Ultimate Reentry 1f | $250,000 |
| June 22 | 11 a.m. | $200 No-Limit Hold'em Ultimate Reentry 1g | $250,000 |
| | 3 p.m. | $200 No-Limit Hold'em Ultimate Reentry 1h | $250,000 |
| | 7 p.m. | $200 No-Limit Hold'em Ultimate Reentry 1i | $250,000 |
| | 8 p.m. | $100 Pinstripes and Polka Dots Charity Tournament | |
| June 23 | 11 a.m. | $250 Pot-Limit Omaha Hi-Lo | $20,000 |
| | 12 p.m. | $250K Guaranteed Day 2 | |
| | 1 p.m. | $150 No-Limit Hold'em | $25,000 |
| | 7 p.m. | $120 No-Limit Hold'em | $5,000 |
| June 24 | 11 a.m. | $360 Big O | $10,000 |
| | 1 p.m. | $150 No-Limit Hold'em | $25,000 |
| | 7 p.m. | $120 No-Limit Hold'em | $5,000 |
| June 25 | 11 a.m. | $250 Triple Stud Mix | $10,000 |
| | 1 p.m. | $150 No-Limit Hold'em | $25,000 |
| | 7 p.m. | $120 No-Limit Hold'em | $5,000 |
| June 26 | 11 a.m. | $570 PLO/O8/Big O Mix | $25,000 |
| | 1 p.m. | $150 No-Limit Hold'em | $25,000 |
| | 7 p.m. | $120 No-Limit Hold'em | $5,000 |
| June 27 | 11 a.m. | $600 No-Limit Hold'em 1a | $600,000 |
| | 1 p.m. | $150 No-Limit Hold'em | $25,000 |
| | 7 p.m. | $120 No-Limit Hold'em | $5,000 |
| June 28 | 11 a.m. | $600 No-Limit Hold'em 1b | $600,000 |
| | 1 p.m. | $150 No-Limit Hold'em | $25,000 |
| | 7 p.m. | $120 No-Limit Hold'em | $5,000 |
| June 29 | 11 a.m. | $600 No-Limit Hold'em 1c | $600,000 |
| | 7 p.m. | $120 No-Limit Hold'em | $5,000 |
| June 30 | 11 a.m. | $360 H.O.R.S.E. | $20,000 |
| | 12 p.m. | $600K Guaranteed Day 2 | $600,000 |
| | 1 p.m. | $150 No-Limit Hold'em | $25,000 |
| | 7 p.m. | $120 No-Limit Hold'em | $5,000 |
| July 1 | 11 a.m. | $360 Black Chip Bounty Pot-Limit Omaha | $10,000 |
| | 1 p.m. | $150 No-Limit Hold'em | $10,000 |
| | 7 p.m. | $120 No-Limit Hold'em | $5,000 |
| July 2 | 11 a.m. | $360 Stud | $10,000 |
| | 1 p.m. | $150 No-Limit Hold'em | $10,000 |
| | 7 p.m. | $120 No-Limit Hold'em | $5,000 |
| July 3 | 11 a.m. | $570 Omaha/Stud Hi-Lo | $25,000 |
| | 1 p.m. | $150 No-Limit Hold'em | $10,000 |
| | 7 p.m. | $120 No-Limit Hold'em | $5,000 |
| July 4 | 11 a.m. | $200 No-Limit Hold'em Ultimate Reentry 1a | $250,000 |
| | 3 p.m. | $200 No-Limit Hold'em Ultimate Reentry 1b | $250,000 |
| | 7 p.m. | $200 No-Limit Hold'em Ultimate Reentry 1c | $250,000 |
| July 5 | 11 a.m. | $200 No-Limit Hold'em Ultimate Reentry 1d | $250,000 |
| | 3 p.m. | $200 No-Limit Hold'em Ultimate Reentry 1e | $250,000 |
| | 7 p.m. | $200 No-Limit Hold'em Ultimate Reentry 1f | $250,000 |
| July 6 | 11 a.m. | $200 No-Limit Hold'em Ultimate Reentry 1g | $250,000 |
| | 3 p.m. | $200 No-Limit Hold'em Ultimate Reentry 1g | $250,000 |
| | 7 p.m. | $200 No-Limit Hold'em Ultimate Reentry 1i | $250,000 |
| July 7 | 11 a.m. | $360 Black Chip Bounty No-Limit Hold'em | $10,000 |
| | 12 p.m. | $250K Guaranteed Day 2 | $250,000 |
| | 1 p.m. | $150 No-Limit Hold'em | $10,000 |
| | 7 p.m. | $120 No-Limit Hold'em | $5,000 |
| July 8 | 11 a.m. | $150 Super Deep Stack Turbo | $150,000 |
| | 1 p.m. | $150 No-Limit Hold'em | $10,000 |
| | 7 p.m. | $120 No-Limit Hold'em | $5,000 |