Nam Phan Wins RGPS Kansas City ($42,428)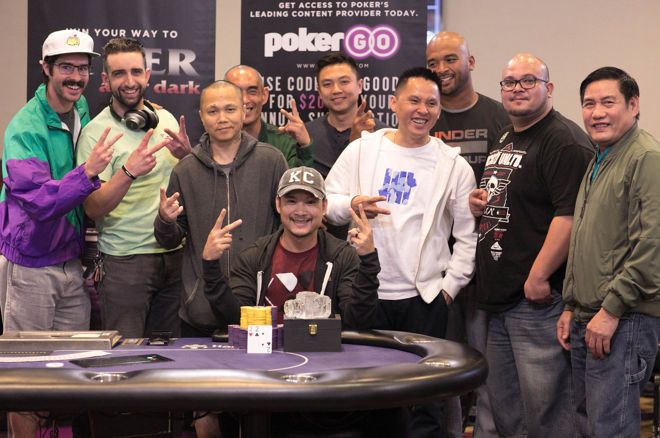 Nam Phan beat a 449-player field at Harrah's Kansas City to claim the Run Good Poker Series Kansas City Main Event Title and the $42,428 first prize.
Phan and Jacob Seale made a deal heads up to each take $37,482 and play for an additional $5,000, which Phan took home when he flopped a set of deuces against Seale's ace-king in the last hand.
Run Good Poker Series Kansas City Main Event Final Table Results
| Place | Player | Prize |
| --- | --- | --- |
| 1 | Nam Phan | $42,428 |
| 2 | Jacob Seale | $37,428 |
| 3 | Nick Burris | $22,293 |
| 4 | Jon Stanfield | $16,568 |
| 5 | Jeff Tebben | $12,482 |
| 6 | Mike Fouts | $9,564 |
| 7 | Ron Cain | $7,431 |
| 8 | Terry Gardner | $5,837 |
| 9 | James Herderhorst | $4,670 |
Run Good Poker Series Kansas City Main Event Final Day Recap
Beau Wilshire was the first to be eliminated with ten remaining. He got it in the first hand after the dinner break with ace-nine against Jeff Tebben's pocket fives. Wilshire could not catch up and hit the rail.
Shortly after, James Herderhorst got it all in on the flop with trips and was drawing thin against Seale's flopped full house. No luck on the turn or river and Herderhorst exited in ninth place.
Terry Garnder fell in eighth place when he got his stack in with the best of it against the eventual winner, Phan. Gardner had pocket queens against the pocket jacks of Phan. Phan called the all in with a gut-shot and an overpair on the turn and rivered a jack to send Gardner home.
Seale was the recipient of aggressive play from Ron Cain, who three-bet his big blind against Seale with pocket sevens. Seale four-bet with aces and the two got all in. No seven on the flop, turn, or river, and Cain finished in seventh place.
Mike Fouts hit the rail almost immediately after, losing to Jon Stanfield. Fouts had queens against Stanfield's aces. Stanfield flopped a set to put himself even further ahead and Fouts was out in sixth place.
Tebben was the fifth-place finisher losing to Phan in a blind versus blind spot where Phan had pocket jacks. Tebben had two overs, but failed to connect with the board and was sent home.
Phan knocked out Stanfield when he won a big flip, holding eights against Stanfield's ace-king. Phan then knocked out Nick Burris in third with ace-king against Burris's ace-jack.
The heads up match lasted for a while, but after a deal and a couple levels more, Phan finally closed out the win and defeated Seale.
The next RGPS Main Event is right around the corner next weekend at the Tulsa Hard Rock Hotel and Casino.