Poker Vlogger Brad Owen Joins the 100K Subscribers Club on YouTube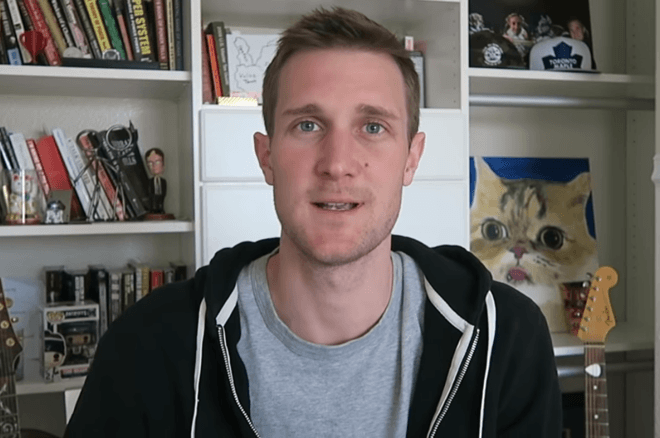 Table Of Contents
Last week, we predicted that Brad Owen was most likely the next poker vlogger to follow his Meet-up Game (MUG) partner Andrew Neeme to the 100K-subscriber milestone on YouTube, and it happened just a few days later.
"For a long time I didn't know if it would happen. It's a special milestone for me."
On Sunday, Owen reached the amazing achievement and is now in the 100k-subs club. That news came in the same week of his nomination for Poker Personality of the Year, the People's Choice Award at the GPI Global Poker Awards.
If you're still not familiar with Owen, he's a Las Vegas cash game player who decided to start vlogging about his poker journey in December 2016. Here's a look at Owen's very first poker vlog:
Brad Owen Poker Vlog Highlights
More than two years and 105 videos later, Owen has grown his following to six-figures and consistently puts out some of the best poker vlog content available. Check out a sampling of some of his best below.
Two months ago, he published his most-viewed video entitled "The BIGGEST Game I've Ever Played!! MUST SEE! Poker Vlog Ep 81" which has gotten over 660,000 views. In case you missed it, you can watch it in full here:
In June of last year, Owen got a nice surprise at his home casino, Red Rock, when he got to play some $1/$2 cash with billionaire Dan Bilzerian:
Last week, he had his biggest win at $5/$5 and made another 'must see' vlog:
Owen was also behind arguably one of the best poker videos ever made, or at least, the very best poker cat rap video, starring Cosmo the cat and Phil Hellmuth, Doug Polk, Andrew Neeme and Scott Blumstein. Talk about a must-see video...
A Big Achievement
On Sunday, Owen got to share the beautiful news of his YouTube milestone with his followers on Twitter:
Two and a half years, lots of all nighters working on videos, and one cat later... I'm in the 100k sub club! Thanks… https://t.co/gAQEJdPChj

— Brad Owen (@TheBradOwen)
He also shared the news on Instagram, where he thanked his many supporters and shared what it meant to him to achieve this goal.
"This was one of the only goals I ever had when I first started doing the videos. For a long time I didn't know if it would happen. It's a special milestone for me. Thanks for joining me during this period of my life. I've had a lot of fun the past 2.5 years. I hope you've enjoyed it too. #100kSubClub"
---
If you are interested in following Brad Owen and his poker adventures, you can check him out on YouTube or any of his social media channels: