Off the Felt: "Jungleman" Surrounded By 14 Topless Ladies [NSFW]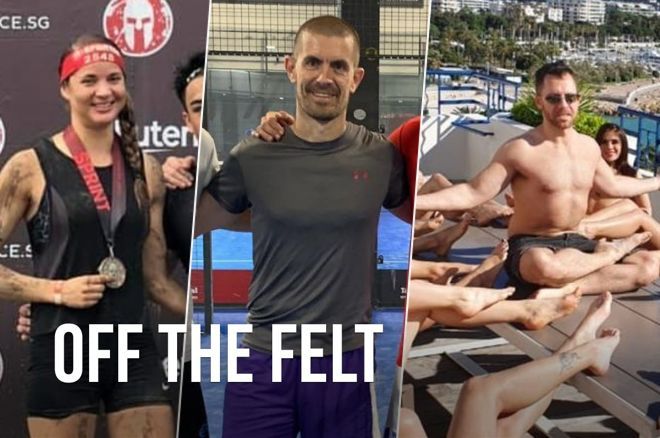 In the previous edition of Off the Felt, we had a baby girl for Natalie Hof and Felipe Ramos, reporters on the run, and some thoughts about buying and selling action in poker.
This week, we have some great submissions that were made for the Thirst Lounge audition and Sofia Lövgren enjoying Singapore. Ow, and the clickbaity title refers to a tweet by Joey Ingram who posted a photo of Dan Cates going Bilzerian; meditating while surrounded by more than a dozen topless ladies, presumably in Montenegro.
Twitter Updates
Phil Galfond wishing his wife a Happy Birthday:
Happy birthday to a perfect partner, an incredible mom, and poker's winningest Galfond two years running.

— Phil Galfond (@PhilGalfond)
Well, that's a weird dream:
I had the strangest dream on the beach yesterday whilst listening to @Joeingram1's Podcast with @bp22… #TL10… https://t.co/Kr9qwWFdTu

— Oliver Biles (@OliverBiles)
Will he be the next Thirst Lounge host?
An amazing opportunity, make it happen! Get me in the house! Rapper/Poker Player bringing a new flavour to the hous… https://t.co/7g1Ad7he9J

— IT5PAYDAY (@IT5PAYDAY)
Great news by Alee Yah:
Excited to be working with @vcrosspoker and the @PokerNews crew this summer for @WSOP 2019! I'll be writing feature… https://t.co/SDIPUJDMZM

— Alee Yah (@ElleSriracha)
Another submission for Bill Perkins:
You miss every shot you dont take baby!! @billperkins here's my #TL10 submission!! Yo everyone tag @thirstlounge in… https://t.co/ctFo3dnLz6

— Jake Hershey (@nekbeardhersh)
Congratulations to Tatjana Pasalic:
Congrats to my wife & new American citizen @Tattytats!!! Thx to @Jim_Banks for the photo & inspiring words! https://t.co/2gV17qyS5n

— McLean Karr (@mcleankarr)
Message from Dan "jungleman" Cates:
If someone ever has a share of you and drops you or doesn't take your share, the right play is to message them righ… https://t.co/IdBuDPNKsu

— Daniel Cates (@junglemandan)
Ow, and this is an interesting one as well:
Including a post to reddit.
NSFW
I wasn't sure it was possible to have more questions about a photo/video than yesterday but somehow I do.… https://t.co/aABoJe6R2g

— Joey Ingram 🤙🏻🤙🏻 (@Joeingram1)
Instagram Updates
Last week, Sofia Lövgren competed in the Spartan Obstacle Race in Singapore and it was a great success:
And she is still enjoying the country:
Antonio Esfandiari won the boxing match against Kevin Hart:
Gus Hansen winning his first World Padel Tour match:
We have to admit, we laughed really hard watching this video by Joey Ingram:
Lynn Gilmartin in Kentucky:
Tony Dunst is there as well:
Jaime Staples the news that he's joining partypoker on Instagram: