Wadih Kaawar & Clyde Lorance Win Way onto Poker After Dark Via RGPS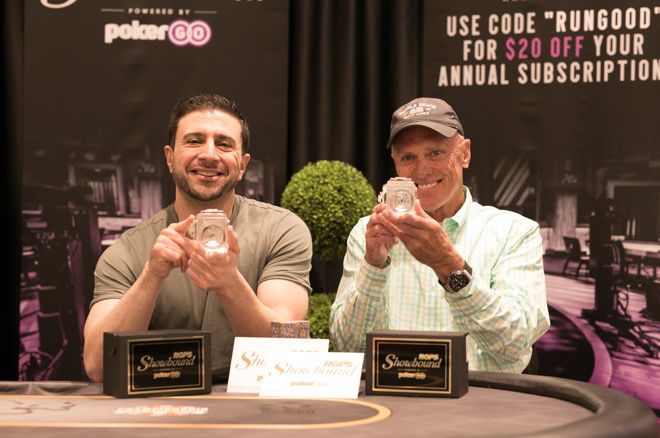 Table Of Contents
The final two players in the RunGood Poker Series (RGPS) Showbound Satellite, which played out on Monday, were Clyde Lorance, who eliminated Kyle Kinder three-handed to burst the bubble, and Wadih Kaawar. The two dup each won a $5,000 sit-n-go seat on Poker After Dark to be filmed at the PokerGO studio in Las Vegas.
The satellite was the culmination of the RGPS Showbound season, which saw players qualify for seats into the invite-only satellite by either final tabling the Main Event or winning a side event in one of the half a dozen stops.
Family Man Headed to Vegas
Lorance is a real estate developer from Springfield, Missouri who is turning 70 in September. He watches a lot of Poker After Dark with his wife Carol, to who he has been married for 47 years and has had two children and four grandkids with.
He said he wanted to play against "the best," when asked who he'd like to face off against on PokerGO.
Lorance served in the Marines during Vietnam and was shot by an AK-47 on October 12, 1969.
"I spent several months in the hospital and I've been thankful ever since that I survived," he said.
Lorance qualified for the Showbound satellite thanks to a ninth-place finish in the RGPS Downstream main event. The same event which Kinder won for his first and only tournament cash.
Kaawar to Take on the Pros
Kaawar was working in hotel management in San Diego before he transitioned to full-time poker around the poker boom. He's currently living in Arlington, Texas.
Kaawar was more sad for Kinder bubbling the satellite than he was making it onto Poker After Dark himself. As a professional, he's excited for the chance to freeroll a $5,000 sit-n-go.
In the final hand of the tournament, Kinder put his last 35,000 chips at risk on a nine-four-three rainbow board. Lorance called with ace-three against the eight-three of Kinder and held.
Others that participated in the invite-only satellite were Dan Martin, Heather Alcorn, Blair Hinkle, Matt Newcomb, Papa Karn, Nick Petree, Nick Burris, Corey Hodgeman, Mike Childers, and Julie Cornelius, among others.
Lorance and Kaawar will play on Poker After Dark later this year. Additionally, the new season of the Global Poker Award-winning RGPS will begin after the 2019 World Series of Poker.