Twitch Streamer Drew 'BetOnDrew' Gonzalez Goes All In with Thirst Lounge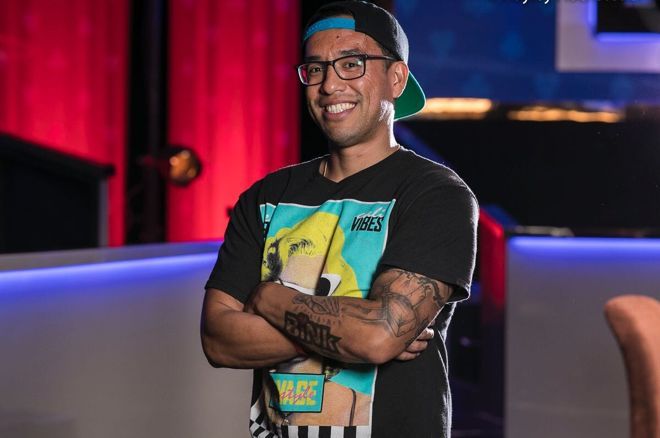 Table Of Contents
"Streaming was like my thing. It was my name. It was everything."
This is the passion that Drew 'BetOnDrew' Gonzalez exudes on a daily basis. This is what drives the professional poker player and Twitch streamer.
After ending a 10-year relationship while living off the far coast of North Carolina, Gonzalez moved out of his home, away from his ex-wife, and into a shared apartment. The conditions weren't ideal, but that wasn't going to stop the Twitch streamer from keeping up with his commitment to his followers.
"It was a struggle, but I still tried to stream. I had to make rent," Gonzalez told PokerNews. After about six months of grinding online, he got an offer of help from a big supporter of his stream. Gonzalez was offered a job, a car and a place to live in order to get a fresh start. "It sounded like a movie. I had no money."
"I had like nothing. Straight survival mode. Paycheck-to-paycheck."
A New Beginning
At that point, Gonzalez felt excitement at the possibility of a new beginning: "You get excited, regardless of the unknowns."
It took Gonzalez four days to drive to the other side of the country, but the extraordinary part of this story is what happened along the way.
Gonzalez drove to California and sold many of his belongings on his way across the country. Additionally, he stayed with four different people who supported his Twitch stream.
"On the drive, I would stream IRL (in real life), and people would donate for gas," he explained, adding that this is why he has a tattoo of the Twitch logo on his arm.
Once in California, Gonzalez worked for 11 months to try and rebuild his life, all while playing less than $10 buy-ins to try and keep his stream going.
"I had about two hundred bucks. I had like nothing. Straight survival mode. Paycheck-to-paycheck," explained Gonzalez. Between the cost of his separation and the amount of money the move cost him, Gonzalez struggled to stay afloat.
Despite the tough times, Gonzalez remained positive. He told his Twitch stream that "something really big was going to happen within two years." Sure enough, almost a year later, the opportunity to apply to be a host for Bill Perkins' Thirst Lounge was presented to him and the poker world.
Are You Thirsty
Perkins set out to look for a host to lead the charge on his Twitch channel, and a variety of poker personalities submitted videos as part of the application process. Eventually, Perkins' team decided on selecting 10 people to host the channel for the next year. Gonzalez was one of those 10 people.
Since joining the Thirst Lounge, with a $20,000 staking deal, Gonzalez has done remarkable things. To begin with, Perkins set out a series of challenges for the hosts. The winners of these challenges would get a bankroll boost. Gonzalez boosted his bankroll from $20,000 to $50,000 in just a few months, while two other streamers managed to increase their bankrolls to $22,500.
Here is a look at the challenges and how much Gonzalez added to his bankroll:
| | Task | Amount |
| --- | --- | --- |
| 1. | Stay awake for the first three days of TL to ensure no technical difficulties | $5,000 |
| 2. | Hold the Twitch viewer count at 500 for two hours | $5,000 |
| 3. | Hold the Twitch viewer count at 2,000 for two hours | $20,000 |
In addition to this, Gonzalez has built his bankroll to $89,181.53 for a profit of $39,181.53 so far. The only other Thirst Lounge host in the black is Justin Kelly with a profit of $3,012.08.
Most notably, Gonzalez won a satellite into the partypoker $10,300 Powerfest Super High Roller Championship event with $1 million guaranteed and was immediately registered into the event because it was already running. Gonzalez was in shock, but like any other challenge he has faced in his life, he got himself ready for battle.
Eventually, Gonzalez made the final table and finished in eighth place for $41,750, while also locking up the $20,000 bankroll boost challenge that Perkins set up for having 2,000 viewers for two hours. This was a huge milestone for the Thirst Lounge and for Gonzalez himself.
"After being in a relationship for ten plus years. Wow, like, what do I do now?"
To date, Gonzalez has over $1 million in online earnings but is now looking to build on his $6,200 in live earnings. He is currently in Las Vegas for the 50th annual World Series of Poker and will be playing the $10,000 Main Event for the very first time. When asked how he decided to take the plunge, Gonzalez explained that he put out a Tweet and had a ton of interest.
In the end, Gonzalez approached Perkins, who responded: "You've shown me nothing but integrity through this whole project, I'll take it all, good luck." This deal will be outside of the Thirst Lounge project, giving Gonzalez a shot at life-changing money, and to keep the stake in the family.
Currently, the Thirst Lounge project is only supposed to last for one full calendar year. When asked about future plans in a recent YouTube video, Gonzalez talked about wanting to travel. He said he hasn't had the urge to travel in the past, but "since kind of becoming a single man again, you know after being in a relationship for ten plus years. Wow, like, what do I do now?"
Gonzalez thought he was going to be married and have kids, but now that he is single and the Thirst Lounge has happened, things have changed.
"I almost feel like travel and meeting new people and experiencing new life is the way that I learn next, like my next growth point," he said.
His plan is to continue streaming and playing online poker where he goes, so those two things need to be in place.
"The unknowns are a bit more appealing to me now," Gonzalez concluded.
PokerNews will be providing coverage all summer, so check back during the Main Event to track Drew Gonzalez's journey towards winning life-changing money.