Inside Gaming: NJ Revenue Up Again in May, Sports Betting Challenging NV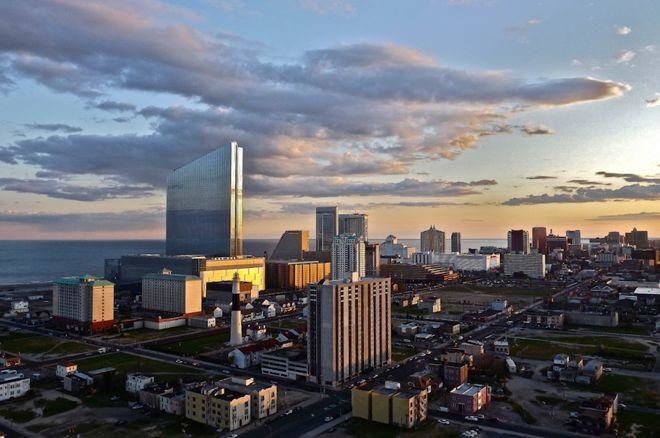 New Jersey Revenue Up 12th Straight Month, Sports Handle Rivaling NV's
While the poker world's attention has been firmly focused upon Las Vegas and the 2019 World Series of Poker the last few weeks, we did want to share a quick look at the latest monthly report from the New Jersey Division of Gaming Enforcement, one showing that casinos in Atlantic City continue to demonstrate increases in revenue — collectively, anyway.
The nine Atlantic City casinos reported nearly $276.8 million in total gaming revenue in May (including the online gaming win and sports wagering revenue), a figure that represents a 27.1 percent increase over the almost $217.7 million in total gaming revenue in May 2018.
That marks a 12th straight overall monthly increase for New Jersey, providing grounds for optimism among gaming officials looking ahead to the next few months.
"The market's momentum is pointing toward a great summer," commented James Plousis, Chairman of the New Jersey Casino Control Commission, as reported by The Press of Atlantic City.
"With the most attractions and entertainment options in recent memory, Atlantic City is providing more reasons to visit for anyone seeking top gaming, leisure and recreation," added Plousis.
More people are visiting Atlantic City, too, according to the South Jersey Transportation Authority which reported a 4.6 percent increase in traffic into the city in May (according to toll data) compared to a year ago. Such growth in visitation is generally expected to help not just casino revenue, but "impact nongaming revenues as well" according to Rummy Pandit, executive director of the Lloyd D. Levenson Institute of Gaming, Hospitality & Tourism at Stockton University.
That streak of gaming revenue increases began a year ago shortly after the opening of two new Atlantic City casinos in late June — the Hard Rock Hotel Casino Atlantic City and the Ocean Resort Casino.
The Hard Rock stands where the Trump Taj Mahal that closed in October 2016 used to operate, while the Ocean Resort Casino is located at the site of the short-lived Revel Casino Hotel Atlantic City that shut its doors in 2014 after only two-and-a-half years in business.
Between casino revenue, the internet gaming win, and revenue from sports betting, the Hard Rock reported just over $30.2 million in total gaming revenue in May (up from just over $25M in April), while the Ocean Resort took in close to $17.4 million (also up from $16.3M in April).
Those figures add about $47.6M to what the remaining seven casinos earned. Also bumping up the total is the addition of sports betting (not available in New Jersey until June last year), which overall represented over $15.5 million in revenue, around $10M of which came via the sportsbooks at the Meadowlands Racetrack and Monmouth Park.
Sports bettors plunked down $318.9 million in wagers in May in New Jersey, bringing the year-to-date handle up over $1.71 billion. That May total is up a bit from the $313.7 million wagered on sports in New Jersey in April. That figure is also very close to the $328.1 million Nevada sports bettors wagered in April (the latest reported month).
Nevada's sports betting handle for the year ($1.88B through April) is still comfortably outpacing New Jersey's. Even so, the latter is gaining ground and may possibly overtake NV at some point in the not-too-distant future.
Also significantly affecting the bottom line (again) was revenue from online gaming which keeps growing in New Jersey at a rapid pace. In May casinos enjoyed a little more than $38.3 million in revenue, up nearly $2M from the month before and a whopping 57.8 percent increase over May 2018 ($24.3M).
Of course, not all of the casinos are experiencing gains. Looking at total gaming win totals for the month, the Golden Nugget Atlantic City Hotel Casino & Marina was up 10.3 percent, the Resorts Casino Hotel up 4.1 percent, and Caesars Atlantic City Hotel & Casino up 3 percent year-over-year.
Meanwhile the others all experienced declines from their May 2018 totals, including Bally's Atlantic City Hotel & Casino (down 0.4 percent), Harrah's Resort Atlantic City (down 6.7 percent), the Borgata Hotel, Casino & Spa (down 7.1 percent), and Tropicana Atlantic City (down 14.6 percent).
Encore Boston Harbor Opens This Sunday
We'll stay in the Northeast for one more item this week and let you know that Encore Boston Harbor is at last opening its doors this Sunday, June 23 at 10 a.m.
Previously referred to as Wynn Everett and Wynn Boston Harbor, the $2.6 billion luxury resort and casino in Everett is located on the edge of Boston just a few miles from the Logan International Airport, with a view of the Mystic River.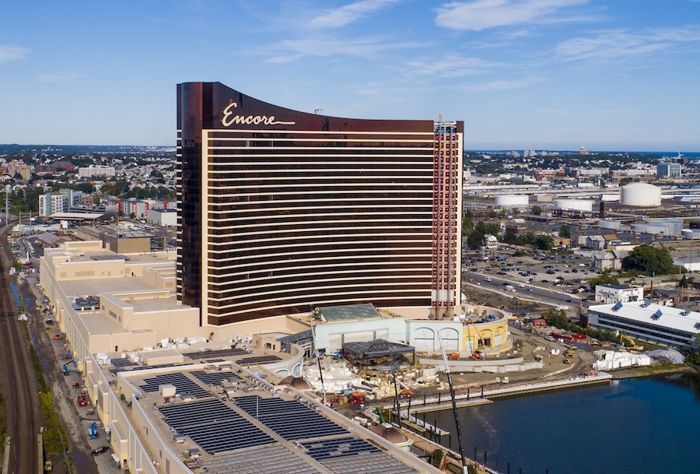 The opening is a long time coming, with the original plans dating back to 2011 shortly after Massachusetts lawmakers passed legislation to allow the construction of three casinos and a slot parlor in the state. In 2015 the slot parlor, located in the Plainridge Park Casino, opened, then in 2018 came the MGM Springfield hotel and casino complex.
According to Boston.com, Encore Boston Harbor "officials expect it to draw 23,000 visitors on an average day and around 50,000 a day during peak weekends."
The property covers 33 acres and includes a hotel containing "671 guest rooms and suites ranging from 650 to 5,800 square feet," with the cost per night being approximately a dollar per square foot ("Yes, $650," confirms Boston.com.)
The casino contains 3,158 slot machines as well as 143 table games including blackjack, baccarat, and even the card game war. There will be six private gambling rooms for high rollers, a poker room with 88 tables (including 11 high-limit tables), and space saved for a sportsbook should Massachusetts lawmakers decide to join others states to introduce sports betting in the state.
There's also a nightclub, a waterfront park, and 15 restaurants from which to choose.
Photos: "Skyline" (adapted), Grant Guarino, CC BY-SA 2.0; "Encore Casino September 2018" (adapted), Parkerjh, CC BY-SA 4.0.