Inside Gaming: Bahamas Resorts Spared by Dorian Still Face Challenges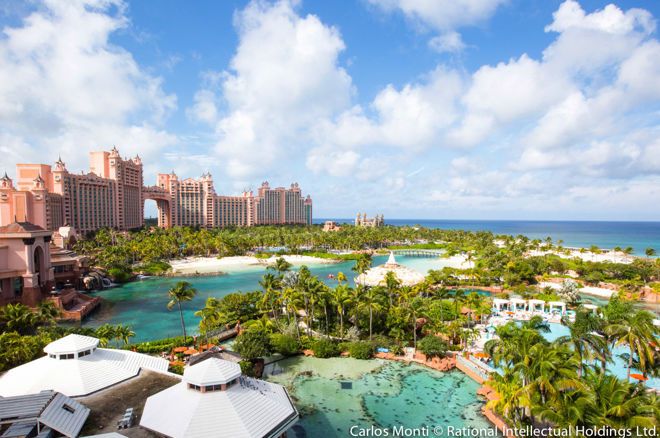 Bahamas Resorts Escaping Dorian Damage Still Affected
You've no doubt been following the ongoing story of Hurricane Dorian, at one time a Category 5 hurricane that over the last week has followed a destructive path through the Atlantic and up the southeastern coast of the United States.
The many Caribbean islands comprising the Bahamas were hit especially hard, in particular the northernmost ones such as Great Abaco and Grand Bahama. Besides untold damage to property and the islands' infrastructure, the current official death toll is 30 although that number is expected to rise considerably.
While gambling destinations like the Grand Lucayan Resort on Grand Bahama have been devasted, other sites were largely spared by Dorian including Baha Mar on New Providence where partypoker has hosted its Caribbean Poker Party and the Atlantis on Paradise Island (pictured above) where PokerStars has staged the PokerStars Caribbean Adventure.
Even so, those locations may still suffer negative effects going forward. As Bloomberg reports, tourists may be dissuaded from traveling to the Bahamas going forward thanks to "the impression that the entire archipelago was devastated," including the popular vacation spots.
"They are going to see an impact on room demand, not because the hotels are closed, but because the perception is that they're closed," commented Jan Freitag, Senior VP of STR, a lodging data provider.
Such was the case following hurricanes Irma and Maria in 2017, after which the Bahamas' casino resorts were affected by travelers' "recency bias," as another analyst, Michael Bellisario of Robert W. Baird & Co., explained.
Relief efforts continue, aided by the casino resorts — e.g., Baha Mar via the Baha Mar Foundation, and the Atlantis via the Atlantis Bahamas Hurricane Dorian Relief Fund
No Takers Again at Pennsylvania "Mini-Casino" Auction
In late 2017, Pennsylvania lawmakers passed wide-ranging gambling expansion legislation. Types of gambling authorized by the new law included the addition of video gaming terminals at qualifying locations, tablet gaming in airports, and various types of online gambling including online poker.
The first online casinos in the state launched in July, Meanwhile several Pennsylvania casinos now hold permits to offer online poker, although the first sites have yet to launch.
The gambling bill also authorized the operation of up to 10 additional "satellite" casinos in the state, and during 2018 auctions overseen by the Pennsylvania Gaming Control Board resulted in five such licenses being awarded for a total of $127 million.
Such momentum has slowed, however, as indicated this week when a second straight auction attracted no takers willing to meet the minimum $7.5 million opening bid.
According to Lehigh Valley Live, one reason for the lack of interest likely has to do with the best locations for the new "mini-casinos" having all already been snapped up.
Since "exclusion zones around 18 existing and proposed casino sites" have now "rendered Pennsylvania's largest metropolitan areas off-limits," potential bidders now have either the rural northern part of the state or a few smaller cities left from which to choose their locations.
"You have to look at the constraints posed by the regulating jurisdictions," explained gaming consultant Joe Wienert to LVL.
"You have to look at what can be built in what area, what's the tax rate, what's the licensing fee and you have to put all those ingredients into a big pot of stew and see whether it'll turn into a palatable product," continued Wienart, who also mentioned the preponderance of competing casinos in and around the state as an additional factor.
The licenses for such "satellite" casinos allow for up to 750 slots and 40 table games. Penn National Gaming obtained the first such license and in June regulators approved their plan to build a mini-casino in Berks County near Reading (not far from Amish country). That property — Hollywood Casino Morgantown — is expected to open early next year.
FOX Bet Launches in NJ and PA in Time for Football
Speaking of Pennsylvania, on Wednesday the FOX Bet online sports betting site and app launched in the Keystone State just in time for the start of the new National Football League season.
The launch of FOX Bet PA came just a few days after last Friday's debut of FOX Bet NJ in New Jersey, a rebranded version of BetStars following the deal back in May that saw FOX Sports partner with the Stars Group by acquiring a 4.99 percent stake in the company.
Mount Airy Casino Resort is the brick-and-mortar Pennsylvania partner for the site/app, while in New Jersey the partnership is with Resorts Atlantic City.
Sports bettors in both states can use FOX Bet to wager on a variety of sporting events while also being able to access additional FOX Sports content including scores, stats, alerts, odds updates, and analysis from FOX Sports on-air personalities such as Colin Cowherd and Cris Carter.
For those outside of NJ and PA, FOX Bet still has plans to launch a free-to-play app providing various prediction games with cash prizes for those in other states.
MGM to Build Community Center on Mass Shooting Site
This week MGM Resorts announced its plans for the still-closed Las Vegas Strip festival grounds near Mandalay Bay where occurred the horrific October 1, 2017 mass shooting.
The site will be converted into a community and athletic center, KSNV reports. It will also host additional parking for Allegiant Stadium, currently under construction with a plan to open in time for the 2020 NFL season when the Oakland Raiders franchise will be relocating to Las Vegas.
Space on the property will also be reserved for a memorial remembering the victims of the tragedy which left 58 dead and more than 800 injured.
The community center could host local sports events, including high school basketball tournaments and practices for the WNBA's Las Vegas Aces.
"We will never forget the victims, and all of those impacted by that evening. As the second anniversary nears, we remain committed to being part of the community effort to continue healing and moving forward," said MGM in a statement.
The Stars Group owns a majority shareholding in iBus Media.