Inside Gaming: Seminole Hard Rock Opens Guitar Hotel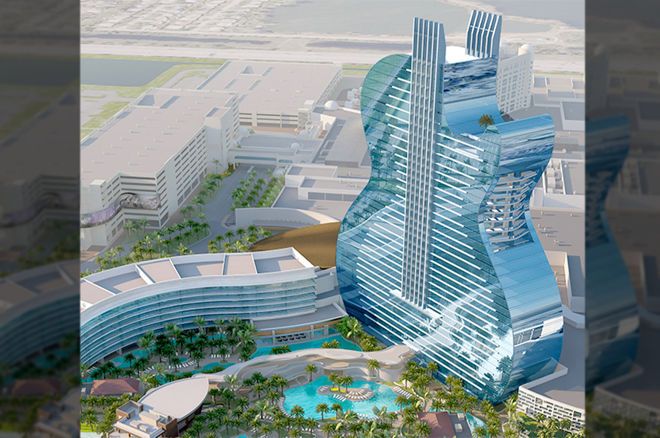 Seminole Hard Rock Completes $1.5B Renovation, Opens Guitar-Shaped Hotel
The Guitar is open!
Guests at the Seminole Hard Rock Hotel & Casino now have the option of staying inside the brand new, massive "Guitar Hotel" following the completion of a $1.5 billion expansion to the Hollywood, Florida property. The first guests began checking into the striking new hotel on yesterday afternoon.
Following the rock-n-roll theme of all Hard Rock properties, the 450-foot high guitar-shaped building includes 638 rooms and suites for guests ranging from $189 up to $989 a night, depending on dates, with the 1,100 square-foot Platinum King Suite the most expensive option.
There was a festive grand opening on Thursday including guitar-smashing and celebrity appearances by Evander Holyfield, Morgan Freeman, and Johnny Depp to mark the occasion.
The structure includes 13,000 tons of steel and 36,000 cubic yards of concrete and required more than 10 million man hours to be built, reports 7 News Miami.
"We look at this as an adult-integrated resort," said Jim Allen, CEO of Hard Rock International. "It is truly a destination that's not just a casino. We're really excited the facility is done on time, on budget, just like we said it would be."
Also part of the renovation was the addition of a new spa, increased convention space, more retail shops, 13.5 acres of recreational waterspace, and a new version of the Hard Rock Live entertainment venue, now with seating for 7,000.
Poker players are already familiar with the Seminole Hard Rock thanks to popular annual series such as the World Poker Tour Seminole Hard Rock Poker Showdown (coming next in April 2020) and the Seminole Hard Rock Poker Open (returning July 2020).
The ongoing Moneymaker PSPC Tour where Platinum Passes for the 2020 PokerStars Players No-Limit Hold'em Championship event in Barcelona are being won will also be visiting the Seminole Hard Rock from December 11-15, while the World Series of Poker Circuit is due to stop there as well in February of next year.
Oregon Lottery Launches Online Sports Betting App
Last week Oregon became the newest state to get into the online sports betting game when the Oregon Lottery launched its new Scoreboard website and sports betting app in conjunction with the operator SBTech.
Bettors in the state can use Scoreboard to bet on a wide variety of professional sports including in-game betting, though wagers cannot be placed on college games. The app is available both for Android and the iPhone.
As CNBC explains, the geo-restriction actually keeps bettors from being able to place wagers within the state's tribal lands.
Oregon had actually been one of the few states other than Nevada allowed to offer sports betting (albeit in a limited way) prior to the May 2018 ruling by the U.S. Supreme Court that removed the federal prohibition. Soon after the ruling, Oregon was among the first states to offer more comprehensive legalized sports betting.
The launch of Scoreboard comes a little later than planned, as the original idea was to have it ready in time for football season. Thus was the Chinook Winds Casino in Lincoln City operated by the Confederated Tribes of Siletz able to beat the Oregon Lottery by a couple of months when it opened its sportsbook in late August.
According to Oregon Lottery spokesman Matt Shelby, officials are projecting users to place more than $300 million in bets using Scoreboard during its first year, which would translate into gross revenue of $5 million for the state. Shelby added that revenue could increase to $30 million annually by the third year.
New Jersey Eyes $3 Billion Revenue Mark for 2019
Last week in this space we were noting how sports betting was up big in both Pennsylvania and New Jersey in September, as well as how NJ enjoyed yet another month of overall revenue growth.
In fact, with three months to go in 2019 the Garden State is currently on pace to realize more than $3 billion in total gaming revenue for the year. Through the first nine months of the year, the total currently sits at $2.46 billion,
If New Jersey does reach that milestone, it will be the first time since 2012 the total exceeds the $3B mark. In 2012 there were 12 casinos operating in Atlantic City, while today there are nine.
Total gaming revenue peaked for Atlantic City casino in 2006, reaching $5.2 billion. The total then decreased each of the next nine years to $2.56 billion in 2015 before recovering and increasing each year since.
Obviously online gambling (first legalized in the state in late 2013) and sports betting (which arrived in 2018) have both proved important additions that have added greatly to the revenue stream. James Plousis, chairman of the New Jersey Casino Control Commission, lists other factors as well, reports The Press of Atlantic City.
"All the casinos have upped their game in regards to entertainment and amenities," Plousis said. "I think all of these things are paying off. We're trending in the right direction."
The $3 billion figure is more than just a nice round number at which to aim for Atlantic City. That's because if the total gaming revenue does surpass that mark, the city will be receiving an extra $20 million from the casinos on top of the approximately $132 million it would be due, The Press explains. That said, current legislation will negate about two-thirds of that extra $20M "since the city will receive nothing in terms of investment alternative tax to pay down debt obligations."