Inside Gaming: The Stars Group Partners With Michigan Tribe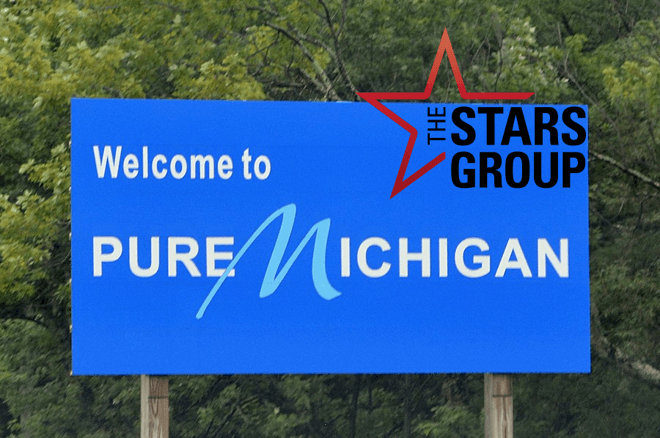 The Stars Group Announces Agreement with Michigan Tribe for Online Betting, Poker, and Casino
It was just last month that Michigan became the latest state to pass online gambling legislation when Governor Gretchen Whitmer signed the Lawful Internet Gaming Act, thereby allowing operators to offer various types of online gambling, online sports betting, and online poker.
Games haven't launched yet as regulation is still to come, but there was additional news from Michigan this week as The Stars Group announced "it had entered an agreement with the Little Traverse Bay Bands of Odawa Indians Gaming Authority for online betting and gaming market access in the State of Michigan."
The agreement "grants The Stars Group first skin market access to operate and brand real-money online betting, poker and casino in Michigan." In other words, PokerStars becomes the first online poker operator to announce a partnership in Michigan. The Stars Group will still need to obtain approval from regulators to move ahead and begin offering games in the state.
In November, PokerStars became the first operator to launch in Pennsylvania.
In May 2019, The Stars Group announced a new partnership with FOX Sports to launch FOX Bet in the United States. Then in October came news of another big merger between The Stars Group and Flutter Entertainment to form a new UK-based online gambling company.
"We are excited to announce this agreement with the Odawa tribe, which further strengthens our market access as we work to continue to build our FOX Bet business into one of the leaders in the emerging U.S. online betting and gaming market," said FOX Bet CEO Robin Chhabra.
Fred Harrington Jr. of the Little Traverse Bay Bands of Odawa Tribal Council was similarly excited when commenting on the agreement.
"The Tribe's partnership with The Stars Group extends beyond our reservation and places the thrill of world class sports betting and online gaming under every finger-tip sliding across a touch screen in the State of Michigan," said Harrington.
According to the agreement, "Odawa will receive a revenue share from the operation of the applicable online offerings by The Stars Group."
Georgia Speedway Hopes to Encourage Momentum for Pro-Gambling Legislation
Georgia has been a state where lawmakers and other interested parties have been discussing the possibility of introducing casinos and/or other types of gambling for some time — and this week they were talking about it again.
Back in early 2019 we shared news of renewed discussions of the topic including Governor Brian Kemp making known that he would not oppose gambling legislation were it to come from state's lawmakers, even if he personally did not support it. During the year some worked to try to add a referendum to last November's ballot to allow the state's citizens to weigh in on the matter. Those efforts fell short, but the idea is being discussed again already this year.
Meanwhile council members in Atlanta did approve an ordinance in early November requesting the Georgia General Assembly to allow the city to add a nonbinding ballot question in the future to discover how Atlanta residents felt about their city becoming a gambling destination.
Speaking of becoming a gambling destination, the Atlanta Motor Speedway would like to become just that and add a casino and hotel as well as other attractions such as a water park and concert venue. Owners have even drawn up plans for such expansion.
It was only fitting, then, that the Atlanta Motor Speedway served as host to a public hearing of the Special Committee on Economic Growth last night. The committee made up of 15 members of the Georgia House of Representatives met with more than 200 Georgians to discuss a possible statewide referendum and the chances of future legislation to make the Speedway's vision a reality.
According to WXIA-TV in Atlanta, when lawmakers asked for opinions about introducing gambling in the state, "none rose to speak seriously against it."
That's not to say there aren't opponents of the idea, most of whom cite familiar arguments that "gambling breeds addiction and damages families." But the outward flow of potential revenue and taxes to neighboring states like Mississippi and Florida have proponents clamoring for Georgia to get on board.
"There's no taxes collected in the state of Georgia from these app based sports betting, where there's nothing collected," said committee chair Alan Powell at the hearing. "The money's going to other states. That's money that could be spent in this state."
Georgia lawmakers begin the new legislative session on Monday. It remains to be seen whether this is the year the state's lawmakers finally take up the topic of introducing gambling in earnest.
MGM and GVC Partnership Earns Regulators' Approval
Finally, on Wednesday the Nevada Gaming Control Board gave tentative approval to the partnership between MGM Resorts International and GVC Holdings to establish digital sports betting in Nevada.
The partnership was first announced during the summer of 2018, involving each group agreeing to invest $100 million in order to provide capital for the venture with a name inspired by the MGM's Leo the Lion — Roar Digital.
The Nevada Gaming Commission still needs to sign off on the NGCB's recommendation, per CDC Gaming Reports.
When that happens, the BetMGM app that launched last September will replace the PlayMGM app currently being used. From there, Roar Digital will be handling all of the company's online sports betting while MGM Resorts will continue to operate its 10 sportsbooks in the state.
"This will not be the model in every state," explained Adam Greenblatt, CEO of Roar Digital. "We'll cater to whatever the market requires. In Tennessee, it's a direct license and Roar will apply for a direct license to operate the whole thing."
As part of its effort to position itself well for the future of sports betting, MGM Resorts partnered with the National Basketball Association, the National Hockey League, and Major League Baseball during 2018, and late last year also forged a multi-year deal with Yahoo! Sports.
The Stars Group is a majority shareholder in iBus Media.
Photo: "Michigan welcome sign" (adapted), Andreas Faessler, CC BY-SA 4.0.