Brazilian WSOP Champion Akkari Proud of Role as Latin American Ambassador
Table Of Contents
COVID-19 forced the postponement of the 2020 World Series of Poker in Las Vegas. In lieu of being able to live report this year's summer series, PokerNews has decided to relive some of the memories of past WSOPs. Today we hear from 2011 bracelet-winner Andre Akkari and discuss his WSOP memories, as well as the passion of Brazilian poker fans.
Brazilian Andre Akkari started to play poker professionally in 2006, and first cashed at the World Series of Poker in 2008, one year after signing as a PokerStars Ambassador. He says that his first year at the WSOP was "incredible."
"I spent two years watching every show, collecting every news article about WSOP, tracking all the champions, I was crazy about it. After I signed with PokerStars, and the opportunity to be there was ON!
"When I first got into the Rio, it was like I knew everything already! It was like I was at Disneyland in that moment. It was incredible for me!"
Akkari Wins First Bracelet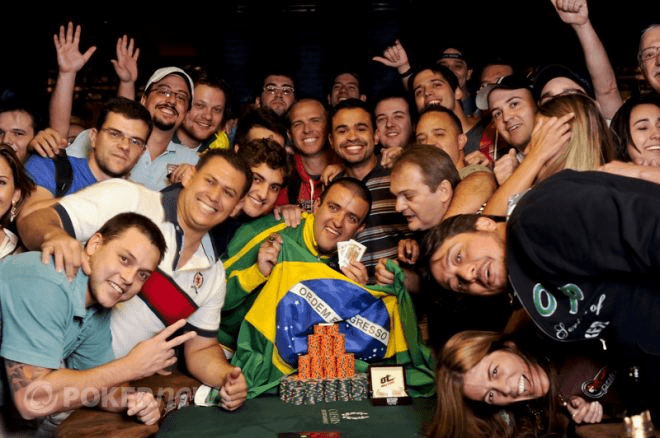 Just three years later, Akkari had his hands on a WSOP gold bracelet, defeating Nachman Berlin heads-up to win Event #43: $1,500 No-Limit Hold'em for $675,117. Despite starting heads-up down 3-1 in chips, Akkari said that he knew he would take it down.
"I know that it can look "cliché," but I was so confident and so aware of any possible move from my opponent that it gives you what you need to win in any sport or game. Of course I could lose, poker is poker, but I couldn't see it at that time."
In true WSOP fashion, the tournament stopped at heads-up and returned the following day.
"That night, my wife was so nervous, and she kept asking me "What do you think you are going to do?", "Is it possible to turn it back?" and I was smiling to her, saying, "Forget about it, we won already, it is just a matter of time, don't worry, trust me!" I visualized every moment, and it happened the same way the next day!"
WSOP Legend: Jeff Lisandro Wins Three Stud Bracelets in One Year
2011 was a big year for notable players bagging bracelets, with Jason Somerville, Eugene Katchalov, Jason Mercier, Jake Cody, Bertrand Grospellier, John Juanda and Brian Rast all winning titles to name but a few. Their bracelets have shaped all their careers, but how does Akkari think winning a bracelet impacted his poker career?
"Bracelet winners will be remembered forever."
"If you want to be considered one of the greatest soccer players in the world, you have to win the European Championship or World Cup. If you want to be an unforgettable basketball player, you have to win the NBA title.
Any competition has titles that shape the sport. Poker is the same. There will be tons of poker players who are incredibly competent, much better than others who got bracelets. Still, they won't be remembered as much in the future by most of the poker community. But bracelet winners will be remembered forever."
---
---
Two-Time Champion?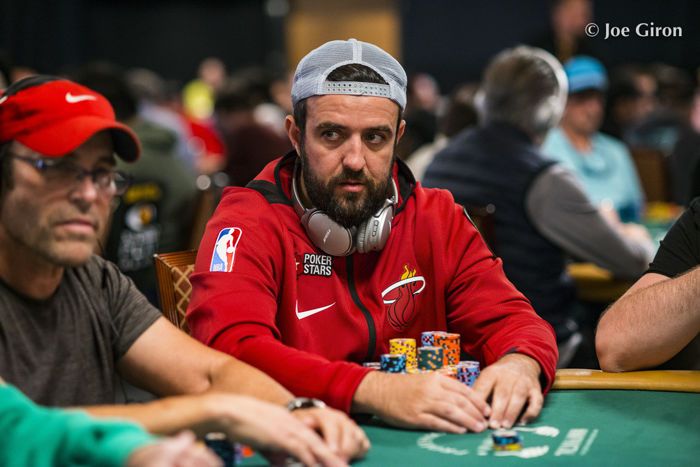 Akkari is one of six Brazilians to have won bracelets, so what would it mean to become the first two-time Brazilian bracelet winner?
"The international poker community is kind of blind, outside US, I mean. They have no idea what is happening with the game down there in Brazil, Chile, Uruguay, Argentina. It is really hard for a player in those countries be multiple bracelet winner, or multiple international titles winners.
"I genuinely believe that I did more for poker [...] than most of Hall of Fame members."
"I think [winning a second bracelet] would bring a feeling of breaking barriers and opening doors, like I always did in Latin American poker.
"I genuinely believe that I did more for poker and I keep doing more than most of Hall of Fame members, not just because I won a bracelet, but because it helped me to become a Latin American poker ambassador."
85 WSOP Online Bracelet Events Scheduled This Summer
A total of 85 bracelets will be awarded between July 1 and early September on WSOP.com and GGPoker.
Brazilian WSOP Rails
Over the years, Brazil has gained a reputation for loud, boisterous final table rails whenever a Brazilian makes a final table.
"It's a cultural thing," explained Akkari. "Sports are social behaviour engines, and they manage the way that people think, it is much bigger than just entertainment. Brazil is a poor country devastated by corruption at all levels, and things like soccer are a medicine for people's minds. In poker it's the same."
A friendly rivalry has sprung up between Brazilian and British final table rails, with Chris Moorman's battle against Bernardo Dias in the $3,000 6-Max in 2017 a memorable example.
"British people love soccer as much as Brazilian people, and if Brazil faces England in any sport, it will be like this: loud rails, music, singing, and a provocative atmosphere, that is how we both like to approach competition."
It's no surprise that Akkari's favourite WSOP memories combine both the passion of Brazilian supporters and his first WSOP title.
"Seeing myself seated on the final table and look around seeing all the Brazilians singing, screaming in every pot, like a soccer stadium, which I love! That's my best memory by far!"
Will Shillibier is based in the United Kingdom. He started working for PokerNews as a freelance live reporter in 2015 and joined the full-time staff in 2019. He graduated from the University of Kent in 2017 with a B.A. in German. He also holds an NCTJ Diploma in Sports Journalism.