Michigan Online Poker to Move Forward Without Sharing Player Pool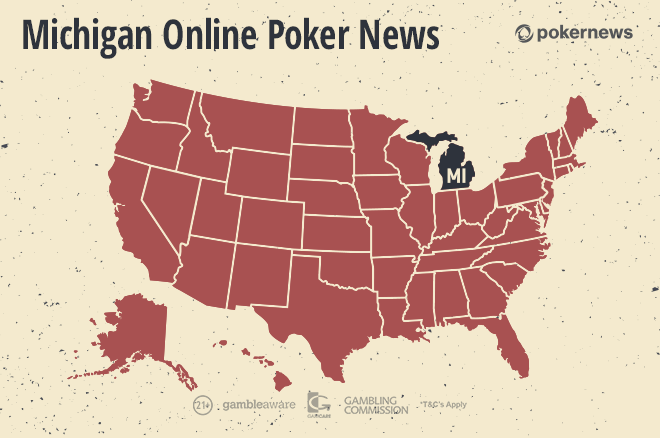 Table Of Contents
A report published last week on Online Poker Report about the ongoing legalization efforts in Michigan contained two important pieces of news for players in that state and other legal poker locales. One of those pieces will be welcome, the other less so.
The good news: an expected early 2021 launch of online gambling has been revised a bit, with a 2020 launch now potentially looming.
The bad: said launch seems unlikely to be a joyous occasion for anyone outside of Michigan.
COVID-19 Incentivizes Haste
A Michigan Gaming Control Board rep told OPR that a fall 2020 launch of online wagering in Michigan is possible "if all goes well."
When the act authorizing online gambling was signed into law at the end of 2019 — after a false start at the end of 2018 — a timeline that called for 2021 at the earliest was outlined.
However, the spread of COVID-19, which has forced the closure of many a casino across the U.S., had shut down the state's three commercial casinos in Detroit for the time being.
As with any state hosting legalized gambling, the monies brought in by taxes on the casinos play a vital role in Michigan's economy and budget. The casinos shipped more than $184 million to the city and just shy of another $118 million to the state in 2019.
In an effort to recoup some of that lost money, things have apparently been expedited on the online front, and a best-case scenario would peg the launch of online poker in Michigan at sometime in September.
As for what sort of money could be made from online poker revenues, Michigan boasts a similar-sized population to New Jersey, making it a decent lens through which to compare even if live poker doesn't quite have as much popularity in Michigan as it does on the East Coast.
Over the past several months, New Jersey has been pulling in about $4 million per month ($) in poker revenues, according to Poker Industry PRO. While that won't exactly make anyone forget about $184 million, it isn't nothing, and it doesn't take into account online sports, real money slots, and other action.
No Language on Shared Player Pools
With a population just shy of 10 million, Michigan would be an extremely welcome addition to the Multi-State Internet Gaming Agreement that to date allows New Jersey, Nevada and Delaware to share their players into one pool, greatly expanding the liquidity of the U.S. legal online poker scene.
However, it appears that, at least at launch, Michigan will follow Pennsylvania's path of setting up a ring-fenced market and treading cautiously before jumping into the pool.
OPR reported the first draft of the rules for operators makes no mention of allowing or joining shared liquidity. The silver lining is a state senator maintained it's still in the plans.
It's possible that continued anxiety over the ongoing battle over the Wire Act caused lawmakers to delay any planned interstate poker attempts until that situation has been resolved. While some experts peg the states resisting the government's shutdown attempt a solid favorite, states like Michigan may be hesitant to dedicate resources to a project that could be nixed by an unfavorable ruling in the near future.
The potential of the U.S. market has really yet to be tapped thanks to in large part to this legal struggle. The size of the player pool would nearly triple if Michigan and Pennsylvania joined in, which would provide a massive liquidity boost and give operators the impetus to offer a better product. Everyone would win, especially the players, but for now, the addition of Michigan to the legal landscape looks likely to help only Michiganders in the immediate future.