A Look at Sheldon Adelson's Gambling Industry Legacy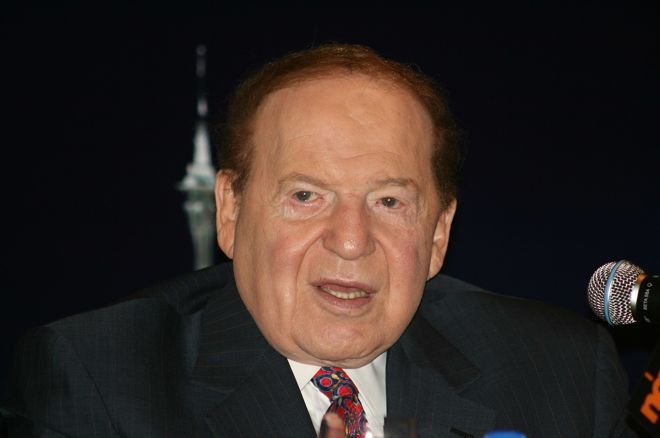 Table Of Contents
Earlier this week, casino mogul Sheldon Adelson passed away at the age of 87 following complications from non-Hodgkin's Lymphoma treatment.
Adelson's opposition to online gaming, including his infamous Coalition to Stop Internet Gambling, made him a villain amongst the online poker community, and his highly-publicized political contributions proved polarizing. On the flip side, he was a noted philanthropist who supported many worthy causes such as drug rehabilitation clinics.
In this piece, PokerNews takes a look back at Adelson's foray into the industry, how he helped shape it, and where things stand with the Las Vegas Sands Corp. at the time of his death.
---

Get the latest NFL Playoff odds from Oddschecker US. 100% free to use with promotions and betting tips to help you pick winners!
---
Adelson's Road to Casinos
Adelson, born in Boston on August 4, 1933, grew up alongside three siblings in a single room by poor parents. His father, who hailed from Lithuania, drove a taxi and his mother, who was from Wales, was a seamstress. Adelson is famous for saying it wasn't a rags-to-riches story because the family was "so poor we couldn't afford rages."
With an entrepreneurial spirit that began when he was just 12, Adelson delivered newspapers, the first of many businesses he would found, and a precursor to founding Tel Aviv paper Israel Hayom in 2007 and the purchase of the Las Vegas Review-Journal in 2015.
Adelson would go on to serve in the Korean War, work on Wall Street, and established the Comdex convention, which he and his partners sold for $862 million. Adelson reportedly used his half a billion to enter the gaming world.
"For me, businesses are like buses," Adelson once said. "You stand on a corner and you don't like where the first bus is going? Wait 10 minutes and take another. Don't like that one? They'll just keep coming. There's no end to buses or businesses."
Creating a Casino Empire
The Las Vegas Sands Corp. was established in 1988, opened the Sands Expo and Convention Center in 1990, and went on to become the world's largest gaming corporation. Adelson, who served as chairman and CEO, took a leave from the company on Thursday, January 7 to focus on his fight against non-Hodgkin's Lymphoma.
During his time with the company, Las Vegas Sands led the charge in the integrated resort model, which has more or less become standard in the industry. By combining casinos with luxury hotels and convention spaces, Adelson became one of the wealthiest people in the world.
The company is perhaps best known for The Venetian on the Las Vegas Strip, which was built after Adelson bought the Sands Hotel & Casino and imploded it on November 26, 1996. Inspired by his honeymoon to Venice, Adelson spent $1.5 million to build The Venetian, which opened in 1999 and featured gondola rides and a replica of St. Mark's Square.
In 2007, Adelson opened Palazzo right next door. By connecting the two with convention space, the properties became an integrated resort.
"The opening of The Venetian in 1999 was the real beginning of our company's story, and it also launched a new era of integrated resort development around the world," Adelson told the Las Vegas Review-Journal in a 2019 statement. "The Venetian's success in Las Vegas, and particularly our convention-based business strategy, would end up being the basis for our company receiving coveted licenses in Macao and Singapore."
Asian Market Make Him Global Player
Indeed, Adelson took his empire worldwide when he opened the Sands Macao in 2004, which in its first year was so profitable that they quickly recouped the $240 million it cost to build.
That was followed by The Venetian Macao in 2007. It was essentially a replica of the Las Vegas property but amplified. In fact, it became the world's largest casino and a tremendous success. It's estimated Adelson increased his personal wealth 14-fold in the first four years of operation in the Asian market due in no small part to the Las Vegas Sands going public.
Other Adelson-owned Asian properties would open in the following years including Plaza Macao (2008), Sands Cotai Central (2012), and Parisian Macao (2016). In 2010, he also expanded to Singapore with the Marina Bay Sands, which cost nearly $6 billion to build.
However, many of the Macao dealings came under fire when it was suggested Adelson had questionable financial arrangements with Chinese businessmen, who may or may not have helped ease the way into the Chinese market. In 2016-17, Las Vegas Sands paid in excess of $15 million in penalties, both civil and criminal, after the U.S. government charged them with violating the Foreign Corrupt Practices Act.
As of the end of 2019, Adelson owned approximately 57 percent of Las Vegas Sands stock and was the richest person in Nevada. In 2020, Forbes had him ranked as the 28th-richest person in the world with an estimated net worth of $26.8 billion.
A few months prior to his death, it was reported that Adelson was exploring the possibility of selling his Las Vegas properties, which would mark his exit from the U.S. gaming market. It was estimated a sale might bring in as much as $6 billion, and while the company confirmed there were "very early discussions," the future of any sale remains unknown now that Adelson has passed.
Response to the Pandemic
In 2020, Coronavirus wreaked havoc on the casino industry. While companies across the country furloughed and laid off employees, the Las Vegas Sands was also the only U.S. casino company that didn't lay off employees during the COVID-19 pandemic, according to CNBC. That meant continuing to pay nearly 10,000 employees who were not working.
"It's not only the right thing to do – it's good business," Adelson wrote. "There are certainly great stories of corporate America doing all it can to support employees' needs during a time when so many of our fellow Americans have been asked to stand down from their work. But we employers, especially larger ones, can do more. We should do more"
He added: "As an octogenarian, I have seen the perseverance of this country over and over again. The common thread is that this nation and its people always come together in times of great need. There is no doubting this is one of those times, and the need is great. The coming weeks will be tough, and the months that follow will be unsteady. To my fellow business leaders, let us lead by example."
Love him or hate him, there's no denying Adelson was a force in the casino industry.
Lead photo courtesy of From Wikimedia Commons, the free media repository.
---

Oddschecker US offers sports betting odds, betting offers and betting tips to help you place the right bet at the best value! It's the perfect companion to the 2021 NFL Playoffs
Executive Editor US, PokerNews Podcast co-host & 2013 WSOP Bracelet Winner.