Dan Bilzerian Stars in Latest 'Poker After Dark'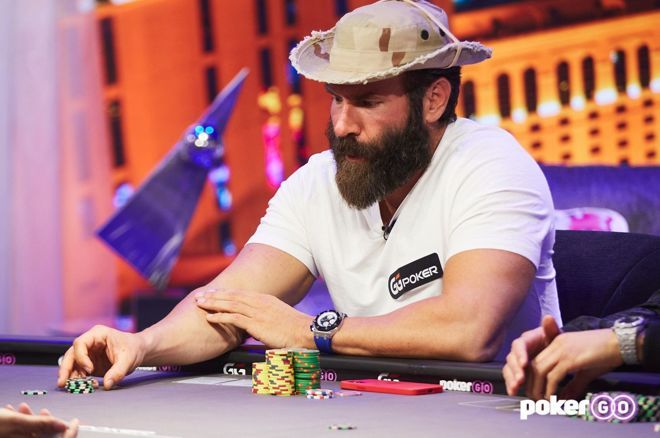 Season 12 of "Poker After Dark" on PokerGO continued with a new cast playing a new session, this series of episodes titled "Blitz Week."
It was a recreational-filled game with a couple of names from the music industry and even a pro boxer, but the main attraction was the controversial Dan Bilzerian. The sometime poker player and full-time social media star doesn't appear too often on televised poker, particularly relative to how well-recognized he is both in the industry and without.
They played $50/$100 no-limit hold'em with a $500 ante from the big blind. Buy-ins ranged from $15,000 to $40,000.
Remember, an annual subscription to PokerGO costs $99.99, but you can save $10 off by using promo code "PokerNews" at checkout.
Big Pair for Bilzerian
Bill Perkins opened the action with a raise to $400 from early position holding
. He received quick calls from Aoki with
on his left and music producer Jamal "Mally Mall" Rashid with
in the next seat.
Bilzerian woke up with
on the button and popped it to $1,900. Perkins reraised it right back to $6,000. Aoki mucked but Mally Mall was in there with an all-in shove for $15,700. Bilzerian wasted no time following him for $19,350. Perkins decided he couldn't let it go, so it was a $55K pot with $7,000 of it on the side.
The
flop brought a bit of danger for Bilzerian as Mally Mall picked up a straight draw. The turn was an inconsequential
and the
was equally bricky.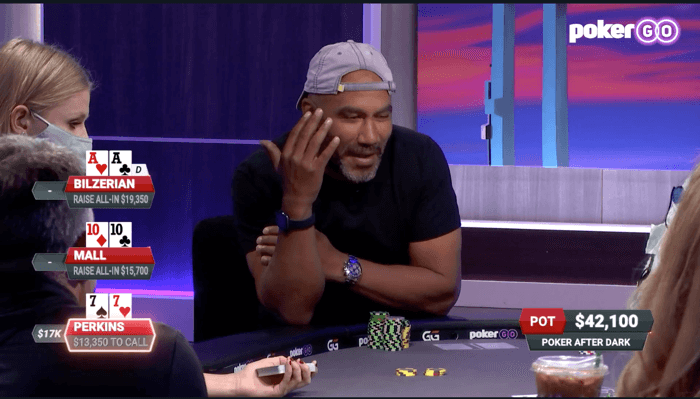 He Can Win With Rags, Too
Pro boxer Chris Eubank Jr. opened with a limp under the gun holding
and action folded to the small blind, where Mally Mall made it a small raise to $300 with
. Bilzerian peeled with
and they went three ways to
.
Mally Mall continued for $1,000, Bilzerian made it $3,000 and Mally Mall shoved for $11,750. Bilzerian snap-called.
The
turned Mally Mall dead and Bilzerian added to his hot start with a $24,900 pot when he didn't have to chop on the
river.
Bell Caught on Big Bluff
With the seven-deuce game on at $300 a head, David Bell three-bet said rags of the
flavor to $1,400 on the button after Eubank Jr. made it $400 with
in middle position.
Eubank Jr. came along and the
flop checked through to a
turn. Eubank Jr. bet $1,400 and Bell called. The
river improved Eubank Jr. and he bet $3,000. Bell raised to $8,400.
Eubank Jr. needed a bit of thinking time but he eventually tossed in a chip to call. Bell smiled and tossed in the worthless napkins, with the other players happy to see they saved a few bucks thanks to their tablemate.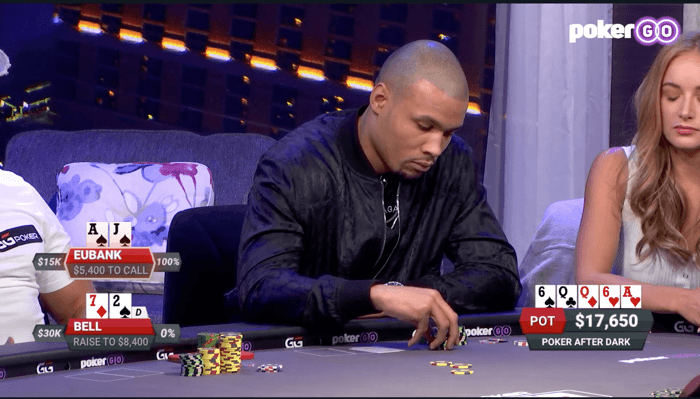 Kicker Problems Turn Around for Aoki
Eubank Jr. made it $400 to go from early position with what turned out to be
and picked up calls from the blinds — Aoki with
and then Mally Mall with
.
The
flop prompted a lead worth $1,200 from Aoki and a call from Eubank Jr. Aoki spiked the
turn that also improved Eubank Jr. to a flush draw. Nonetheless, Aoki checked. Eubank Jr. took the opportunity to bet $2,200 and Aoki just called. He then opted to lead out on the
river for $6,000 into the $8,500 pot.
Eubank Jr. quickly called but saw the bad news.
Bilzerian Tries a Bluff
Bilzerian raised to $600 with
after an early limp, and Bell repopped it to $1,600 on the button with
.
Both players quickly checked the
flop. The
improved Bell but it was Bilzerian leading for $1,400. Bell tossed in a $5,000 "flag" and Bilzerian came back with $10,000. Bell shipped all for $30K and Bilzerian mucked in a hurry.
Remember, Poker After Dark will air every Monday but is only available to PokerGO subscribers. If you're not currently subscribed, you can get a monthly subscription for $14.99, a three-month plan for $29.99, and an annual subscription for $99.99. You can also save $10 off an annual subscription by using promo code "PokerNews" at checkout.
Photos courtesy of PokerGO.