PokerNews Named 'Best Poker Affiliate' at 2021 iGB Affiliate Awards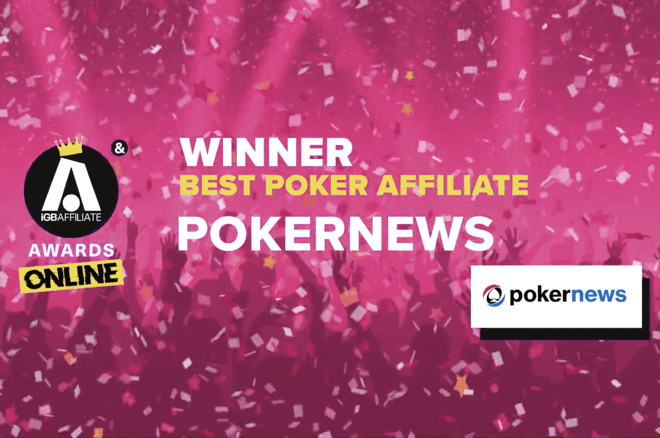 Table Of Contents
For the sixth time since it's inception, PokerNews has been named the 'Best Poker Affiliate' at the 2021 iGB Affiliate Awards. PokerNews was shortlisted for this prestigious award alongside three other poker affiliate websites.
PokerNews has now won this award six times with previous honors coming in 2013, 2014, 2015, 2016, and 2018.
iGB's judges recognized PokerNews as a well-established affiliate that showed substantial growth, while delivering continued service in the changing 2020 markets through the strategic use of content.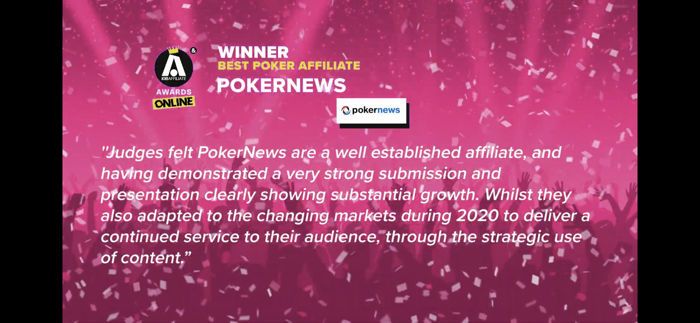 PokerNews Team Responds
Head of PokerNews Mark Powell-Bevan touched on the challenging circumstances around the world, which the team had to navigate.
"It's always nice to win an award, but this year is extra special as it serves as recognition for all the hard work that the team has put in through the challenging circumstances thrown up by the global pandemic. I'm proud of the way the team has adapted to the changes in the Poker landscape and ensured that we were able to continue to meet the needs of both our partners and our users, keeping PokerNews as the #1 destination for poker news and content around the world."
"I'm proud of the way the team has adapted to the changes" - Head of PokerNews Mark Powell-Bevan
PokerNews Senior Commercial Manager Ben Cundall was delighted with the win and indicated there's much more on the horizon.
"I'm very proud of what we've achieved at PokerNews over the last year. It's great to be recognized for everything we do for our partners and for the Poker community. The best is yet to come."
"Everyone at PokerNews knows the hard work and effort we put into not only the affiliate side of the business but the rest of the site as well," said Will Shillibier, PokerNews' Executive Editor EU. "I want to thank our partners for helping us produce some truly exceptional content over the course of what was a truly exceptional year."
PokerNews' Senior Marketing Manager Carmine Ferro was also thankful and gave a glimpse of what's in store for the future.
"With this amazing result, we have the responsibility to not only increase our performances for our partners but above all, our users. They simply deserve it, and we will be at their side at any table — live or online — before any poker game. Don't miss a hand on PokerNews!
PokerNews in 2020
An industry leader for decades, PokerNews navigated the challenging environment in 2020 by strengthening its partnership with key partners including GGPoker, PokerStars and partypoker to increase growth and drive poker traffic. These strengthened relationships proved pivotal as COVID-19 and regulatory changes altered normal working practices.
In addition, PokerNews showed resilience by adapting it's world-renowned poker tournament live reporting to the online realm, bringing exclusive live updates of key online series such as the World Series of Poker and European Poker Tour (EPT) Online.
"It was an exceptionally challenging year for those in live reporting, but I'm proud of our fantastic team quickly adapting to online reporting while retaining the quality, thoroughness, and dedication PokerNews is famous for", PokerNews' Senior Content Manager Yori Epskamp said. "I'd like to give a special shoutout to our partners, who have been immensely supportive along the way during this online transition."
---
Top Stories of 2020: GGPoker Breaks World Record With WSOP Online Main Event
---
PokerNews at the iGB Affiliate Awards
PokerNews has won the Best Poker Affiliate award at the iGB Affiliate Awards on five earlier occasions, including four years in a row from 2013-16. The site was also shortlisted for this top award in both 2017 and 2019.
| Year | Award | Winner |
| --- | --- | --- |
| 2021 | Best Poker Affiliate | PokerNews |
| 2018 | Best Poker Affiliate | PokerNews |
| 2016 | Best Poker Affiliate | PokerNews |
| 2015 | Best Poker Affiliate | PokerNews |
| 2014 | Best Poker Affiliate | PokerNews |
| 2013 | Best Poker Affiliate | PokerNews |
---
Read more about PokerNews' success at the iGB Affiliate Awards!
2015: PokerNews Named "Best Affiliate in Poker"
2013: PokerNews Wins 'Best Poker Affiliate' at iGB Affiliate Awards
---
2021 iGB Affiliate Awards
All entries into the 2021 iGB Affiliate Awards were accessed by a panel that included by iGB Editorial Director Stephen Carter and iGB News Editor Robin Harrison-Millan.
Best Poker Affiliate entries were judged on their ability to demonstrate the following:
Clear growth in traffic, NDCs, and revenue
Improvements in UX and conversion rates
Innovation in the tactics, products, and services used to acquire and drive poker traffic
Material sign-ups with new partners
Strengthened relationships with existing partners
Adaptation to disruptions in the wider market (Covid-19, regulatory changes)
Successful entry into new markets and niches
A former professional poker player from the Netherlands with a background in sports marketing and journalism. Yori has been a part of PokerNews since 2016 and manages the content team.