GGPoker WSOP Hands of the Week: Seidel's Kings Lead to Victory, Bad Day for Addamo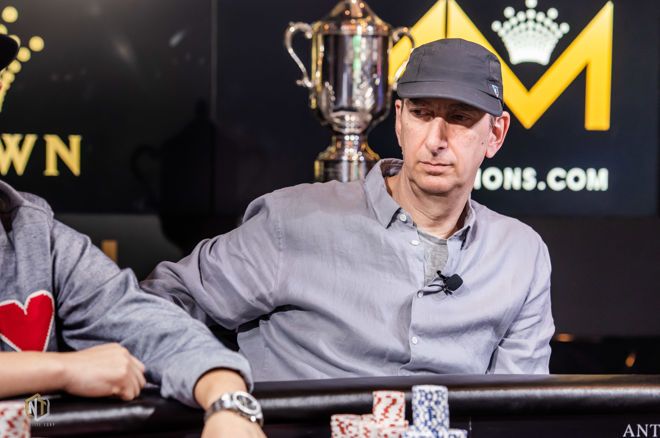 PokerNews is known throughout the world for our industry-leading live updates for both live and online events. In fact, right now we're offering various updates right here.
Over the years, we've captured memorable hands, many of which have become a part of poker history. In this new column, we will bring you some of the biggest hands of the week as reported in the PokerNews Live Updates. This week, we're featuring five of the biggest and most interesting hands as reported in our 2021 GGPoker World Series of Poker (WSOP) Online Bracelet Events live updates.
Remember, if you're playing an event PokerNews is covering, you can get in the updates via the MyStack App. You can download the app for iPhone or Android now to get started. Then, create a new PokerNews account or update your current one to start updating your status immediately. Your followers can see all the live action that you're involved in.
Click here to download the My Stack app for iPhone, or click here to download the My Stack app for Android.
Vousden Busts to Boianovsky in Massive Pot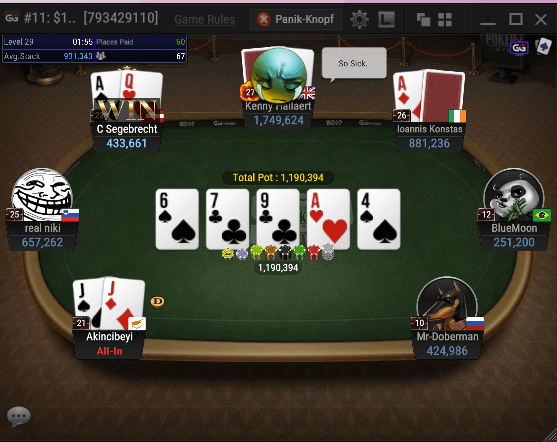 In Level 29 (17,500/35,000/4,500) of the GGPoker WSOP Event #11: $10,000 Super MILLION$ High Roller NLH, $5M GTD, the same tournament eventually won by Erik Seidel for bracelet No. 9, when Samuel Vousden min-raised to 70,000 from under the gun and Felipe "LisFlower" Boianovsky three-bet to 245,000 out of the small blind, which Vousden called.
They headed to the
flop on which both players checked. The
turn, likewise, brought no betting action. Boianovsky then jammed the
river for nearly 1.2 million into a pot of just 556,500. Vousden was marginally covered with a stack of 1,052,141 behind and went deep into the tank. He depleted nearly the entire time bank and called with a few seconds remaining.
Boianovsky flipped over
for the nut flush and the
of Vousden for trips queens was no good.
Seidel Dispatches Segebrecht on Way to Victory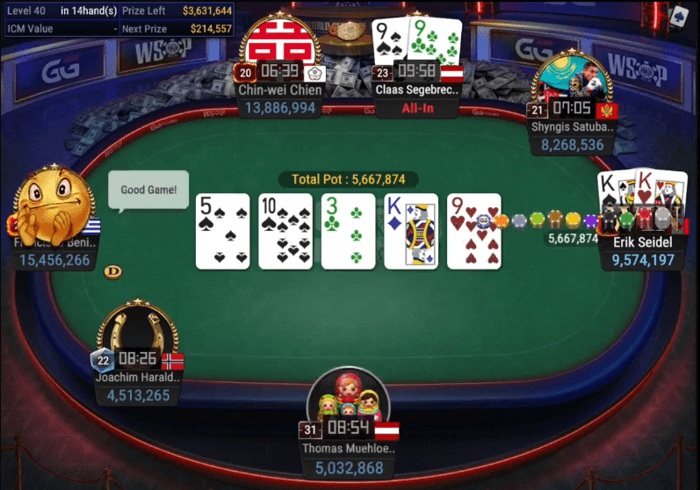 In the same tournament, it was at the final table with the blinds at 125,000/250,000 when Erik Seidel raised to 500,000 from the middle position and the action folded to Claas Segebrecht in the big blind who opted to three-bet shove for 2,666,437 which Seidel quickly called.
Claas Segebrecht:

Erik Seidel:
The board ran out
for Seidel to turn a set to leave Segebrecht drawing dead while the latter made the lower set on the river to bust in seventh place for $214,558 while Seidel went on to win for $977,842.
Czika Calls Watson's Bluff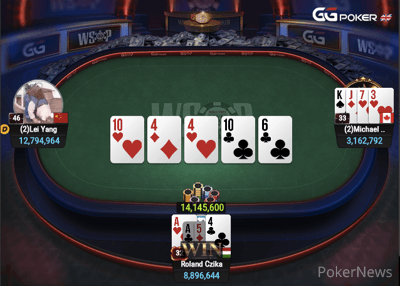 In Event #10: $400 DOUBLE CHANCE Pot-Limit Omaha [2-Stack], it was Level 43 (250,000/500,000/60,000) and just three players remained when Mike Watson called from the small blind and Roland "Quina Quen" Czika raised to 1,500,000. Watson made the call to see a flop and it came
.
Watson checked and Czika fired 767,600. Watson made the check-call and the turn came
. Both players checked the turn to see a river
.
Watson fired a bet of 4,715,200 and was called by Czika, who turned over
for three aces. Watson showed
for the missed flush and Czika scooped a big pot to put Watson near elimination. Watson wound up busting in third place for $28,944 while Czika claimed the bracelet and $55,369 in prize money.
Addamo Crashes Out Against Bosca Ramon
In Level 2 of Event #21: $25,000 Super High Roller Championship NLH, $5M GTD, a new table opened and one hand was played heads-up. It turned out to provide fireworks between Michael Addamo and Vicent Bosca Ramon. The Spaniard defended against an open raise to 1,500 and they headed to the
flop, on which Bosca Ramon check-called for 2,363.
On the
turn, Bosca Ramon checked once more and Addamo made it 11,645 to go. The call by the Spaniard followed and they headed to the
on the river. Once Bosca Ramon checked, Addamo used a portion of his time bank and ripped it in for 84,417. Bosca Ramon, likewise, used his time bank and then called.
Addamo flipped over
for a pair of fours and Bosca Ramon earned the first knockout of the day with
for top pair with a weak kicker. Addamo wasn't done though as he opted to re-enter.
Addamo Felted by Martirosian's Quads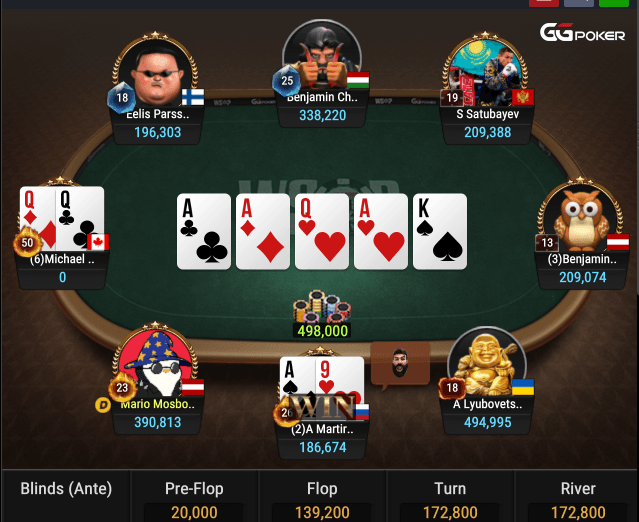 Later in the same tournament in Level 20 (4,000/8,000/1,000), Artur Martirosian opened to 17,600 in the cutoff and called a three-bet to 61,600 by Addamo in the small blind. Addamo bet small for just 16,800 on the
flop and the
turn went check, check.
On the
river, Addamo used his time bank to check and Martirosian moved all-in. Addamo had 162,600 behind and used almost his entire time bank to then call. Martirosian tabled
for quads and Addamo's
went down in flames. It was a big hand for Martirosian, who was fresh off winning the SHRB Europe Event #6: $100,000 No-Limit Hold'em for $1,400,000.
Follow Live Updates from Event #21 Here!
Executive Editor US, PokerNews Podcast co-host & 2013 WSOP Bracelet Winner.