The Muck: Cheating? Brain Fart? Poker Community At Odds Over Insane HCL Hand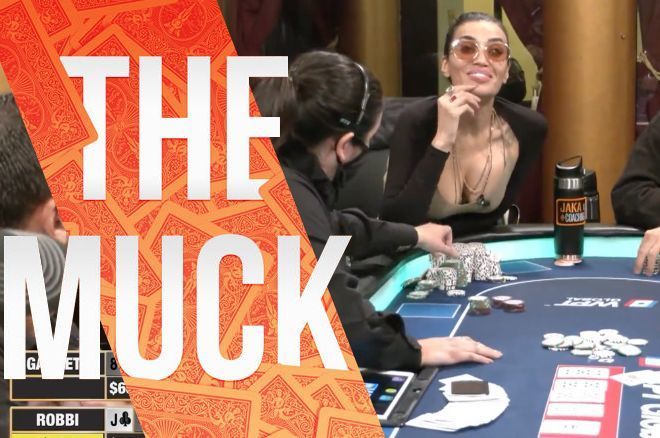 Table Of Contents
Hours have passed since what will likely be remembered as one of the craziest poker hands ever caught on tape, and yet, no one in the poker community seems to be able to agree as to what exactly happened on last night's Hustler Casino Live stream.
The hand, which has already garnered over 2.5 million views on Twitter alone, involved Hustler newcomer Robbi Jade Lew calling Los Angeles high-stakes poker legend Garrett Adelstein with just jack-high and no draw to win a $269,000 pot. After seeing his opponent's holding, a completely befuddled Adelstein insisted he had been cheated, an accusation he later doubled down on and fleshed out in a six-part statement.
Lew, who gave Adelstein his money back off-stream in an attempt to diffuse the situation, vehemently denied that there was any wrongdoing in the hand and maintains that she "read the man and ma(de) a hero call after he shoves on a turned brick card."
Hardly anyone in the poker community stayed quiet as the drama made its way to social media, and everyone from Daniel Negreanu to Rounders co-writer Brian Koppelman and the usually quiet Tom Dwan gave their thoughts.
All this and more is the subject of the latest edition of The Muck, where we share various takes on the hand that has the entire poker community talking.
Read about Lew and Adelstein's contrasting stories about the controversial HCL hand
Initial Reactions
Big names in the poker community were quick to give their takes on the strange hand, with many saying they were certain or near certain the hand wasn't straight.
"Literal 0% chance hand is real," tweeted high-stakes pro Chris Brewer. "He got cheated, the only question now is how?"
Literal 0% chance hand is real. He got cheated, the only question now is how? https://t.co/gKiSYQi7Z3

— Chris Brewer (@Chris_D_Brewer)
"Don't think it is 0%. But it's very very very suspect," added Ryan Laplante.
2021 GPI player of the year Chance Kornuth also hinted at foul play, tweeting that the Hustler stream "isn't secure imo."
But others were just as quick to defend Lew, including Joseph Cheong, who had played with Lew and called her "a complete beginner."
"Insane you cant even suck without being accused of cheating these days," Cheong said about the hand.
Poker vlogger Johnnie "VIBES" Moreno speculated that Lew "got emotional from being 'pushed around' & wanted to beat GMan so desperately that she punt called off with Jack high."
"Perfect storm w/ GMan having the only hand she could beat during her implosion," Moreno said. "She's obv a very inexperienced player."
People so desperate for drama. IMO she got emotional from being "pushed around" & wanted to beat GMan so desperatel… https://t.co/ZDgQrPA88p

— Johnnie VIBΞS (@JohnnieVibes)
Danielle Andersen agreed with Moreno and even admitted she "once made a call so absurd for these exact reasons that I was accused of cheating."
Calls for Hustler Investigation
One point most in the poker community agreed upon was that an investigation by Hustler Casino should take place.
Doug Polk, who put together a 30-minute breakdown of the hand, called on Hustler to end the stream and "launch an investigation immediately."
Tom Dwan, who rarely speaks out on hot poker topics, described the hand as "one of the most suspicious I've ever seen" and said it "should be investigated."
My view is incomplete information is inherently murky. People like to claim they were sure about unknowable things.… https://t.co/Od2jkFv87S

— Tom Dwan (@TomDwan)
"I think an investigation will likely find wrongdoing," the legendary high-stakes pro tweeted. "But also… if there was none, a (proper) investigation should happen so (R)obbi can be cleared."
Dwan added that he "also hope(s) HCL and other partners put out bounty's for information."
"There's not perfect answers in these kind of spots (until or unless hard evidence is found)," said Dwan. "If (Lew) did nothing wrong, then of course it's not too fair how questioned she was (and will be). But reality happens and sometimes life is unfair."
Hustler has stated that it takes the situation "extremely seriously" and that "at this point we have no proof either way or any indication of any wrongdoings besides the accusations of the parties involved."
A "Brain Fart" in a "High-Stress Situation?"
While the initial reaction from most players was that Lew had surely been cheating, those certainties diminished as additional details about Lew and her playing style emerged.
"I think it's legit," tweeted Laplante, who had earlier tweeted his suspicions about the hand.
Daniel Negreanu, arguably poker's biggest ambassador, chalked the hand up to a "brain fart" by the high-stakes newcomer.
"I've played 30 years now and have seen lots of strange things from amateur players that aren't logical and usually occur due to being in a high stress situation and having a brain fart," Negreanu said in a Twitter thread. "I've seen players check back the nuts, call with the board on the river, call when they couldn't beat my board in Stud on the river. This happens even more under the lights and cameras with the world watching. Fear, anxiety, etc. can lead to some real brain farts and I think that is exactly what we saw with this J4 hand."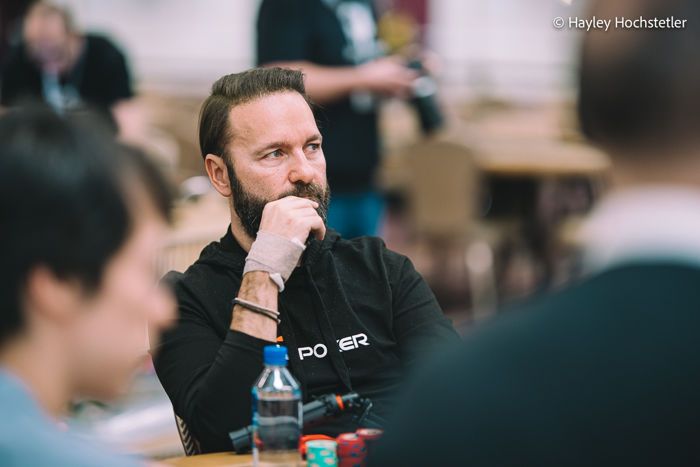 In another tweet, Negreanu added that he thought "she was just deep into a 'move,' got flustered and called" and doesn't think "her reaction during or post leans towards anything nefarious."
"It was an 'I'm calling the bully' situation IMO," said Negreanu.
Others who agreed that it was likely an amateur moment include 2012 WSOP Main Event runner-up Jesse Sylvia, who said the hand "feels like the clearest case of not cheating that could ever look like potential cheating," as well as Christian Harder.
"I'm in the camp of 'she very likely wasn't cheating but I don't have an issue with Garret(t) being upset at the time,'" Harder tweeted.
I'm in the camp of 'she very likely wasn't cheating but I don't have an issue with Garret being upset at the time'

— Christian Harder (@realcharder30)
.
Other Reactions
There was no shortage of takes on the hand in the hours after it went viral.
Joey Ingram hosted a nine-and-a-half-hour "emergency investigation" where he spoke to Hustler Casino Live co-founder Nick Vertucci, Shaun Deeb and Lew herself, while Will Jaffe made five "Tough Convos" about the hand.
In a two-and-a-half-hour stream of the Only Friends podcast, Matt Berkey and the rest of the Solve for Why crew empathized with Adelstein's reaction after thinking he got cheated.
"In the moment, you're going to f***ing lose your s**t," said Conrad Simpson. "This man has played a lot of hands of poker. This just doesn't happen, this isn't something that happens every day. When somebody calls you with jack-high for six figures, it's just like, what the f***."
"I kind of just feel for both parties, I don't have a decision either way," said Christian Soto, who talked on stream about a hand he had played with Lew. "I've just seen other players make big calls that make no sense and it makes no sense, and then on the other hand, I've been cheated before. So I know how this feels ... So I don't have a decision either way, I just kind of feel both sides believe their side to be true."
Berkey contributed that he was "confident that the most logical thing that makes sense to me ... is there is no obvious malice" by Lew, who he noted is clearly an amateur.
"So to me, in my opinion, I think we need a lot more information," said Berkey. "I think we need to see a lot more data."
It seems like the poker world will learn more data, or at least information, as Hustler Casino Live have said that they will be making another statement before too long: