"quvai" Caps Off Improbable Run in the $500K 888poker Mystery Bounty Main Event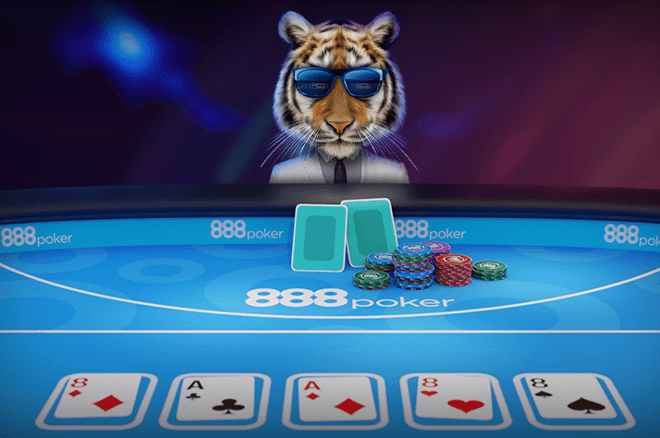 German player "quvai" isn't used to battling against the game's best on 888poker. Their highest career score was for just $800 in May. Their average buy-in was less than $2 before they found their way to the final table of the $500,000 Mystery Bounty Main Event on Tuesday.
"quvai" was the last player standing out of a starting field of 1,734, earning the $36,525 top prize to go with $4,088.23 in bounties for a total payout of $40,613.23. It far eclipsed anything they had accomplished before as they overcame a star-studded final table to take home the title.
$500,000 KO Games Mystery Bounty Main Event Final table Results
| Place | Player | Country | Prize | Bounties | Total Prize |
| --- | --- | --- | --- | --- | --- |
| 1 | quvai | Germany | $36,525 | $4,088 | $40,613 |
| 2 | overbet13 | Malta | $26,700 | $1,029 | $27,729 |
| 3 | UndeadCretin | United Kingdom | $19,625 | $12,372 | $31,997 |
| 4 | Jordan "BanfieldJ" Banfield | Canada | $14,425 | $2,901 | $17,326 |
| 5 | _UpToNoG00D_ | Romania | $10,675 | $1,529 | $12,204 |
| 6 | Max "DragoDanzig" Rotko | Finland | $7,950 | $1,186 | $9,136 |
| 7 | "swnov" | Romania | $5,975 | $2,901 | $8,876 |
| 8 | wowkit | Brazil | $4,525 | $4,431 | $8,956 |
| 9 | Niklas "tutten7" Astedt | Sweden | $3,450 | $2,215 | $5,665 |
The Best 5 Tips for 888poker's KO Games Bounty Tournaments
Only nine players remained when Day 3 of the $500,000 KO Games Mystery Bounty Main Event began at 7:00 p.m. GMT. "UndeadCretin" was the chip leader with 3,065,158 chips.
Niklas "tutten7" Astedt began the final table as the short stack and didn't wait long before getting his last 498,629 in the middle with jack-ten. Max "DragoDanzig" Rotko called with king-six and made two pair to bust the Swedish online legend in ninth place.
Rotko gave some of those chips back when he moved all in on the river and "_UpToNoG00D_" called for 1,561,450 with a set of queens, beating pocket nines. Rotko took his turn to double up a few hands later, picking up pocket kings against his nemesis "_UpToNoG00D_" who missed a straight flush draw.
888poker Stream Team pro Jordan "BanfieldJ" Banfield out-flipped "wowkit" with eights against ace-queen to double up for his last 515,490. "wowkit" was knocked down to just over 700,000 and lost another race with fours to the ace-nine of "overbet13," who hit a pair on the river to send "wowkit" to the virtual rail in eighth place.
Banfield doubled up again with ace-king against "swnov," who was left with less than a big blind. They tripled up before getting their last 301,108 in the middle. "UndeadCretin" reshoved and big blind Rotko called for 3,108,964, creating a three-way all-in pot worth almost 7,000,000 chips. "UndeadCretin" flopped trips with king-six to bust both players and take a massive chip lead.
Banfield eliminated "_UpToNoG00D_" with ace-king against queen-jack, moving up into second place with 5,538,628. But two double ups left Banfield nursing a short stack once again. First, "overbet13" made a pair of aces to double off Banfield. The Canadian then shoved the flop against "quvai" with the nut flush draw and "quvai" called for 1,448,132 with two tens. The turn gave "quvai" a full house and left Banfield with just 852,655.
Six New Promotions as 888poker Celebrates 20 Years of Poker with The Anniversary Selection
A few hands later, Banfield got his last 632,655 in the middle with ace-six against "UndeadCretin," who rivered a pair of threes to eliminate the popular Twitch streamer in fourth place.
"quvai" went runner-runner to make the nut flush and double off "UndeadCretin" to narrow the gap before winning what proved to be the pivotal hand of the tournament. After "quvai" raised to 400,000, "UndeadCretin" moved all in and "quvai" called for 6,534,278 with two nines. "UndeadCretin" had king-five but couldn't connect with the board as "quvai" leapt to the top of the leaderboard after being at the bottom of the counts during four-handed play.
A few hands later, "quvai" turned the nut straight to bust "UndeadCretin" in third, taking a 16,848,068 to 2,391,932 chip lead into heads-up against "overbet13."
"overbet13" managed to double up once with two pair but, on what proved to be the final hand of the tournament, they got their last 1,626,202 in with king-six against ace-queen. "quvai" turned top pair and left "overbet13" needing to complete a straight on the river. They failed to find the miracle and "quvai" collected the last remaining golden mystery bounty envelope.
That concludes PokerNews' coverage of the 888poker KO Games Mystery Bounty Main Event. Stay tuned for more coverage of tournaments from around the world.