Galfond Challenge Returns Feb. 2: "Jungleman" to Battle "Mr. Falcons"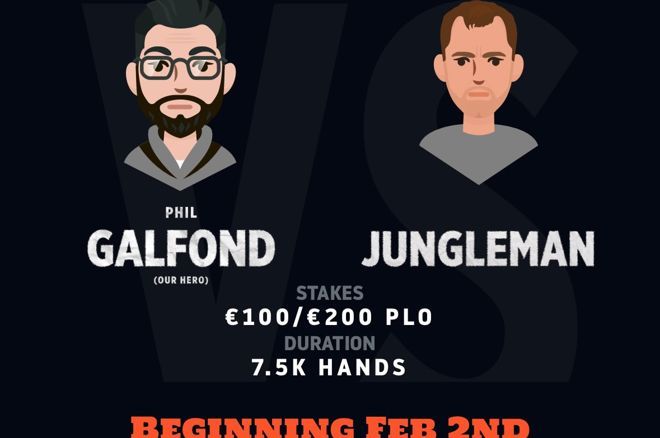 The Galfond Challenge, a heads-up online pot-limit Omaha competition between Phil Galfond and an opponent, is back starting Feb. 2 with Dan "Jungleman" Cates stepping into the hot seat.
Play will begin at 8 a.m. PT and is expected to run until around noon each day Monday through Thursday until the agreed upon 7,500 hands are completed, according to Galfond's Monday afternoon tweet. Galfond told PokerNews the action will take place on WSOP.com. In previous Galfond Challenges, there's been a side bet attached to the cash game, but the former Full Tilt Poker crusher said he isn't sure yet if a side bet will be added to this one.
Each session, and every hand, is expected to be live-streamed on Galfond's YouTube channel, but the PLO pro said there won't be standard commentary, although Galfond will be talking to his audience while streaming. As is customary in the Galfond Challenge, the competitors will play two tables at a time of PLO at $100/$200 stakes.
Check Out the Galfond Challenge History
What to Expect from the Galfond Challenge
Given both players have aggressive tendencies in PLO, expect plenty of massive pots throughout the lengthy battle. Galfond, who was famously known as "OMGClayAiken" during the Full Tilt Poker days, had booked Cates for the Galfond Challenge over two years ago. But the two poker superstars weren't able to figure out the logistics until now.
Galfond, referred to as "Mr. Falcons" by his upcoming opponent, is considered by many the greatest PLO player of all-time. He rose to stardom in pot-limit Omaha back in the late 2000s on Full Tilt, competing in the nosebleed games against Phil Ivey, Viktor "isildur1" Blom, and other fan favorites.
Cates, the two-time defending WSOP Poker Players Championship champion, is also an online poker legend and one of the best in the game today. He's talked some trash over the past couple of years to his friendly rival Galfond, and has expressed confidence in coming out victorious.
Galfond and Cates, both in their mid-30's, will likely reach the Poker Hall of Fame shortly after becoming eligible at age 40, if not immediately.
History of the Galfond Challenge
Galfond first offered up the high-stakes PLO challenge in 2019, which was accepted by online poker pro "Venividi1993." The host of the challenge, who was heavily favored, was down nearly €1 million at one point on the Run it Once poker site, previously owned by Galfond himself.
On top of the money from the cash games it appeared Galfond was destined to lose, he would also owe the challenger another €200,000 from a side bet. But the match lasted 25,000 hands and in the final of 39 sessions, Galfond pulled off a miraculous rally to win by less than 10 big blinds.
Next up was "ActionFreak," another online player. This time around, Galfond jumped out ahead in the 15,000-hand contest, and then held on to win by a bit over €114,000 plus the €150,000 side bet.
Up next was Chip Leader Coaching founder Chance Kornuth, who started off strong, building a six-figure lead, but would inevitably call it quits after 25,400 hands and down $726,000. He was also on the hook for a $250,000 side bet.
In between those matches, Galfond would briefly play just 862 hands against Bill Perkins before the two competitors couldn't find time to continue the contest. Galfond was up around $90,000 at the time the match ended for good in April 2020.
Galfond would also face Brandon Adams in July 2021, but this one was a live poker challenge at Resorts World in Las Vegas. They were scheduled to play 40 hours but Adams backed out after 26 hours of play down $16,500.
Cates will likely be Galfond's toughest opponent to date.