2016 WSOP on ESPN: Nearing Final Table, How Would You Play These Hands?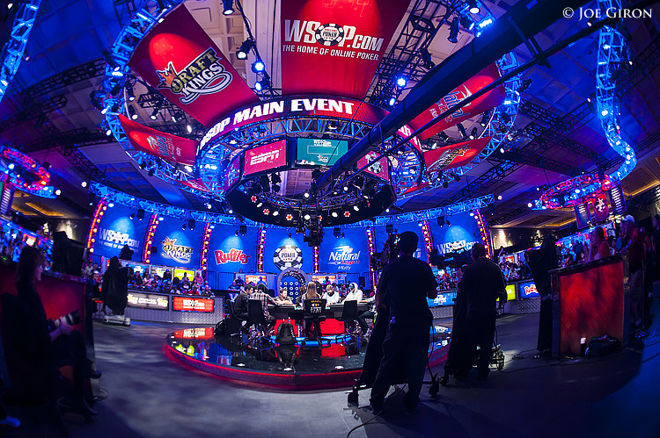 It was another captivating pair of episodes of 2016 World Series of Poker Main Event coverage this week on ESPN, the last two before the final table finally arrives this Sunday. Shows this week carried the tournament down from 21 players to the final nine, and thus involved a number of dramatic knockouts along the way.
The hand everyone's talking about, of course, was the one concluding the first of this week's two episodes that involved Griffin Benger and William Kassouf, the last of dozens of hands featuring the talkative Kassouf whose "speech play" garnered a lot of attention back in July and during the many weeks of coverage on ESPN.
That hand — an aces-versus-kings cooler — was more interesting for the confrontation between Benger and Kassouf that preceded the chips going in than for the strategy involved. You can read more about that part of the hand's story here: "A PokerNews Debate: Was Griffin Benger Justified in Attacking William Kassouf?"
Meanwhile from these final shows preceding the final table beginning Sunday, we've picked three other hands with which to play our "What Would You Do?" game. We start with an intriguing hand that came shortly before the Benger-Kassouf one, another one involving Kassouf.
Hand #1: Vayo vs. Kassouf
Players left: 17
Avg. stack: 19.81 million
Blinds/antes: 200,000/400,000/50,000
This hand actually came four hands prior to the Benger-Kassouf one, although it was shown just before it in the coverage. It also came just a few hands after Gordon Vayo used pocket aces to oust Andrew Christoforou in 18th place.
It was a blind-vs.-blind battle that saw Vayo with a stack of around 22 million limp in from the small blind with
. Kassouf, who began the hand with about 21 million, raised to 1.2 million from the big blind, and Vayo called.
The flop came monotone —
— giving Vayo top pair and a flush draw, and he checked. "Have a look, see if you have a diamond," said Kassouf before looking at his own cards. "I qualify," he said after looking, then bet 1.2 million, adding "if you got it you got it, right?"
Vayo called the bet, bringing the pot to 6.35 million. The turn then brought the
, completing a flush for Vayo, and he checked again. Still talking, Kassouf, checked behind.
The river was the
— a fifth diamond on the board — and Vayo checked one more time. Kassouf bet 3.3 million, and as Vayo thought about what to do, Kassouf spoke again.
"River saved you, I had you on the turn," he said. "Bad river card for me."
Not long after Kassouf's last line, Vayo called the bet, and knew he had a winner when Kassouf said "playing the board" as he showed
.
Hand #2: Niwinski vs. Vayo
Players left: 15
Avg. stack: 21.46 million
Blinds/antes: 200,000/400,000/50,000
Moving ahead a little, Fernando Pons had about 16 million when he open-raised to 900,000 from the cutoff seat, then Vayo — up to 33.7 million — three-bet to 2.6 million from the button.
It folded to Michael Niwinski in the big blind who looked down at
. Niwinski was one of the shorter stacks left, down to 6.975 million or not quite 17.5 big blinds.
Not incidentally, they had just made a pay jump, as 16th-place finisher Jared Bleznick had earned $338,288 while those finishing 15th through 12th would all receive $427,930.
Niwinski chose the latter and pushed his chips in the middle. Pons folded, but Vayo called in a flash and showed
. The board ran out nine-high, and Niwinski's run ended in 15th.
Hand #3: Obst vs. Nguyen
Players left: 14
Avg. stack: 24.06 million
Blinds/antes: 200,000/400,000/50,000
Our final hand was the very next one shown, starting as a three-way affair involving Qui Nguyen, Vojtech Ruzicka, and James Obst.
Starting with about 23.5 million, Nguyen raised to 950,000 from early position. Then Ruzicka — with almost the same 23.5 million stack — called from the button. It folded to James Obst in the big blind sitting behind about 8.5 million, and with
Obst also called and the trio saw a flop come
.
All three checked, then after the
turn Obst decided to lead by betting 1.5 million into the 3.4 million pot. Nguyen raised to 3.5 million, and Ruzicka folded. With his gutshot straight draw and flush draw, Obst called the raise to bring the pot to 10.4 million.
The river was the
, completing a flush for Obst while pairing the board, and he checked. Nguyen bet 4 million, a bet representing nearly the 4.5 million Obst had left behind.
As Obst thought about what to do, Norman Chad reminded us of his huge fold from earlier on Day 7 — a hand we discussed here a week ago — when he managed to let go of a full house when Michael Ruane had a straight flush.
"Hit the five?" asked Obst of Nguyen as he thought about what to do here, and Nguyen remained silent.
Obst ended up folding here as well, which as we could see meant he'd missed out on winning the pot as Nguyen had
for trip fives.
Finding a trustworthy room to play online poker can be a monumental burden. That's all the more true if you're just looking for a place to play poker for free. We've listed five of the best play-money poker sites to enjoy and help hone your skills.