2016 WSOP on ESPN: What Would You Do in These Tricky Postflop Spots?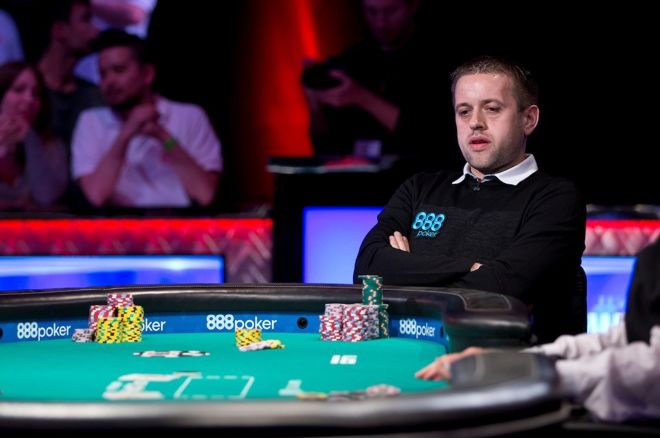 From a starting field of 6,737, they are now down to just five players in the 2016 World Series of Poker Main Event. As usual, comprehensive coverage on ESPN gave poker fans a chance to follow every move, with hole cards now being revealed for all players on each hand. It's a great opportunity for considering the final table strategy being pursued by players participating in the most prestigious — and pressure-packed — tournament in poker.
The first three bustouts on Sunday night featured short stacks finding hands with which to push, getting called, then failing to best their opponents' hands to be eliminated.
On the 16th hand of the final table, Fernando Pons was ousted in ninth after pushing from the button for less than eight big blinds with
, getting called by Cliff Josephy from the big blind with
, then watching two kings come among the community cards.
Later in Hand #60, Jerry Wong four-bet most of his almost 12-BB stack with
, then called all in with the rest to Vojtech Ruzicka's raise. Unfortunately for Wong, Ruzicka had
, and after the board failed to bring a jack he was out in eighth.
Eight hands after that Gordon Vayo raised from the button, then Griffin Benger reraised all in from the big blind with for just over nine BBs with
. Vayo had
and called, and though the board brought a nine there was no further improvement for Benger and he fell in seventh.
It was decided to continue rather than stop at six, and they played on until Hand #97 when the last bustout of the night occurred, again following a preflop all-in confrontation.
In this case the shove was with a larger stack — a four-bet push for 35.625 million (just over 35 BBs) by Kenny Hallaert (pictured above) with
and a quick call from Qui Nguyen who had picked up
. (In the interim, Vayo folded pocket tens after Nguyen's reraise.) There was a queen on the flop but nothing more for Hallaert who departed in sixth, and Nguyen carries a big chip lead to tonight when play resumes five-handed. Read a full recap of Day 1 of the final table here.
While you can consider what you'd have done with those knockout hands, we've picked a few other non-elimination hands with which to play a quick game of "What Would You Do?"
Hand #13: Ruzicka vs. Hallaert
Players left: 9
Avg. stack: 37.4 million
Blinds/antes: 300,000/600,000/100,000
After playing out the rest of Level 35 with all nine players still in, the first hand of Level 36 began with the action folding to Hallaert in the cutoff. Staring with 47.2 million, Hallaert raised to 1.5 million. It folded to Ruzicka in the big blind who had just over 28.3 million to begin the hand, and after looking down at
he decided to call, bringing the pot to 4.2 million.
The flop came
, and after Ruzicka checked, Hallaert thought a short while before continuing for 1.6 million. Ruzicka called with his open-ended straight draw, making the pot 7.4 million.
The turn brought the
, adding a flush draw for Ruzicka, and he rapped the table once more. Hallaert again took a little while to act, then decided to bet 5.3 million, bringing the pot up to 12.7 million
Ruzicka tanked for a short while himself, looking down at the 25.125 million he had behind. (Also worth adding here — both Pons and Wong were sitting with short stacks of 10-12 BBs.)
After taking almost exactly one minute to think about it, Ruzicka ultimately chose to check-raise all in, and Hallaert had let go of his
right away. Interestingly, in his commentary during the hand, Antonio Esfandiari mentioned before Hallaert's turn bet (with the flush draw and a gutshot) that he might be worried about a check-raise.
Hand #30: Ruane vs. Hallaert
Players left: 8
Avg. stack: 42.1 million
Blinds/antes: 300,000/600,000/100,000
It was still Level 36, with eight players now left after the elimination of Pons. This one began with the table folding to Michael Ruane in middle position who started the hand with 33.525 million (sixth of eight).
Looking down at
, Ruane raised to 1.4 million, and it folded to Hallaert in the cutoff. Then fifth in chips with 37.775 million, Hallaert called the raise, and when everyone else folded that made it heads-up to the flop with 4.5 million in the middle.
The flop came
, giving Ruane a straight draw. He led with a bet of 1.8 million and Halleart called, making the pot 8.1 million. Both players then checked the
turn.
The river was the
, and Ruane checked again. Hallaert waited for about a half-minute, then tossed out a bet of 3.6 million. With two pair on the board and that king-kicker, Ruane had a decision.
Ruane took less than half a minute to make the call, and his hand was good as Hallaert had
.
Hand #94: Ruane vs. Nguyen
Players left: 6
Avg. stack: 56.1 million
Blinds/antes: 400,000/800,000/100,000
Skipping ahead near the end of the night to the final hand of Level 38, this one involves Nguyen and Ruane. With six players left Nguyen, who'd been quite active throughout, enjoyed the chip lead with just over 77 million (more than 96 BBs), while Ruane started the hand with about 34.5 million (just over 43 BBs), placing him fifth and just ahead of Hallaert in sixth.
Ruane was dealt
in middle position and raised to 1.8 million, and it folded to Nguyen in the big blind who three-bet to 5.8 million. Ruane looked across the table, squinting to see the amount of the bet, then after some thought made the call, making the pot 12.6 million.
The flop came
, and after pausing more than a minute Nguyen carved out a bet of 7.7 million.
Ruane actually chose to call here, bringing the pot up to 28 million and leaving himself 20.925 million behind. The turn was a
, prompting a big bet of 17.7 million from Nguyen, and Ruane quickly let his hand go. As we saw at home, Nguyen was playing
.
Finding a trustworthy room to play online poker can be a monumental burden. That's all the more true if you're just looking for a place to play poker for free. We've listed five of the best play-money poker sites to enjoy and help hone your skills.