2016 WSOP on ESPN: More Tough Decisions -- "And It's the Main Event As Well"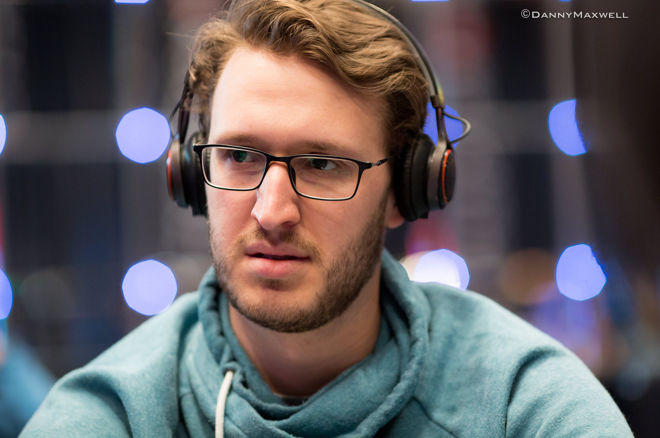 We're another week closer to the final table of the 2016 World Series of Poker Main Event — a.k.a. the "November Nine" (even though it starts October 30). And with another week has come two more episodes of Main Event coverage on ESPN, with these latest shows featuring the latter levels of Day 6 as they played down to just 27 players.
As to be expected, this week's shows included several hands featuring eventual November Niners, with Cliff Josephy, Michael Ruane, Vojtech Ruzicka, Jerry Wong, Fernando Pons, and Gordon Vayo among those shown in action. (Click those names for profiles of each player.)
Speaking of hands featuring those players, Vayo's all-in with
versus Jonas Lauck's
with 39 players left was perhaps the most notable, as Vayo survived by making a Broadway straight while Lauck was crippled and went out in 37th shortly thereafter. Still, it was a nice run for Lauck after having bubbled the WSOP Main Event a year before.
Speaking on the PokerNews Podcast afterwards, Vayo talked about the emotion of winning that hand and how he subsequently tried to deal with the "positive tilt" it caused by remaining snug for the rest of Day 6.
Other players were active to end the day, however, and from the hands shown we've chosen three intriguing ones for this week's round of "What Would You Do?"
Hand #1: Josephy vs. Klodnicki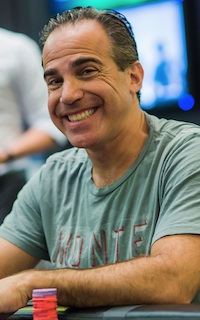 Players left: 45
Avg. stack: 7.485 million
Blinds/antes: 60,000/120,000/20,000
This hand began with Cliff Josephy sitting under the gun and looking down at
. Josephy began the hand with just over 15.2 million, close to the chip lead at the time. We'll play along with him as he opened with a raise to 275,000, then watched three players call — Mitch Watson (hijack), Chris Klodnicki (button), and Tony Bracy (small blind).
With 1.36 million in the middle, the flop came
and Bracy checked. Josephy continued with a bet of 475,000, and only Klodnicki called from the button, leaving himself 4.57 million behind.
There was 2.31 million in the pot, then, when the turn brought the
.
Playing from out of position, Josephy chose to check and then call after Klodnicki made a small turn bet of 325,000. Both checked the
river, and when Josephy showed his aces Klodnicki mucked his
, saying while he did that he should have folded on the flop.
"Where's the rest of the pot?" someone cracked as Josephy collected the pot, to which the veteran player had a ready answer.
"I don't play big pots," he said.
Hand #2: Keating vs. Ruzicka
Players left: 42
Avg. stack: 8.02 million
Blinds/antes: 60,000/120,000/20,000
A little later in the same level came another hand in which a player was dealt pocket aces, in this case Alex Keating who began below the average with about 5.2 million.
Keating watched both Valentin Vornicu and Elliott Peterman limp in from middle position, then after getting
on the button Keating raised to 575,000.
It folded to Vojtech Ruzicka in the big blind who with about 6.8 million to begin the hand called, and both of the limpers stepped aside.
With 1.63 million in the middle, the flop came single-suited —
— and both players checked. The turn was the
, prompting a bet of 575,000 from Ruzicka. Keating riffled chips and studied the board as he contemplated Ruzicka's bet
The river brought the
, and Ruzicka bet again, this time pushing out a bet of 1.09 million. Keating had another decision to make.
Keating thought a short while again, and once more decided to call. Alas for him, Ruzicka had rivered a straight with
, and Keating mucked his aces, having slipped to less than 3 million.
Hand #3: Silver vs. Colman
Players left: 34
Avg. stack: 9.91 million
Blinds/antes: 80,000/160,000/20,000
We skip ahead to the next level to consider one last hand, this one involving Max Silver (pictured up top) and Dan Colman. Both players were on the short side to begin the hand, with Silver down to just under 3.9 million and Colman with just under 3 million.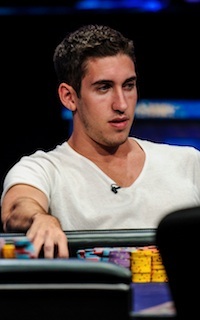 Sitting under the gun, Silver was dealt
and opened for 380,000. It then folded to Colman in the hijack seat who reraised all in with the 2.965 million he had left. Everyone else stepped aside, and Silver went in the tank.
"What do you have?" asked Colman as Silver thought. "I can say right?" asked Silver of the tournament director before saying he had nines.
"It's tough," responded Colman. "I feel like I'm going to fold, but just want to think it through," said Silver.
"That's a lot of your chips," Colman continued. Indeed, to call would mean committing about three-fourths of what Silver had behind.
"I'm aware of that fact," said Silver with a laugh. "And it's the Main Event as well."
Earlier in the broadcast, Norman Chad mentioned the SnapShove app Silver created earlier this year that helps players decide whether or not to to shove or call short stacks. Silver was on his own with this decision, though.
Silver finally decided to call, and unfortunately for him Colman tabled
. The better pocket pair held, and soon after Silver was eliminated in 33rd place.
After Silver was knocked out, Colman again sympathized with him regarding his difficult spot with pocket nines.
"That's tough, you know," said Colman. "Eights for sure fold, tens for sure call... [but you] had nines." "I know," said Silver with a nod as he left the tournament area.
What do you think? With eights do you fold, and tens do you call?
Everybody needs an account at one of these online poker rooms! They're the biggest, the best, and we get you the best poker bonuses. Check out our online poker section for details on all the online poker rooms around.