Max Silver Releases SnapShove App to Help Players Calculate Shove Ranges
There's a new poker app on the market, and it really is one all poker players should have on their mobile device.
SnapShove, available now on Android and iOS platforms, was created by poker pro Max Silver, who has more than $2.3 million in lifetime earnings, to help players determine proper shove ranges.
"While playing live, Max noticed there was no easy-to-use poker app with precise information on correct shoving ranges," the app states. "Even top pros can't remember every shoving range and a small mistake can cost your tournament life. Drawing on his poker expertise as well as five years experience working for gaming and poker companies, Max decided to fill that gap and set up the SnapShove team."
SnapShove's data is based on a perfect ChipEV Nash Equilibrium solution, and while that may sound intimidating, it's really quite simple to use. Users simple fill in the information – including number of players, ante/big blind, their stack and position – and hit calculate. It's really that simple.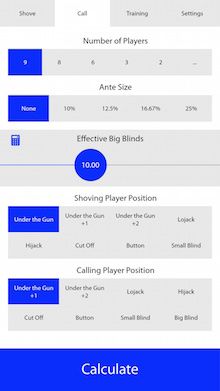 The app is available for free, but for users to get the full experience, they'll need to go pro — SnapShove Pro that is. For just $9.99, players will gain access to the full set of ranges, the Call mode, and unlimited sessions of Training Mode, designed to help take their game to the next level.
PokerNews recently had the chance to talk to Silver about his app.
PokerNews: What inspired you to create this app?
Silver: I decided to do a bunch of work on my short-stack poker game and while running simulations I had the idea for SnapShove. I looked around and there was nothing like SnapShove in a portable form. I can easily check hand equity calculations on my phone, but why not shove ranges? The actual learning curve was far steeper. I thought I could create something usable in a few weeks when in actuality it took me six months of careful revision and testing to get this out there.
For those who may be intimidated by an "Independent Chip Model" and "Nash Equilibrium," can you explain in layman terms what they are and a general idea of what you app does?
Basically it's an unexploitable way to play poker in certain situations, for example when you are short stacked. A Nash Equilibrium poker strategy is a strategy in which its impossible for your opponents to gain anything by deviating from their own nash response; in other words to be "unexploitable". SnapShove will show you optimal ranges for shoving all in.
On the app it says "precise ranges, verified by the pros." Which pros have you consulted or worked with on SnapShove?
I've worked closely with a number of pros including Dominik Nitsche and my business partner, Sadan Turker, to make sure these ranges are complete and accurate. Several weeks ago I opened the app to a wider audience, letting pros and poker industry friends beta test before and during the Aussie Millions. I've had very positive feedback on the app from several of the top 100 ranked players on the Global Poker Index, as well as some good suggestions for improvements, which I've incorporated into the latest version.
There is a lot of debate about using tools/programs in online poker. Do you envision any problems with live players having access to an app during play? Any worries an app like SnapShove could be banned at poker events?
I think as long as players respect and abide by the existing rules of no electronic devices while cards are out there will be no issue. Push/fold charts are already commonly looked at before a hand is dealt to players of all ability. SnapShove is aimed at being a strategic planning and review tool, not a real-time device.
In addition, a key aspect of the SnapShove app is the Training mode. Players can use the hand simulations to brush up on range knowledge and speed up decision times when they're away from the table.
For more, follow SnapShove on Twitter @SnapShove.
Get all the latest PokerNews updates on your social media outlets. Follow us on Twitter and find us on both Facebook and Google+!