2016 WSOP on ESPN: What Would You Do? (Or "I Wish This Wasn't Televised")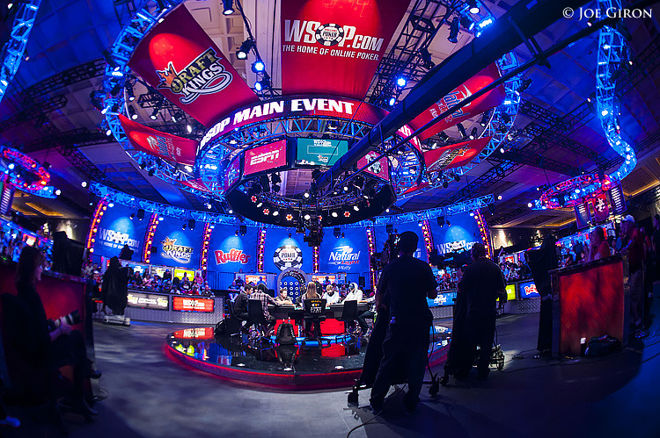 Finally — finally! — the first episodes of the 2016 World Series of Poker Main Event are starting to appear on ESPN. The first two arrived this week, with the network picking up the action on late on Day 4.
This week's hands began after the dinner break when just 357 remained from the 6,737 players who started the event, with episodes covering the last couple of levels of the night until just 251 remained.
Two former Main Event champions had feature table time, with 2004 winner Greg Raymer and 2013 champ Ryan Riess both nursing short stacks. (Riess would go out in 271st for $36,708, while Raymer made it through to Day 5.) Several all-ins and busts were shown from outer tables, and we caught glimpses of eventual November Niners Cliff Josephy, Kenny Hallaert, and Griffin Benger.
At one point during the first episode Christopher Frank impressed with a big preflop fold of
. It was a three-way hand in which Frank had opened, Robert Allain three-bet shoved a short stack, then Maxim Sorokin just called the shove from the blinds. Frank then reraised, and when Sorokin reraised back Frank thought a bit before letting his hand go.
Allain had
, but as Frank had suspected Sorokin turned over
(and would win the hand to knock out Allain in 291st for $32,130).
"That's gonna be on TV, right?" asked Frank afterwards, who pumped his fists and grinned a little afterwards, having been correct when making a tough decision.
Speaking of tough decisions — and the pressure being on television — we're selecting a couple of the more intriguing hands from this week's shows and putting the decision to you how you would play them. The first came right at the start of the very first episode, while the second kicked off the latter hour.
Hand #1
It's the feature table, and with 357 players left the average stack is 943,000. They've begun Level 20, with the blinds at 8,000/16,000 with a 2,000 ante.
Ryan Tococ is first to act under the gun. He has 721,000 to begin the hand, and after looking down at
he raises to 35,000. It folds to Shaun Deeb in middle position who has nearly 1.5 million to start the hand, and Deeb three-bets to 102,000.
Everyone else folds — including Raymer who lets go of pocket sevens from the small blind — and Tosoc calls Deeb's reraise. Pot 246,000.
The flop comes
. Tosoc checks, and Deeb bets 73,000. Tosoc calls.
The turn then brings the
. "Lon, since the dawn of time a deuce on the turn does not change anything, anywhere, anytime, anyhow," says Norman Chad to his partner Lon McEachern, noting the deuce being an apparent blank.
Tosoc again checks, and when Deeb fires another bet of 173,000, Tosoc calls again with his overpair. The pot is up to 738,000.
The river brings the
, putting two pair on board and prompting a repetition from Chad of his observation that a deuce on the river is also unlikely to have changed anything. Tosoc checks one more time, and this time Deeb pushes all in.
"Oh, man," says Tosoc with a grin. "I wish this wasn't televised. I'll look so bad if I'm wrong."
He has 371,000 left, meaning Deeb has put him to a test for his remaining chips. Eventually Deeb calls the clock, though with editing it isn't obvious how long Tosoc has tanked.
Ultimately Tosoc decided to call, and nodded when Deeb showed him
.
"Nothing you can do," said Deeb. "It's the perfect run-off... I have all the missed draws." They discussed the hand a bit further afterwards before Tosoc departed in 357th place ($28,356).
Hand #2
Another tough decision came at the start of the second hour, a three-way hand that also involved Deeb, James Obst (who had the chip lead for much of the latter part of Day 4), and Valentin Vornicu.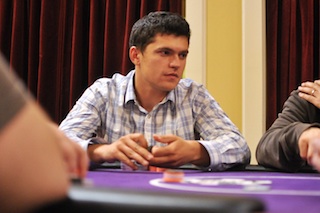 We'll play along with Vornicu in this hand.
With about 280 players left, the average stack is just under 1.2 million. With the blinds up to 10,000/20,000 with a 3,000 ante, Vornicu — with 1.67 million to start the hand — chooses to limp in from late position with
.
With 1.547 million in the small blind to begin Deeb calls, and Obst — the leader with 3.771 million — checks his option from the big blind.
"My favorite blinds," jokes Vornicu, referring to the two challenging competitors he's up against, albeit with position.
The
flop brings Vornicu top two pair while also providing a possible made straight, a straight draw, and/or a flush draw for his opponents. Deeb leads with a bet of 36,000, and both Obst and Vornicu call.
The turn then brings the
— a terrific card for Vornicu as it gives him a full house. Deeb fires 102,000 this time, and when Obst calls the pot is up to 399,000.
Both of his opponents seem to have caught something, but unless there's a straight flush sitting in the blinds Vornicu has best.
While Chad in his commentary suggested a call would earn Vornicu more value on the river, he chose to raise to 382,000. That chased Deeb, but Obst stuck around with a call.
The river brought the
, and after Obst checked, Vornicu had another decision to make. There was 1.061 million in the middle. Vornicu had 1.22 million behind, while Obst had 3.33 million.
Unless we somehow fear that straight flush, this becomes a bet-sizing question. So we'll ask...
Vornicu chose to bet 925,000, prompting a smile from his opponent.
"Will this one make TV, you reckon?" said Obst. At last he did call, turning over
for a flush, and Vornicu earned a big boost to his stack. (Incidentally, Deeb folded
on the turn.)
Some intriguing decisions, made all the more so with the pressure of being televised. What did you choose? And what would you have done with Obst's hand following Vornicu's big river bet?
Be sure to complete your PokerNews experience by checking out an overview of our mobile and tablet apps here. Stay on top of the poker world from your phone with our mobile iOS and Android app, or fire up our iPad app on your tablet. You can also update your own chip counts from poker tournaments around the world with MyStack on both Android and iOS.