Six Live Poker Mistakes to Avoid in 2022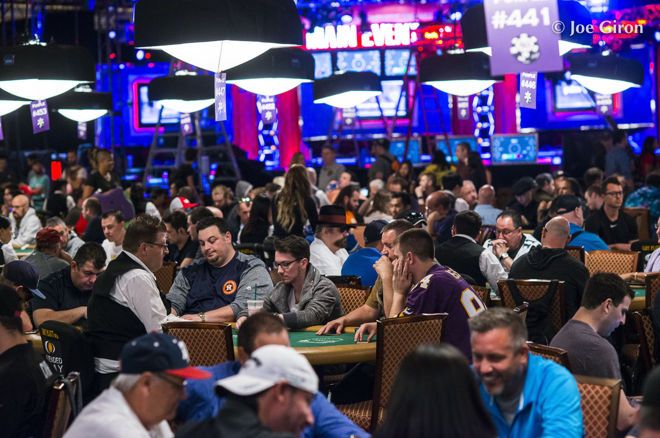 Live poker returned in 2021 with a bang with the likes of the World Series of Poker, World Poker Tour and partypoker LIVE hosting marquee events, and the the poker calendar is already starting to fill up for 2022.
888poker Live London Festival kicks off proceedings in the new year before the European Poker Tour returns to Prague in March for their first live event since 2019. There was also the massive news that the 2022 WSOP will be moving to Bally's Las Vegas Hotel & Casino.
With all the excitement generated by the comeback of live poker, players who have taken some time away from the live felt should be wary of making these fundamental mistakes before jumping back into the action.
Six online poker mistakes to avoid in 2022
Not Playing to Your Strengths
One of, if not the most important factor of being profitable poker player is choosing the right game to play in. If you are choosing to sit down at a table where a majority of players have an edge over you, the end result isn't likely going to be a positive one for you.
This will take some self-evaluation of your abilities and some honest introspection which is easier said than done. If you feel your skillset is better suited to deep-stacked cash games, you're going to want to avoid tables where there are plenty of short stacks for example. You'll also want to be aware of the rake and how that might effect your bottom line.
7 Tips to Take Your Poker Game From "Meh" to Amazing
Check out this helpful article with top tips on how to improve your poker play!
Taking Shots in the Wrong Tournaments
Continuing on with the theme of the importance of game selection, players who have spent some time away from the felt should be aware to not take shots in certain tournaments. Factors you should take into consideration when choosing the correct live poker tournament to play are thye buy-in and the event structure.
Firstly, it should go without saying that playing tournaments outside your budget is a quickfire way of busting your bankroll. After some time away from the table, you may be telling yourself you can play that four-figure buy-in event as a treat. As tempting as it is, you should try to refrain. If your bankroll is $2,500 and you fire into a $1,000 event, all it takes is one mistimed bluff or bad beat for a large percentage of your bankroll to disappear.
You'll also want to avoid tournaments that turn into a game of shove or fold from the early stages. You've taken the time to head to a bricks and mortar casino so you'll at least want to play some hands postflop.
However, if you are eager to play in a tournament that may be out of your bankroll you should always look to satellite your way into the event first before paying the full-priced buy-in. You can find a useful guide on when best to shot take in tournaments in here.
---
Related: Six Key Steps for Practicing Better Poker Game Selection
---
Not Paying Attention to Your Surroundings
While poker is a game of skill with a sprinkle of luck added in, it is also a game of observation. The best players in the game have their finger on the pulse and are acutely aware of what is going on at the table. They're champions at identifying players they want to play pots with and who the player to avoid at the table is.
In the above video, Danny Tang talks through how you can mentally mark player types. Take note of the content as it could stop you accidentally playing a high volume of hands against players who have your number.
Not Surrounding Yourself With the Right People
If one of your new year's resolutions for 2022 is to take poker more seriously, then one thing you need to have in order is the company you keep. If those closest to you in your poker circle see the game more as a hobby and an evening of fun then you'll likely need to make adjustments on who you talk poker with.
Luckily for you we've created a PokerNews Discord server and are inviting you to join our new community. Think of Discord as a house where different categories within the server are like a different room in the house. You can jump from one to the other to interact, gather information, or just have some fun.
We give you an area to share your bad beats, share your big wins, and talk about what is going on in poker today. We'll share links to live updates, highlight the biggest poker news, and offer special promotions.
Click Here to Join the PokerNews Discord Server
Being Overly Cautious
If you recognise yourself as a more cautious and passive player then use 2022 to amp up your aggression at the poker tables. Those who turn up the heat at the poker table fair considerably better than those with a more timid play style.
You can do this by three-betting hands preflop that you normally would have just called with, this will help thin the field and give you a better chance of playing pots heads-up rather than multiway. It is much easier to win a hand versus one opponent rather than three.
Another way to take it up a notch is adding more raises when playing hands postflop. For example, if you have
on a
flop and have an opponent bet into you, rather than just calling, consider raising. It is possible your opponent is betting with a worse king or flush draw, if you raise you're getting more money in the pot when you are likely ahead as well as given your opponent worse pot odds to call and make their hand.
However you should be making strategic aggressive plays, not just making bets and raises for the sake of it.
Not Having Fun!
Naturally i am a talkative person at the table and enjoy creating a welcoming atmosphere at the tables and this has helped me get paid off on many occasions. Just by having a few chats or sharing a bad joke has created several situations where I've had my value bets called by fun players who have said "I like you so i'll pay you off."
Another important consequence of having a good time is that your experience will be shared by other people and that could be the differnce maker in having a new player return back to the game. Poker only survives by the introduction of new blood. Novice players are often put off the game due to bad attitudes exhibited by others, so be sure to remember this as it what keeps the poker ecosystem alive.
---
Related: Jonathan Little's Weekly Poker Hand: Playing Ace-King Cautiously
---
So with 2022 just around the corner, why not brush up on your skills on the virtual felt by taking advantage of these first deposit bonuses on 888poker, PokerStars and 888poker.
Calum has been a part of the PokerNews team since September 2021 after working in the UK energy sector. He played his first hand of poker in 2017 and immediately fell in love with the game. Calum's proudest poker achievement is winning the only tournament he has ever played in Las Vegas, the prestigious $60 Flamingo evening event.