Alec Torelli's "Hand of the Day": My AA Cracked by WSOP Main Leader Joe McKeehen

Alec Torelli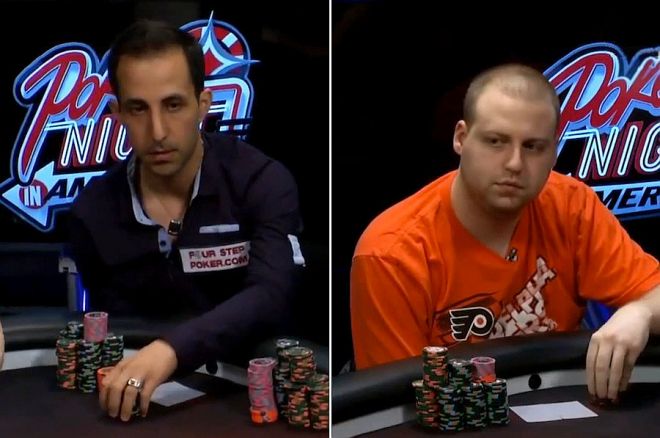 Alec Torelli is a poker professional originally from California, but travels the world full time with his wife, Ambra. Torelli has over $1.5 million in live tournament earnings (including two World Series of Poker final tables and two World Poker Tour final tables) as well as over $500,000 in online tournament earnings. Outside of poker he and his wife manage a million-dollar online business which travels the world with them.
In Torelli's "Hand of the Day" series he analyzes hands played by him and submitted to him by others. Today he examines a tricky cash game hand he played while appearing on Poker Night in America.
* * * * *
I had a blast playing on Poker Night in America at the Turning Stone Resort Casino in New York.
Current World Series of Poker Main Event chip leader Joe McKeehen was playing some incredibly solid poker — the annoyingly good mixture of tight yet aggressive.
We had played a few small pots leading up to this week's "Hand of the Day," but mostly were staying out of each other's way. That all changed when I was dealt two black aces under the gun, made a raise, and was called by him on the button.
After betting twice on a
board, the painfully brutal
fell on the river. This was the key point in the hand.
It's easy in such a spot to lose control, let out a sigh of frustration, and mindlessly check, conceding the hand. But checking would mean I'd be forced to check/fold (if he bet). I'd also be allowing him to get to the showdown cheaply and potentially miss value whenever I do have the best hand.
A much more prudent thought process would ask the following:
What percentage of the time is my hand good, and what is the best line to take to maximize my chances of putting money in the pot with the best hand?
To do that, I have to tally up the hands I beat and weigh that versus the hands that beat me. As I tell my clients, with practice you'll learn to get a good approximation of these results in real time.
Even though I couldn't be 100% certain, intuitively it felt like betting was the right play. Not only does betting make me harder to play against, but my range is protected because it could also include nutted hands, which means I don't have to worry about getting bluff-raised too often.
So, I went ahead and fired a third bullet!
To see what happened next, check out this week's video:
When I got home, I immediately crunched the numbers to see if I had made the right play. (Actually, I didn't wait that long — I did it on the break.)
Here's the most conservative analysis I could come up with. As you'll notice below, I gave McKeehen all the combinations of sets, straights, and flushes, which means he would have to play them on the flop and turn this way 100% of the time — which is simply untrue. Some of the time McKeehen would undoubtedly raise the flop with sets, straights, and flush draws, meaning he cannot have all these combos on the river (making my hand an even bigger favorite to be good).
Still, my range is a 3-to-2 favorite against his made hands, making this a clear bet in my opinion. Here's a breakdown of the math I did: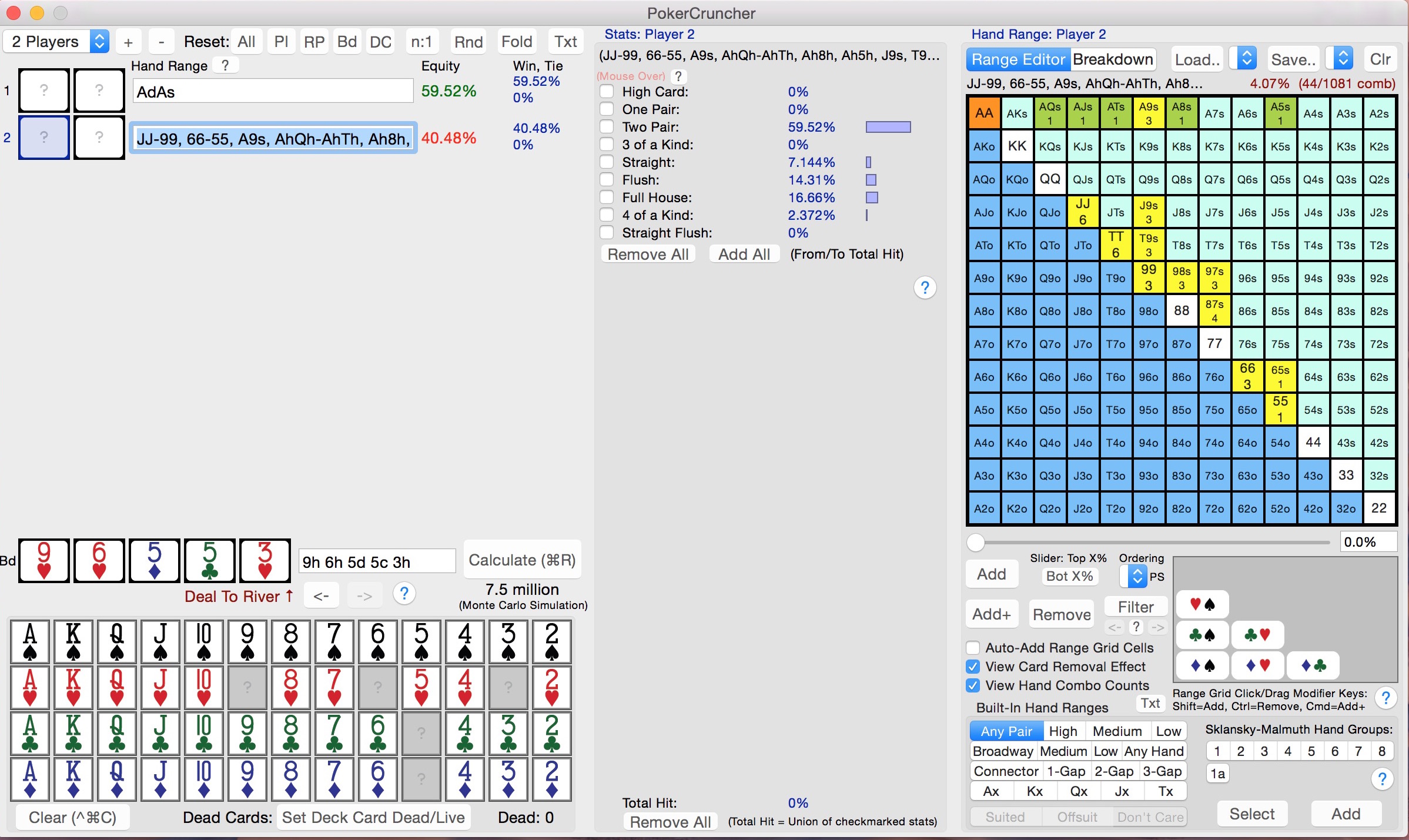 I may have been wrong this time, but in the long term I feel like my play was correct. And in poker, that's the only thing that matters.
What would you have done with two aces on the river? Did I make the right move? Your opinion counts so share your thoughts in a comment below!
See you next week.
~Alec
Want to be featured on future episodes of "Hand of the Day"? Simply submit your hands to Alec here.
Follow Alec Torelli on Twitter, Instagram, through Facebook, or via his popular blog.
Get all the latest PokerNews updates on your social media outlets. Follow us on Twitter and find us on both Facebook and Google+!