Could Joe McKeehen Freeroll His Way To an Extra $2 Million?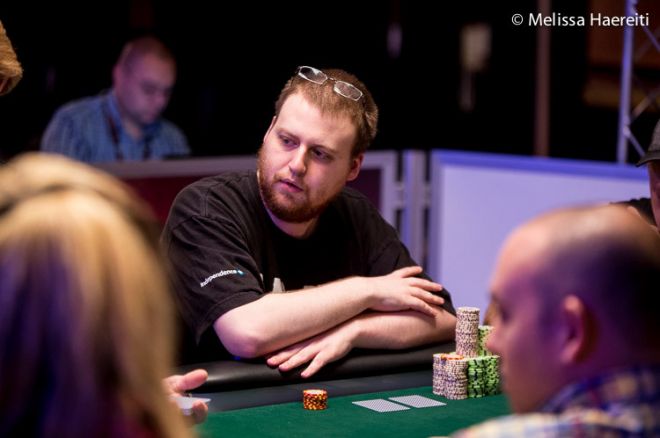 Everyone who has been following the 2015 World Series of Poker Main Event is already aware that with the final table set, Joe McKeehen has an enormous chip lead. Having ended the last day of play this summer with 63.1 million, McKeehen has a stack more than twice that of his nearest opponent, and containing nearly a third of the total chips in play.
In fact, McKeehen has more chips than the combined total of the bottom five players on the leaderboard, as Max Steinberg, Thomas Cannuli, Josh Beckley, Patrick Chan, and Federico Butteroni together have 56.675 million. You could swap in Pierre Neuville or Neil Blumenfield for Steinberg (currently in fifth) — both are just a couple million chips above Steinberg's total — and have nearly the same result.
There have been famous blow-ups by chip leaders deep in the Main Event before. As recounted in "The Second-Guessing Game: Key Decisions from WSOP Main Events, 2007-2014)," 2007 final table leader Philip Hilm only lasted 15 hands on that last day, busting out in ninth after losing consecutive hands to the eventual winner, Jerry Yang. (Hilm only began that final table with a small lead, without the enormous advantage of McKeehen.)
And, of course, there was the 2013 WSOP Main Event, when Anton Morgenstern had more chips to start Day 7 (with 27 players left) than six of this year's November Nine, though missed the final table himself by going out in 20th. Morgenstern nearly equaled that finish this year, making it all of the way to 22nd.
As these examples show, having a huge chip lead late in the WSOP Main Event is not a guarantee of victory or even a high finish. Which raises the question: What would be an optimal strategy for McKeehen to employ to maximize his profit?
From the way McKeehen pounded the small stacks during short-handed play during the last two tables of Day 7 — a stretch during which he gained nearly 40 million chips — it seems likely he's going to continue to apply pressure, forcing nearly everyone else at the table into uncomfortable positions while the payouts are relatively low.
Each of those making the November Nine has already received just over $1 million for making it to ninth place, but nobody will come close to doubling that until they get to fifth ($1,910,971) and payouts don't break $3 million until third place ($3,397,103).
Since 2007, the year before the November Nine was established, it has taken anywhere from 135 to 276 hands to get from nine to the final three players, with the median being 174 hands. During early levels of the final table, just under 50 hands are played during each two-hour level, which suggests you can generally expect around three-and-a-half levels of play before six players are eliminated.
Play stopped this year most of the way through Level 35 (blinds 200,000/400,000, ante 50,000). There will be approximately a half-hour more to go at that level when play resumes in November.
They may reach three-handed play more quickly this year. Chan and Butteroni have just over 6 million chips each, while Cannuli and Beckley are both below 13 million. The cost of blinds and antes alone in Level 36 (blinds 250,000/500,000, ante 50,000) will eliminate or cripple any of them. If they just paid blinds and antes without picking up chips, everyone but McKeehen would be gone by the end of Level 38, about seven hours into the day.
On the other hand, the 6 million or so in chips paid for blinds and antes during that first full level* is hardly going to affect McKeehen, who would still have nearly 60 million in his stack if he napped at the table for the first couple of hours. He could afford to sit back and let a feeding frenzy take place beneath him, as shorter stacks try to avoid being sucked into the void while those in the middle try to catch up to him.
It's not likely to play out that way, but if McKeehen does feel he can wait out several eliminations before bringing out the hammer he's so obviously able to wield, he will freeroll into a couple more million dollars than he'll have had to start the day.
*A nine-handed orbit during Level 36 will cost 1.2 million (450K in antes + 250K + 500K). To play 50 hands in that level will costs approx. 6.67 million; 40 hands, about ~5.33 million.
Want to stay atop all the latest in the poker world? If so, make sure to get PokerNews updates on your social media outlets. Follow us on Twitter and find us on both Facebook and Google+!